'Hawaii Five-0' Can Learn From These Lasting Shows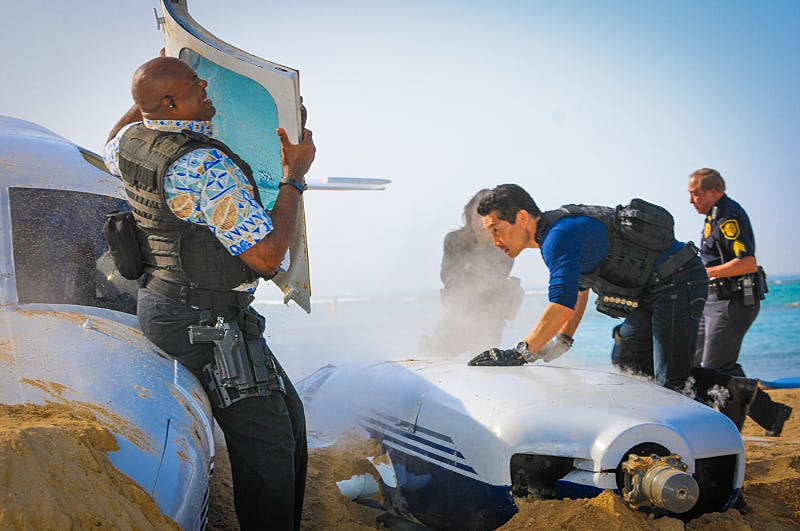 The season finale of Hawaii Five-0 will air on May 13, and after those two hours, the series will be off for quite some time. But CBS has yet to decide when Hawaii Five-0 will return for Season 7. The safe bet is somewhere around September, when summer's over and the TV season resumes, but premiere dates can change based on other programming, like if CBS runs a limited summer series in late August, or football affects the schedule — though it shouldn't, because there's almost never new programming on Friday nights. I think Hawaii Five-0 should be safe for now, and should be back relatively soon.
TVSeriesFinale reported back in March that Hawaii Five-0 will be returning for Season 7. CBS did a broad renewal of almost all of their returning shows, something that the most popular network has the luxury of doing. Hawaii Five-0 's ratings were reportedly down this year, but since the series still draws almost 9 million viewers per episode, it's doing reliably well for the network. However, after six seasons, Hawaii Five-0 might be starting to run out of steam. No shame; it happens to a lot of shows. But that means Five-0 gets the chance to reinvigorate itself — the same way these procedural dramas did, after they all cracked that seven-season milestone.
Law & Order: SVU
Obviously, Law & Order has mastered the art of the procedural. SVU, as the only currently airing member of the franchise, is coming up on 18 seasons on the air. What makes it so darn watchable? Sure, there's highly political topical issues written into episodes, and the subject matter is incredibly dark, but it's really the lovable characters that make this one the most marathon-worthy show of all time.
Bones
Bones is pure TV comfort food. Occasionally there's some forward momentum for the characters, like when Sweets was unexpectedly killed, which continues to reverberate, especially for Booth. But most of the time, the show is simple: the gang finds a body, they investigate that body, and, in the end, they find out what was up with that body. Simplicity is key.
Castle
This series recently broke the seven-season barrier, and it's about to make a huge change — two of the series' biggest stars are departing for Season 9. This gives the show an unexpected chance to change the vibe from low-key romance to potential tragedy.
NCIS
This show remains one of the most popular series on television. Why? Honestly, the answer has evaded TV scientists for decades (disclaimer: watching a lot of TV does not technically make me a scientist). But I think it's because the show portrays its subject matter (military-based crime) in a way that appeals to its intended audience.
Criminal Minds
I think the explanation for this series' continued success boils down to one simple fact: people are fascinated by serial killers.
Grey's Anatomy
Shonda Rhimes' first step to total world domination began with this series, which has mastered the cliffhanger. Sure, it got a little ridiculous at times, but whenever it was approaching stagnation, Grey's is always willing to add a new character, kill someone off, or throw a romantic wrench in there.
Whether Hawaii Five-0 decides to take a little inspiration for these successful series or not, it will still return with another season of tropical adventure, likely in the early fall of 2016.
Images: Norman Shapiro/CBS; Giphy (6)