The 'Full House' Disney World Vacay Was Perf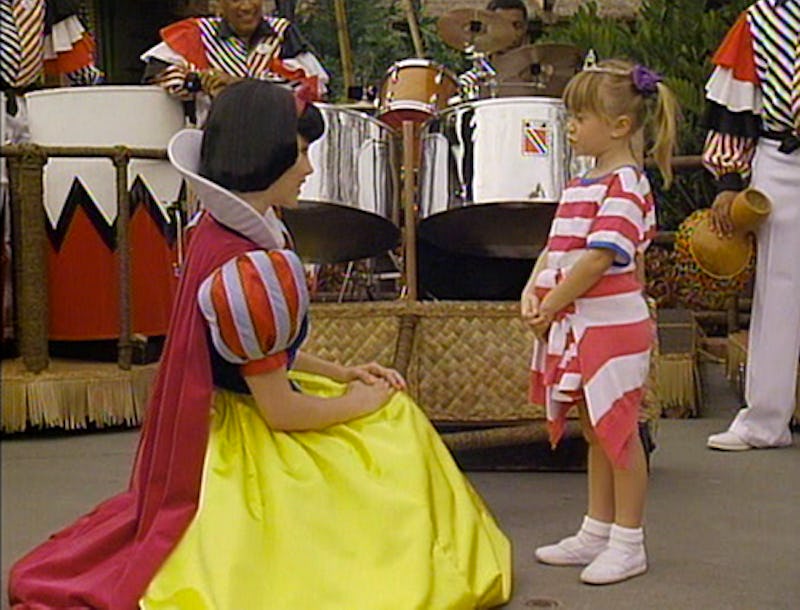 Real life family vacations are never as eventful as the Tanner family vacations from Full House . I can only speak for myself here, but my family never ran into The Beach Boys, had an airport visit from Santa Claus, or ended up getting three wishes at Disney World. My family counted finding a mostly clean public bathroom on a road trip as a win. That is the beauty of Full House; it turned routine family traditions into something spectacular, and they never did it better than when the Tanners went to Disney World.
All of the Tanner family vacations were enviable, but their trip to Disney World was the actual best. Michelle got three wishes, Danny pulled off a fireworks proposal (that defied logic, but, whatever, they were in the world's most magical place), and Jesse sang "A Dream Is a Wish Your Heart Makes." It was the perfect vacation episode, and one that combined the wonders of Disney with the inherent adorableness of Full House. The two-part episode is unforgettable, and it remains the epitome of vacation goals to this day.
Even though there is some sister squabbling and Jesse struggling to spend time with Becky and the boys, Full House 's Disney World trip was magical. Here are some reasons why the Tanners did Disney World better than anyone else.
1. Michelle Got Three Wishes
Skipping in front of Stephanie in line was a total kid sister move, but, no matter how Michelle went about getting her three wishes, just the act of getting them was a dream come true. Who doesn't want to be a princess in Disney World and get to basically do whatever you want, including not waiting in lines?
2. Joey Visited The Animation Studio
Not many people get to see Disney's animation in process, and Joey got to visit the studio in early '90s when all of your favorite Disney animated favorites were being made. Embrace your jealousy.
3. Vicky Got A Physics-Defying Marriage Proposal
Lots of people get proposed to at Disney World. The park is a marriage hot spot. I am pretty sure Vicky is the only woman who has received a marriage proposal via fireworks, since fireworks don't normally spell out perfect messages in the sky. See, that's how cool the Tanner family trip to Disney World was — it was so cool it broke the laws of physics.
4. The Entire Family Got To Be Part Of The Parade
Most people who visit the park have to settle for simply watching the Disney parade. Not the Tanners. Thanks to Michelle, the entire family got to ride in the floats alongside their favorite Disney characters. Dreams really do come true.
5. Jesse & Joey Swam With Sharks
I know swimming with sharks isn't everyone's dream, but it makes for a killer vacation story. The guys also did their radio show underwater, which adds an extra layer of fun to the whole experience.
6. Michelle Spent The Day With Snow White
Michelle didn't just get a quick picture taken with Snow White, she and the princess got to hang out almost all day. They had such an awesome time that Michelle tells Snow White she is the only one who gets her.
7. D.J. Saw Steve As Almost Every Disney Character In The Park, Including Indiana Jones
D.J. misses Steve so much that she starts to see him as every Disney dude in the park. The upside to this is she gets to indulge in an epic fantasy of Steve as Indiana Jones. Her fantasy was so convincing that it has to count as a perk.
8. Joey Got To Co-Host With Snow White
Snow White basically became an honorary member of the family. By the end of the trip, she was co-hosting the radio show with Joey. Getting to pal around with Disney characters is a fantasy for everyone who makes the trip to Disney World, and the Tanner brood made it look like such an attainable experience. Thanks to this episode, so many '90s kids must have been disillusioned when they finally made it to Disney World and didn't get to spend the entire day with Belle.
9. Steve Showed Up For D.J.
The only thing keeping D.J.'s trip from being perfect was not having Steve there to enjoy it with her. This is Full House, though, and in the world of Full House everyone gets a happy ending. Steve shows up for D.J. before the big parade, making the collection of Tanner and friends complete.
10. Kimmy Got To Hit On Prince Charming
No vacation would be complete without a quick fling, and Kimmy's may be the shortest fling ever. Still, she got to hit on Prince Charming. It may have only lasted for a moment, but during that moment Kimmy was living her best life.
11. Jesse Serenaded Becky
Finally, Becky received the ultimate romantic anniversary gift when Jesse serenaded her with a rendition of "A Dream Is a Wish Your Heart Makes." The swooning was real, guys,
And that is how you have the perfect Disney World vacation. Granted, almost everything on this list is impossible to attain unless you are on Full House, but this is why people have goals.
Images: Warner Bros. Television (10); Giphy