How Much Will Target's Beautycounter Line Cost?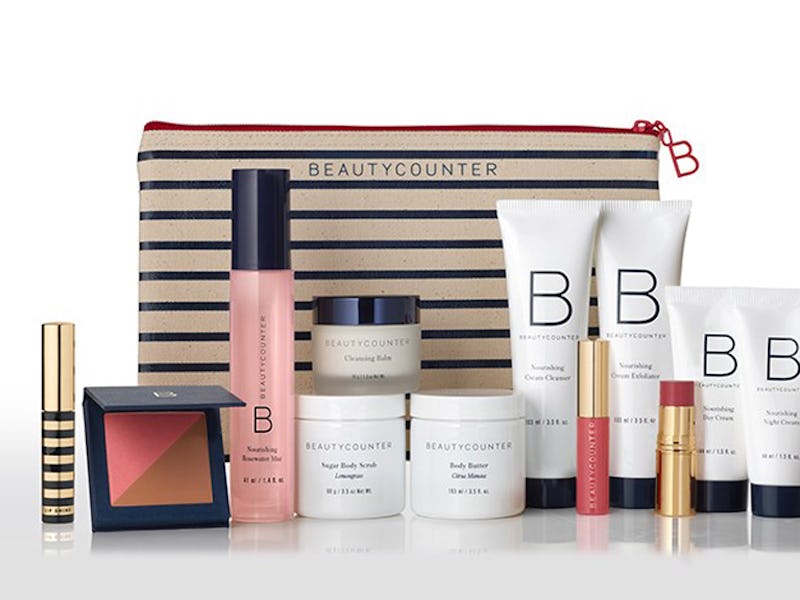 If you've been following our coverage of this awesome eco-beauty collaboration, you already know that products will hit the shelves on September 12. Since environmentally-conscious, safe brands generally come with a hefty price, I've been investigating exactly how much Target's new Beautycounter collaboration will cost. Good news ladies — if you're ballin' on a budget, your wallet will love this collection and the best part is you'll still be getting a lot of bang for your buck!
For starters, this 22-piece collaboration is complete with everything from skincare to cosmetics and according to Target's press release, prices will range from $12 to $39. The only downside is that the products will be sized slightly smaller than the brand's originals in efforts to keep the price down for everyday Target shoppers. However, considering the fact that the normal product prices (generally) range from $30-75, I'd say you're still getting a pretty sweet discount! Plus, Target shoppers will be getting exclusive products that you can't get anywhere else. According to Popsugar, the Nourishing Face Oil, which will be priced at $30, is being specially produced for Target.
In case you aren't familiar with Beautycounter and what it's all about, the company's founder, Gregg Renfrew, was inspired by the following statistics: one in two men and one in three women will be diagnosed with cancer in their lifetime. She created Beautycounter to do something about it — making sure that the ingredients used in her products are completely safe. The company says they've banned over 1,500 ingredients, "setting a new standard for health and safety".
Since there's still a couple of months before the collaboration is available, I seriously suggest taking a look at the website and learning more about the company. If you can't wait until September for their Target launch, I would suggest snagging the following:
Beauty Counter Lip Sheer, $30, Beauty Counter
Aside from the fact that this product is one of the company's best sellers, this coral shade is a must-have for spring and summer!
Touch Up Concealer Pen, $32, Beauty Counter
I love that this concealer pen has a brush attached to the top, making application super easy. It looks like the perfect tool to grab-and-go.
Want more fashion and beauty tips? Check out the video below and subscribe to Bustle on YouTube!
Tint Skin Foundation, $41, Beauty Counter
Love that this contains hyaluronic acid. Be safe, covered, and fight wrinkles all at the same time!
Color Shade Eye Duo, $34, Beauty Counter
As the owner of every single Naked palette that ever existed, I am always drawn to nudes. But, I especially love this deep bronzey shade. It goes pretty well with that coral lip sheer, too...
Makeup Pouch, $25, Beauty Counter
I'm always looking for a fashion-forward pouch to carry my essentials in. This one gets an A+ for design!
If you want to see more of their products, head to the Beautycounter website and check out the rest of their collection. Plus, it's always a good idea to familiarize yourself with the company before their collaboration hits stores. Happy shopping!