Kanye Is Almighty In 'Assassin's Creed' Trailer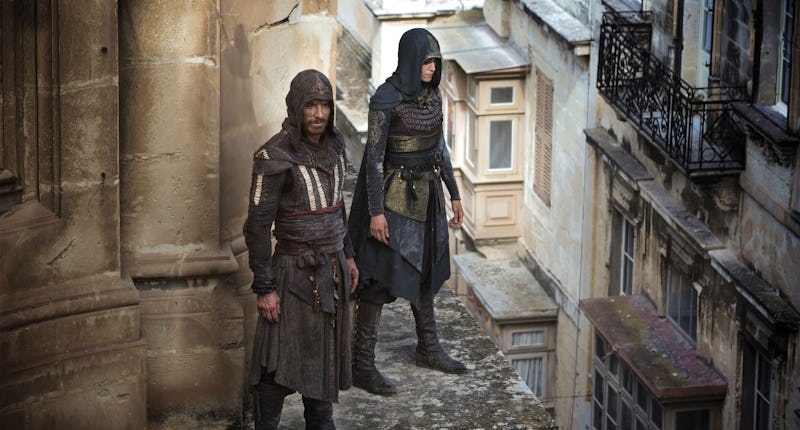 Even if you aren't a fan of the video game, you still have to admit the trailer for Assassin's Creed looks amazingly hard-core. Adding to the intensity is the song in the Assassin's Creed trailer — "I Am a God" — by the one and only Kanye West. After Marion Cotillard sends Michael Fassbender back in time to the Spanish Inquisition, West's voice can be heard claiming, "I am a God, even though I'm a man of God." Buckle up, kiddos, because based on the use of West's song in the trailer, the Assassin's Creed movie is not going to hold anything back.
The trailer premiered on Jimmy Kimmel Live! during the May 11 episode after a DVD was hand delivered to Kimmel by an "assassin" — aka a man in costume doing some impressive parkour. Yet, as with all things Kanye, the use of West's song caused some controversy in the Twitterverse after the world premiere of the Assassin's Creed trailer, with many people claiming that "I Am a God" did not match the feeling of the rest of the trailer.
Although I am not one to encourage boosting West's ego since he seems to be doing fine all on his own (which his lyrics more than indicate), I thought West's rap actually worked well in promoting the upcoming film. As Fassbender's character Callum Lynch travels in time via the "Animus," West's song helps indicate a shift in power and time since Lynch then begins channeling his ancestor, the assassin Aguilar de Nehra. While I never even considered that West and 15th century Spain would complement each other, I have to say they do — even if most of Twitter disagrees.
Clearly, the film wants to get across the theme of transcendence since West singing, "I am a God" can be heard when the title of the film appears toward the end of the trailer. Although West's most recent, buzzed-about album is The Life of Pablo , "I Am a God" is off of his deity-inspired 2013 album Yeezus. Yes, West has a God complex and lyrics like, "I just talked to Jesus / He said, "What up, Yeezus?" / I said, "Sh*t I'm chillin' / Tryna stack these millions" probably don't sit well with religious people who might find West's comparisons to God blasphemous. However, most of his rap isn't even actually heard in the trailer and you gotta admit the beat goes pretty well with those parkour stunts.
If you're in the minority and don't mind the use of West in the Assassin's Creed trailer, I'd recommend you play the video game listening to West's album Yeezus to get pumped for the movie. And if you didn't approve of the use of "I Am a God," take comfort in knowing that when Assassin's Creed is released on Dec. 21, 2016, West shouldn't be a major part of the full-length feature film.
Image: Twentieth Century Fox Film Corporation