Taylor Swift Has Grown Into A Confident Dancer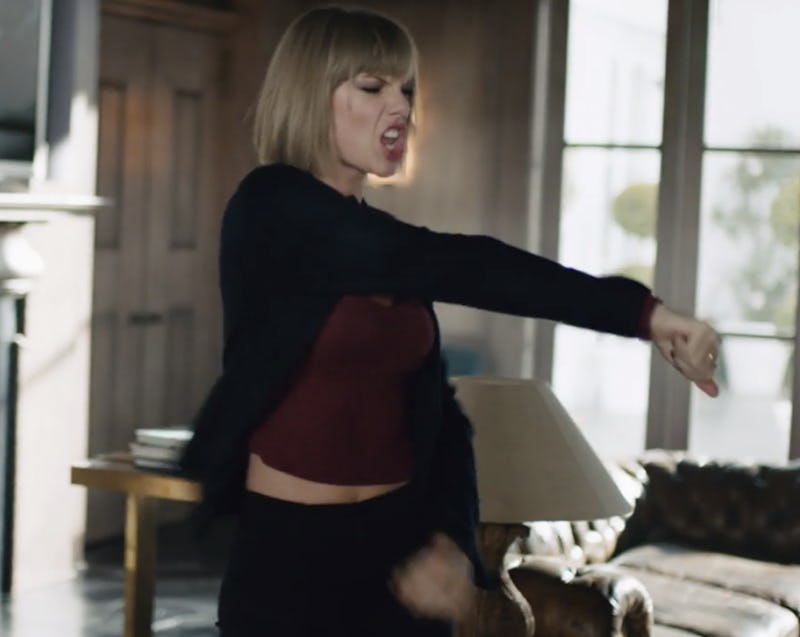 It's plain to see that Taylor Swift loves to dance. The country-turned-pop artist has proven over the years that, when there's a good beat, she can't help but move her feet. From her seat in the audience of numerous award shows to her own performances on stage to Swift's new Apple Music commercial, there's just no holding her back when it's time to "Shake It Off." However, things haven't always been so carefree for this icon, as dancing has instead been something she's become gradually more comfortable with over the years. In fact, Swift's dancing has evolved over the years. She has learned to just not care about what other people think when it comes to those serious moves.
"A couple years ago I just decided, 'No. This is the coolest concert you could ever go to. This is like all these incredible acts playing their biggest songs and I get to be front row and I'm going to dance during this because I feel like it — and not because it looks cool, because it doesn't,'" Swift explained about her award show dancing in a 2014 interview with Seth Meyers. And from that decision onward, her dancing has only gotten more intense and truer to herself.
Just recently, at the 2016 Met Gala, Swift managed to get herself and actor Tom Hiddleston on the dance floor. "I was on a table with Taylor Swift and The Weeknd was playing and she said, 'The thing about these parties is nobody gets up to dance' and you're making music," explained Hiddleston of their encounter, "She, as a musician, was like, 'We've got to dance for The Weeknd.' So we got up and danced." In a room so full of famous faces, if that's not a sign of some serious dancing confidence then I don't know what is.
However, it's in her third dance-filled Apple Music commercial that we really see Swift has no boundaries when it comes to her comfort in dancing as she dances to the 2003 hit, "I Believe In A Thing Called Love" from the band The Darkness. And her main message from the promo? "Dance like no one's watching."
Swift even has had the confidence to make fun of herself as well when she noticed that viewers were starting to take note of her audience moves. She managed to allude this in the lyrics of her song "Shake It Off" with a captioned Instagram photo of herself dancing in the audience of the 2015 ACM Awards that stated, "Always trying to take the line 'I'm dancing on my own/I make the moves up as I go' to new levels." Things have certainly taken a turn from the ballad-singing girl who used to always bring her guitar on stage with her.
And it will only get better from here. Here's to years more of awesome, fearless Swift dance moves. Because if you can dance like nobody's watching, then that automatically makes you a better dancer than the people who don't even dare to show us what they got in the first place.
Image: Giphy; taylorswift13/Twitter