10 Dark Lipsticks That Are Perfect For Beginners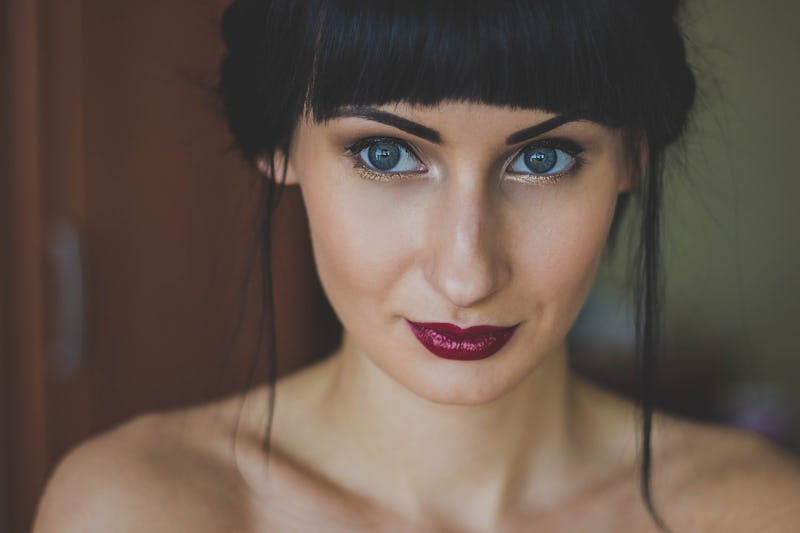 I'm a huge fan of a vampy lip. Summer, winter, day, night — there's no time that's not perfect for a dark lipstick. But I didn't always feel that way. And that's because those almost-black shades can be pretty intimidating to wear. So it's nice to be able to ease yourself into wearing those richer hues. Dark lipsticks for beginners, if you will. Because while it's fun to experiment with makeup, the look of certain products and trends can take a little time to become accustomed to.
If you're used to only sporting nude lippies, trying a vampy lip is kind of like filling in your eyebrows for the first time. It might look hella weird when you first look in the mirror. Your instinct may even be to wipe it off and never try it again. But you'll adjust quickly. Especially if you work your way up to those intense, inky shades. So if you want to start rocking blackened plums or maybe even straight up black, here are 10 lippies that will help you start to branch out, and feel better about how you look in this new range of shades. After all, the best trick for pulling off a dark lipstick is confidence.
1. Burt's Bees
Lip Shimmer in Plum, $4.39, target.com
The easiest way to venture into darker hues is to start with a totally comfortable, tinted lip-balm.
2. Clarins
Instant Light Natural Lip Perfector in Plum Shimmer, $25, clarinsusa.com
If you're just dipping your toes in to darker lipsticks, this super sheer gloss-balm will give just a hint of plum while also conditioning your lips.
3. Givenchy Beauty
Le Rouge-A-Porter in Moka Imprine, $36, barneys.com
As you feel more comfortable rocking darker hues, try a sheer formula that is buildable for more coverage.
4. No7
High Shine Lip Crayon in Berry, $9.99, target.com
Lighter berry shades are perfect for transitioning into darker hues because you can wear them like darker neutrals and they're universally flattering.
5. Clinique
Almost Lipstick in Black Honey, $17, clinique.com
This lippy is a cult favorite for a reason. And it's the one that started my obsession with finding darker and darker hues to wear.
6. Dior
Addict Fluid Stick in Trompe L'oeil, $35, nordstrom.com
Of course, if gloss is more your speed, try one that offers enough pigment to make a statement without being overly intense.
7. Sonia Kashuk
Shine Luxe Lip Color in Sheer Plum, $10.99, target.com
Try a lipstick that kicks the pigment level up just a notch, but still allows your natural lip color to show through.
8. Smashbox
Be Legendary Long-Wear Lip Lacquer in Bordeaux, $24, smashbox.com
If you're worried about the color moving around, try a stain that isn't too scary.
9. ColourPop
Lippie Stix in Flawless, $5, colourpop.com
Even if you do go for a more saturated lipstick, pinky tones will make it much easier to wear without fear.
10. Lipstick Queen
Bete Noir Possessed Sheer, $40, lipstickqueen.com
Some lippies even have opaque-coverage versions of their sheer formulas so you can keep the color you love while moving up in intensity when you're ready.
Yeah, you'll totally be rocking all of the blackened lipstick shades in no time.
Images: Pexels/Pixabay; Courtesy of Brands