The 10 Best Vampy Lipsticks For Winter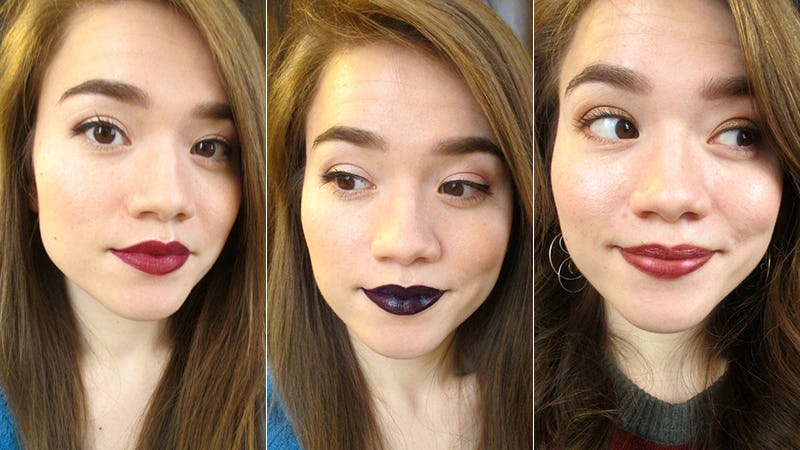 I'm not really into winter. I severely hate the cold. But I will say, as a fashion and beauty lover, it's still exciting when the seasons change, because it means there are new trends to try. There are some, like blanket coats, that I just have to laugh at; because as much as I wish it wouldn't, I know that trend will go as quickly as it came. But there are a select few that will always be "in." My favorite trend for my least favorite season? Vampy lips. Maybe it's because the nights are longer, or maybe it's because of the darker clothing we like to wear, but there's just something about a dark lip in the wintertime that suits anybody and everybody. And call me crazy, but berry, vampy colors tend to be the most universally flattering of lipstick shades.
Since dark lipsticks are (and always will be) such a staple, I wanted to try to find the end-all, be-all of the vampy lipsticks on the market. So on my hunt to find the absolute perfect shade of aubergine, I decided that formula and finish had to be taken into account as well. But admittedly, I'm a bit of a lipstick-addict. So silly me for thinking I could narrow down my findings to anything less than 10. But whether you're looking to dip your toes into the forever-trend, or just add to your collection, here are 10 of the best, new, vampy lippies for winter.
Left to right: Revlon Ultra HD Lipstick in Iris, Sonia Kashuk Lustrous Shine Lip Crayon in Dahlia, NARS Audacious Lipstick in Charlotte, Topshop Lipstick in Wicked, Smashbox Be Legendary Long-Wear Lip Lacquer in Bordeaux, NYX Simply Vamp Lip Cream in Covet, Marc Jacobs Beauty Kiss Pop Lip Color Stick in Smack, Topshop Matte Lip Bullet in More Than A Woman, NARS Audacious Lipstick in Liv, and OCC Matte Lip Tar in Pagan
Revlon Ultra HD Lipstick, $5, Amazon
This shiny, berry lipstick is so lightweight while still packing a punch. The ever-so-slight hint of shimmer reflects light, making lips look bright while still being bold. Easy to work with and wear, this lipstick is perfect for those who want to make the switch to vampy lips.
Sonia Kashuk Lustrous Shine Lip Crayon, $9, Target
Talk about pigmentation. This color glides seamlessly on the lips, and can be worn naturally for a shiny finish, or can be blotted to make it matte. If you prefer your vamp to be hydrating and redder in tone, this is where it's at.
NARS Audacious Lipstick, $32, Nordstrom
This oxblood-burgundy is creamy, opaque, and long-lasting — a great darker lip that's still safe enough to wear during the day. Bonus? The undertones in this one will make your complexion look a little brighter, and your teeth a little whiter.
Lips In Wicked, $12, Top Shop
A step browner and darker than Charlotte, this burgundy, cream lipstick glides on for full, moisturizing opacity. Don't be surprised if you start feeling a little more mischievous after wearing this one.
Smashbox Be Legendary Lip Lacquer, $21, Amazon
If gloss is more your style, look no further than this lip lacquer. Shiny, buildable, and hydrating, this dark plum shade stains the lips for longer wear. To top it all off (hah), this layers beautifully over any vampy lipstick.
Simply Vamp Lip Cream, $7, NYX Cosmetics
If you're into the metallic-makeup trend, there's finally a dark lippy for that. This lip crayon is a rust shade with a red-pearl finish for a more neutral take on the vampy lip.
Marc Jacobs Kiss Pop Lipstick, $24, Sephora
Housed in maybe the world's cutest packaging, this long-wearing, burgundy-berry lipstick is the perfect marriage between red and purple if you find your preference doesn't lean one way more than the other.
Matte Lip Bullet, $5, Top Shop
And so we begin to venture into the blackened shades. This deep berry color is surprisingly comfortable on the lips for having a distinctly matte finish.
NARS Audacious Lipstick, $32, Nordstrom
I was shocked by how a color this dark is still creamy in application, non-drying, and long-lasting on the lips. This is a no-brainer for a purple-lip night. Tip: This lipstick pairs perfectly with MAC's Nightmoth lip liner.
OCC Matte Lip Tar, $18, OCC Makeup
Let's be honest. Sometimes it's fun to see exactly how close we can get to wearing black lipstick without it actually being black. If that's something you're into, Pagan is a winner. I've never found a darker purple, and I love how easy this is to apply despite being so dark. This gloss will dry to a matte finish, and can be worn sheerly for a more vibrant purple, or built-up like this for a near-black color.
Images: Miki Hayes