12 Women-Led 'GoT' Podcasts You Need To Hear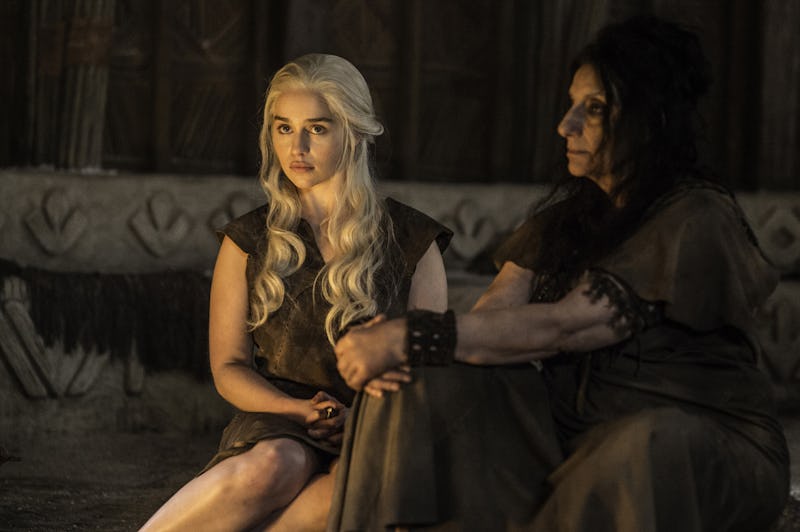 While Game of Thrones is one of the most popular TV series on right now, one of the biggest criticisms levied at the show is that it's occasionally dipped into (perhaps unintentionally) misogynist territory. So when it comes to Game of Thrones and A Song of Ice and Fire analysis, I know I appreciate a feminist point of view, which is why these women-led Game of Thrones podcasts offer a perfect perspective for any fan who wants to hear from more women how they feel about the latest developments in Westeros. Some of these podcasts even offer an explicitly feminist perspective or narrow in on just the female characters, examining the show and/or book series for its portrayal of the many women on screen/on the page, and sometimes even breaking down exactly why female fans often critique the show, and maybe even offering similar critiques or total rebuttals themselves.
And, whether you're a George R.R. Martin expert who knows every Westerosi sigil from the Manderlays to the Tarleys, or are a newbie who can barely tell Sansa and Ayra apart, it doesn't matter, because there's a podcast for all levels. Some are TV-centric, while others rope in lore from the books as well to form a more complete picture of the fantasy universe. And since there's no shortage of women-focused pods to choose from, pick the one (or many!) that best fits your GoT needs.
Sistah Speak
The Sistah Speak podcast is hosted by two women of color from Texas, Sistah K and Sistah J, who talk about a whole bunch of pop culture on their podcast network (but their GoT pod episodes are totally separate from their Walking Dead podcast and other topics).
If you're looking to catch up, the series began during Season 2. They do not go into book knowledge/spoilers, so this is perfect for a TV-only fan.
Tyrion's Landing
Three book experts, Nikkie, Jeannie, and Rachel, gather every week to talk about the latest episode on Tyrion's Landing — or, when there aren't new episodes, they dissect Thrones theories, talk about trailers, award show gossip, and the effect the show is having on pop culture. They even occasionally have other women on the show as guests to geek out over GoT with them.
And, even though they're all book readers, the 100 episodes of Tyrion's Landing primarily focus on the show, so spoilers are limited.
Tuning In To SciFi TV
Host Wendy Hembrock moderates this discussion of the series (among dozens of other episodes about other nerdy TV series). Since Tuning Into Scifi TV posts almost a week after each episode, Hembrock and her guests can take a bigger picture view of the series, and they accept questions from their audience on Twitter.
Fat Pink Cast
The Fat Pink Cast is not just an occasionally spoilery discussion about the Song of Ice and Fire series and Game of Thrones series: It's also explicitly a women-based look at the world created by George R.R. Martin. The Fat Pink Cast Twitter account also enthusiastically live-tweets every episode of the series, if that's your thing.
The podcast dates back to the third season of the show, so there's plenty to catch up on, and since Jonelle, Marissa, and Sade, the three hosts, are all big fans of the books, there are frequently references or discussions about book lore in a well-labeled "spoiler" section.
Close The Door
Close the Door (and Come Here) has the tagline "spoilers, profanity, Jamie x Brienne," so you know they're serious about the show — and about 'shipping. Seriously, these ladies are huge Jamie Lannister fans, so if you're more of a Jon Snow gal/guy/person, this may not be the show for you.
And, as the hosts and their guests are voracious book fans, they have whole episodes where they argue over, compare, and contrast the books to the show, so this show is ideal for a fan who's open to both discussion of the TV adaptation and GRRM arcana.
The Night Is Dark
Taken from a phrase frequently repeated by Melisandre, The Night Is Dark is a video podcast hosted by Maude Garrett and Tiffany Smith are paired with cohost Ken Napzok as they break down the show and talk about their impressions of the books as well. The only downside — this podcast was just started during Season 5, so there are not as many episodes as some of the other podcasts on this list, and so far, it doesn't look like they've put up any additional episodes for Season 6.
Fire & Lunch
Technically, Fire & Lunch is a piecast , not a podcast, and they have a half-dozen regular hosts, all of whom are women, so each episode has the ambiance of talking about the show with a big group of your female friends.
All Leather Must Be Boiled (Honorable Mention)
This podcast is not like the others — first of all, it's almost entirely focused on the books, and it has two male hosts. So it's not what you'd immediately think of when you hear "women talking GoT." But, because All Leather Must Be Boiled hosts Sean T. Collins and Stefan Stasse are such big fans, they've done a five part (so far) series called "Women of Westeros" where they talk all and only about the female characters.
"Wine, Women & Westeros" (Cast Of Thrones)
The Cast of Thrones Podcast does regular analysis of the series, and they also have a recurring feature called "Wine, Women, and Westeros" where regular host Jennifer Cheek hosts some of her female friends/Game of Thrones fans to specifically talk about the show from a women's perspective.
Lions, Dragons, And Wolves Podcast
Hosted by Marissa, this is a seemingly defunct but still archived pod that covered Seasons 2-4. Ideal if you're looking to catch up with the show, or maybe have forgotten some of the details of those earlier episodes, especially with long-dormant characters like the Greyjoys making a return in Season 6.
A Cast Of Kings
This show is hosted by one woman, Joanna, and one man, David. But, I still like it as an example of a women-driven Game of Thrones podcast because it directly challenges the stereotype that it's the dudes who are really into the books and that women can't be ASOIF nerds. On A Cast of Kings, it's the opposite. Because of Joanna's book expertise, occasionally material not in the show comes up, but not in a way that would ruin things for show-only fans.
A Storm Of Spoilers
And, finally, Joanna Robinson is also the host of a spoiler-happy podcast called, fittingly, A Storm of Spoilers. This one's for devoted book fans only — unless you really, truly, love having plot points from novels revealed to you in podcast form.
Happy listening!
Image: Helen Sloan/HBO