Justin Baldoni Teases A Major 'JTV' Cliffhanger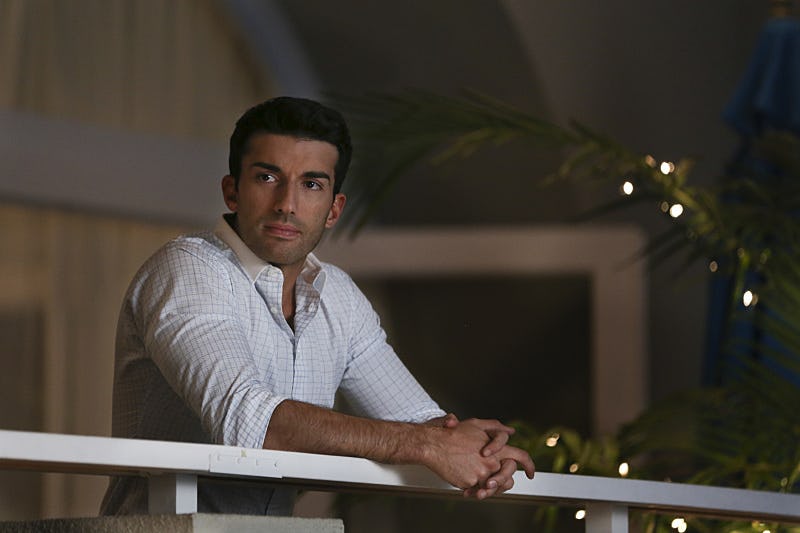 Jane and Michael's wedding day may finally be here, but that doesn't guarantee these two will end up tying the knot, especially if Rafael has anything to say about it. As the finale promo indicates, Mateo's dad will make one more Hail Mary plea for Jane's affections by asking her to the call off the wedding and be with him instead. But will she listen? Bustle recently had the chance to interview the wedding crasher himself, Rafael (played by Justin Baldoni) who teased a few Jane the Virgin Season 2 finale spoilers and made mention of a jaw-dropping cliffhanger that will apparently surpass Mateo's Season 1 kidnapping.
Though he was unable to reveal whether or not our beloved Jane would be a virgin no more by episode's end, ("I can't tell you that!"), the actor did promise that the last few minutes will leave you dying for more. "Wait until the final moment of the episode," Baldoni hints. "I think the end of Season 2 is better than the end of Season 1, so if there's a way to up the cliffhanger moment, I think they did it." So what could possibly be more game-changing than a newborn baby abduction? The mind reels at the possibilities. But as much as the anticipation is killing us, Baldoni assures that "it will all be revealed" by the end of the hour.
On the one hand, this could interpreted that Rafael's little declaration will make Jane second guess officially saying "I do." As much as she loves Michael, those feelings that she had for Rafael may still be buried deep down inside of her. It may have just taken his honesty in order for her to be truly honest with herself. You can't deny that she looks pretty stressed out at the altar.
Then again, this could cliffhanger could also be in reference to Jane's virginity. If she really does end up marrying Michael, could this be the moment where the show is in need of a serious name change? When you're dealing with a telenovela, anything is possible, so all we can do for now is just patiently (or maybe not-so patiently) wait and wonder.
However, the Jane the Virgin finale, which airs Monday, May 16 at 9 p.m., isn't the only exciting thing making its grand debut for the actor that day. With the help of his good friends Travis Van Winkle and Travis Clark, Baldoni is launching new app called BellyBump, which allows expectant mothers to create unique time-lapse videos of their growing belly. "I wanted to help [my wife] create a time-lapse movie of her pregnancy," Baldoni explains, regarding how the app idea came to fruition. "But what happened was I kept forgetting to take the photos."
And the best part of the app is that it's something both parents can enjoy. "We're also very feminist men that are all about women and their journeys and empowering them," says Baldoni. "As much as it is for the guys to be a part of the pregnancy, more than anything it's for the women to be able to capture and share the beautiful journey that is motherhood." There's also a separate baby section for after the child is born, allowing you to document your baby throughout its entire infancy. (Also, doesn't this totally sound like something Jane would absolutely love?)
So basically between seeing babies on the Jane the Virgin set, working on this baby app, and spending time with his daughter at home, Baldoni pretty much finds himself surrounded by cuteness 24/7. Could we be anymore jealous?
Images: Scott Everett White/The CW (2); Giphy