Kelly & Michael Say Goodbye In The Best Way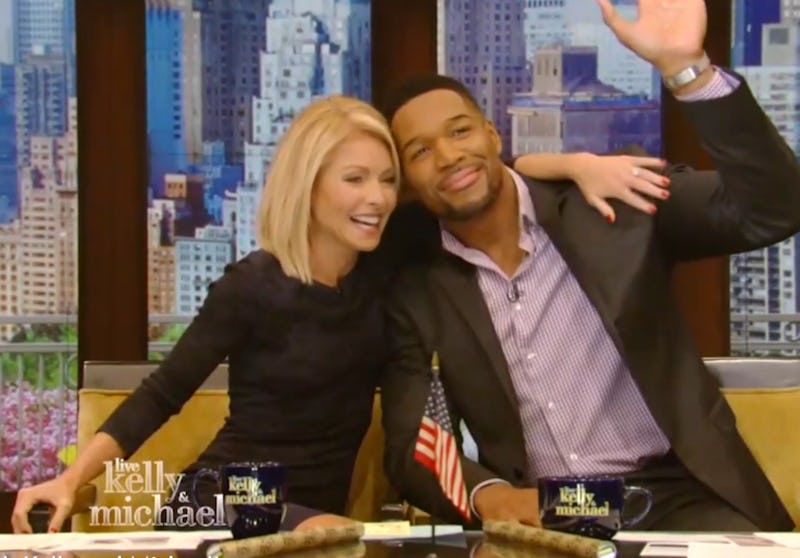 And that's a wrap, guys. Live! with Kelly and Michael has now become Live! with Kelly as Michael Strahan filmed his last episode of the morning show — and what a last episode it was. It's like they were trying to make me cry. In fact, they succeeded. From a montage of Strahan's last moments to a parting speech that can melt even the hardest of hearts, it's never been more clear that Live! loves Strahan than it was during Friday morning's broadcast. All those rumors of a feud seemed dead in the water as the two co-hosts had nothing but love for each other during Strahan's final show. In fact, Ripa gave Strahan gifts during his final Live! show, gifts that are just too cute, whether you've been watching their show regularly enough to grasp the significance of them or not.
For longtime fans of Live!, there could be no doubt that this was going to be a hard show to sit through. After all, despite the fact that Strahan is simply moving to Good Morning America, allowing fans to watch him right before Live! with Kelly comes on, it's still hard to watch this dream team break up. But the way they said goodbye is just so sweet that I can't help but be satisfied by how it all ended. And these gifts, you guys, these gifts. I mean, really.
1. Bronzed Halloween Heels
The Live! With Kelly and Michael Halloween shows are epic, so epic that Ripa decided to commemorate those days by having Strahan's heels bronzed. As she herself said, no one pulls off size 16 heels quite like he can.
2. A Throwback Photo
Ripa joked that there is another picture in which her shorts are hiked up a lot higher, but this throwback photo is completely perfect as is. In one shot, you really get a sense for the bond between Strahan and Ripa. After all, no one can pull off matching outfits like Justin and Britney, OK?
3. A Photo Album
We didn't get a look at the photos inside the album, but Strahan looked so utterly touched to even be receiving it that it was still a heartwarming moment anyway.
4. Booze
I mean, how can you say goodbye without the good stuff? The fact that it was the not-so-unspoken fourth gift, and that it came across as a toast to Strahan's bright future, should put to rest any rumors of a feud between the two loving co-stars.
5. Speech
Both Ripa and Strahan took the time to say a few words, and there's no way you can get through those few words without a tear in your eye. "On behalf of myself and all of us, we couldn't be prouder of you. You've given us so much joy in the morning, from your smile to your sense of humor to your horrible French accent," Ripa joked. "We really are so, so proud of you. We've achieved so much together, and I look forward to watching you and seeing how much you achieve over at Good Morning America."
Say it with me now: awww. But the cuteness didn't stop there, as Strahan tried his best to encompass all he felt about Live! and about Ripa into one speech that, hilariously enough, got interrupted by music near the end like he was at the Oscars or something,
It's very bittersweet for me. I just want to say thank you to everybody... You guys have let me into your homes for the last four years every day, and I didn't know what to expect coming from sports to daytime television… It means the world that we get an hour of your time every day… [Our audience] is the third co-host of the show. The energy that they bring really makes this show work.
OK, yeah, there I go, I'm crying. It's the end of an era at Live!, and this was a bittersweet broadcast. But just the fact that the two co-hosts are parting at the end of everything with love for each other and love for the show makes this a satisfying conclusion.
Image: ABC (6)