17 Father's Day Gifts For Foodie Dads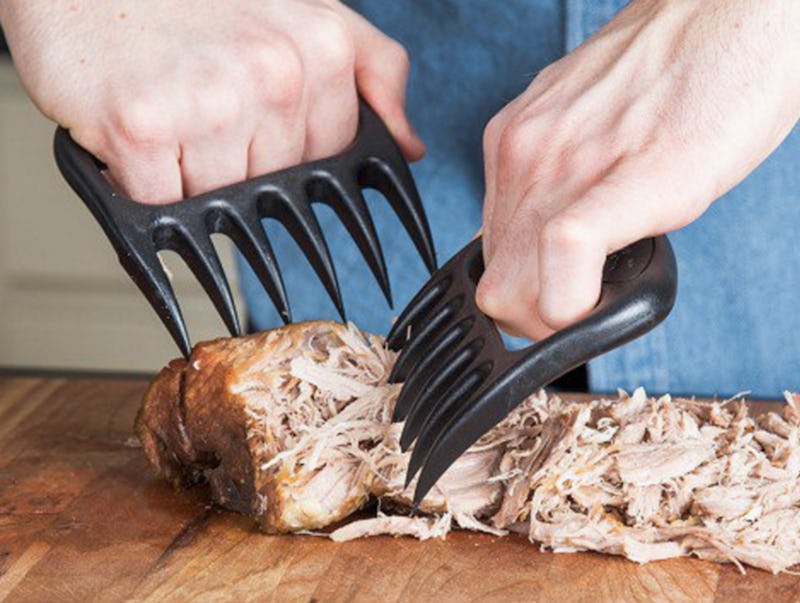 There is no feat quite like trying to nail the Father's Day gift-getting game, but at least if you're looking for Father's Day food gifts you are at a slight advantage. Foodies as a whole are notoriously easy to shop for compared to the rest of the population, especially if you share DNA with aforementioned foodie and will be able to anticipate exactly what kind of gadgets will light their taste buds on metaphorical fire. And praise be to all things delicious, we live in 2016, where food technology is way beyond your old EZ-Bake oven's wildest dreams.
Not only is Father's Day shopping for foodie dads a total breeze, but extra bonus: assuming you are there to present the foodie gift, you will also get to partake in the consumption of whatever it makes. You know, for science! For real, though, nothing brings the family together quite like stuffing your face on a sunny Sunday afternoon. So if you're planning to get a gift for your foodie dad — even the foodie dad who supposedly already "has it all" — look no further than this list of ideas, curated by someone who knows a thing or one million about good grub.
Canon's EOS Rebel T6
Perfect for the aspiring food blogger or Insta food-famous dad, the EOS Rebel T6 comes equipped with a brand spanking new food mode specifically tailored to heighten the effect of food pictures. You don't even have to be a pro to get quality pictures with this mode — it enhances the vibrancy of the colors of the food, adding more contrast and making Dad's pics look like he's been at this since before you were born. Consider this an investment in his Instagram fame (and hopefully an investment in getting him to cook more delicious things for the family to eat).
EOS Rebel T6, $549.99, Canon.
Hamilton Beach Deep Fryer
Equipped to handle six cups of fries or chicken nuggets, this fryer is a safe, splatter-proof way to get your fried grub on at home — or, more importantly, test all your favorite desserts to see how much frying enhances them. Basically if you're not shoving every cookie in the junk food aisle into this baby on Father's Day, you're not doing Father's Day right.
Hamilton Beach Deep Fryer, $39.98, Amazon.
Graze Food Subscription
Graze is every foodie's dream — recipients can log in their favorite and least favorite types of food, and every month the Graze team will hand select eight snack options for them and deliver them in a cute little box. If they particularly love a snack, they can buy it at Graze's shop in larger portions.
Graze.com, $11.99 per month.
Taartwork Personalized Pie
Personalize a message to your foodie dad on a mini pie or a regular pie — because it's all good and well to say "I love you" out loud, but there's nothing quite like digesting the words to be absolutely, positively sure that those feelings are true.
Personalized Pies, Taartwork, prices vary.
Zoku Ice Cream Maker
Add your favorite ice cream base and fillings to the pre-chilled bowl, and you'll have a tasty ice cream snack for chomping in ten minutes! Using this bowl you can make ice cream, gelato, frozen yogurt, sherbet, or sorbet. Just make sure there's enough to share.
Zoku Ice Cream Maker, $25.95, Williams-Sonoma.
Nespresso Evoluo Coffee Machine
Using this machine is almost criminally easy — all you have to do is fill it with water and pop in the pod, and once it locks up you have instant espresso. Once you're finished and open the top back up, the cup automatically transfers over to a used cup compartment on the side that you can toss out when it's full. And this is a great time to give it a try — they just released two new breakfast coffees, the light intensity Solelio and medium intensity Giornio, depending on how adventurous Dad's caffeine intake is these days. (Hopefully he's willing to share.)
Nespresso Evoluo Coffee Machine, $199, Nespresso.
Custom Selfie Cookie Cutter
Nothing says "I love you, Dad" quite like aggressively smushing his face into a roll of cookie dough and shoving it into a 400 degree oven. All you need is a clear picture of his face to send to the Etsy artist, and boom! It's 3D-printed into the coolest cookie cutter of all time. Be sure to order in advance!
Custom Selfie Cookie Cutter, $50, Etsy.
Sword Campfire Roasters
Avast, matey! Put the adventure into all your upcoming summer campfires as you roast hot dogs and s'mores. They're bent at the tip so nobody's timbers will actually be shivered, and the sword unscrews at the handle to make clean-up easy-breezy.
Sword Campfire Roasters, $40, Uncommon Goods.
Microwave Popcorn Popper
It'll taste just like stove-popped popcorn, without any of the nonsense of figuring out how to do it on the stove. There's even an optional butter melter included (as if butter is ever "optional," but I digress). Movie night just got a whole lot more delishhhh.
Microwave Popcorn Popper, Uncommon Goods, $14.99
Murray's Cheese Greatest Hits
Nothing says "I love you" quite like two and a half pounds of famous cheese. Enjoy Murray's English Cheddar, Murray's Double Cream Brie, Murray's Klaverkaas Goud, Murray's 1 Year Manchego, Murray's Cave Aged Gruyere, and Urban Oven Crackers.
Murray's Cheese Greatest Hits, Murray's Cheese, $80.
MiiR Stainless Steel Insulated Growler Bottle
This 64 ounce insulated bottle is perfect for all your family summer beach trips (which Dad may or may not be taking without you, now that you're all #adulthooding and what not). And the best part is, each bottle sale contributes to supplying a person in need with a clean supply of water for a year!
MiiR Stainless Steel Insulated Growler Bottle, Amazon, $51.
Carry On Cocktail Kit With Spiced Nuts
Spice up his travel plans with this handy, TSA-friendly cocktail kit, with a few noms on the side. He'll be the James Bond of coach.
Carry On Cocktail Kit With Spiced Nuts, Food 52, $39.
Blue Bottle Coffee Subscription
With this plan, Dad will get a new bag of coffee every two weeks for two months, sampling "a delicious new single origin offering from Latin America, East Africa, or the Pacific Islands."
Blue Bottle Coffee Subscription, Blue Bottle, $52 for two months.
iDevices iGrill Mini
This is the fanciest pants piece of baby grill tech around. With an LED indicator, Bluetooth capability, and a 150 hour battery life, this little dude measures temperatures from -22° F to 572° F. Perfect timing for a steak-fueled Father's Day feast!
iDevices iGrill Mini, Amazon, $39.99
Personalized Whiskey Crate
This crate comes complete with two personalized, heavy bottom rocks glasses, two Tovolo ice sphere molds, two slate coasters, a 33 drams whiskey drinking journal, spiced peppercorn peanuts, pistachios, and cranberry pecans. Just don't forget to add the whiskey!
Personalized Whiskey Crate, Man Crates, $99.
Lift and Carve Shredding Forks
On second thought, forget Dad. Who wouldn't want to pull a Wolverine and try on these bad boys? That Thanksgiving turkey won't know what hit it this year. These help hold meat steady while carving and shred it into manageable and delicious shreds (and also look badass and a half).
Lift and Carve Shredding Forks, The Grommet, $12.95.
Diablo Toasted Snack Maker
I don't know if Dad-kind is ready for this kind of power, but it's here. You can make mini pocket sandwiches out of literally anything you can imagine by sticking it in this bad boy between two slices of bread and heating it up over the stove. In the words of my ancestors, "Om nom nom nom."
Diablo Toasted Snack Maker, The Grommet, $29.95.
Images: Courtesy of Brands