This Couple Uses Humor To Fight Infertility Stigma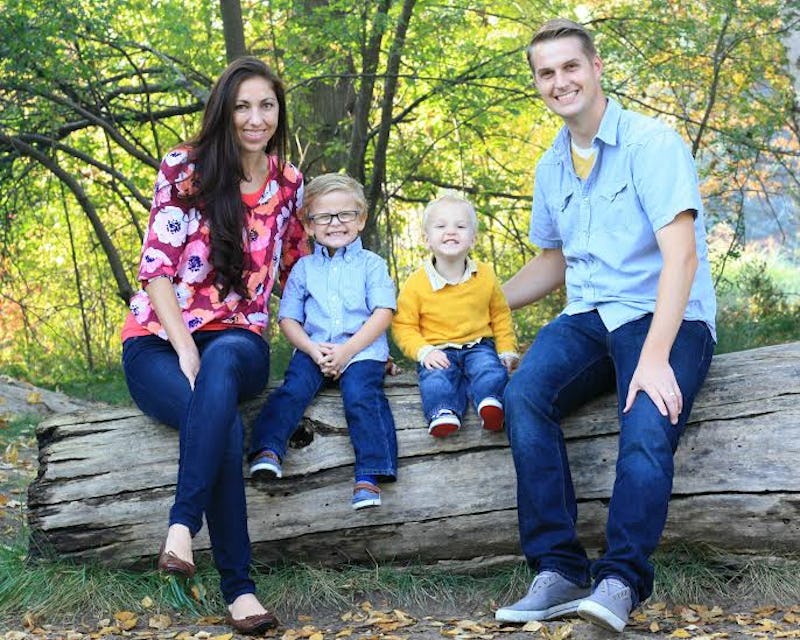 Becoming a parent is a momentous occasion in a person's life, so getting carried away in the excitement of it all is understandable. And while no one is saying expectant parents shouldn't share their joy via social media, Spencer and Whitney Blake just added an important thread of dialogue to the conversation. The couple's hilarious "infertility announcements" draw attention to an important point — that there are many parents out there struggling to conceive as we speak, and it is a painful journey in stark contrast to the cutesy pregnancy announcements floating around our Facebook feeds. There's a inherent exclusion most of us don't think about, and it can be incredibly isolating for infertile couples.
We've all become accustomed to pregnancy announcements, right? A happy couple blowing bubbles, proclaiming, "She's gonna pop!" or a soon-to-be-mama striking a pose with her burgeoning belly in front of a "Bump Ahead" traffic sign. Personally, I sloppily Photoshopped the heads of me and my husband onto Katherine Heigl and Seth Rogen's bodies for our version of the Knocked Up movie poster. And I'll be the first to admit that it unfortunately never crossed my mind how it might affect friends silently struggling to conceive. Because while these kinds of announcements are a seemingly routine part of the pregnancy conversation, infertility often is not — but it definitely should be.
Enter the Blakes. After trying for a baby for a year, the couple was delivered a frustrating diagnosis: unexplained infertility. After three years of fertility treatments, they ultimately decided to expand their family through adoption, bringing two adorable little boys into their life in 2012 and 2014. To help others facing a similar struggle, the Blakes began blogging about their journey. (Whitney beautifully captures the beautiful yet heartbreaking dichotomy of how infertility shaped their path to parenthood — check it.) Somewhere along the way, inspiration for the infertility announcements struck.
"We were on a road trip and our conversation turned to infertility and how pregnancy announcements can sometimes be hard for people like us to read/hear, even when we're legitimately happy for the people," the couple tells Bustle via email. "We started thinking it would be funny to create our own infertile equivalents — humor has always been one of our coping mechanisms. We jotted down some ideas in the car to start working on them as soon as we got home. We shared the images for Infertility Awareness Week."
Clearly, using humor to soften the blow of their infertility struggle resonated with many, as the Blakes' announcements quickly went viral. And although they weren't expecting the mock-ups to be shared on such a wide scale, they are grateful for the platform. "We're glad that it seems like mostly the reaction has been positive, and that many people who struggle with infertility have been able to relate to them in some way. Sharing anything personal like that can make you a little vulnerable, but getting comments like, 'Thank you for bringing a little humor to a very difficult issue' makes us glad we did it," they explain.
The message the Blakes hope other parents struggling with infertility will take away is one of solidarity and empathy. "Though the road can seem lonely, you are not alone," they say. "There are others who have felt the same pain you are experiencing. Just knowing and connecting with some of those people is what helped us most during our toughest years with infertility. To anyone who is struggling with infertility — we're so sorry. It's a heart-wrenching, painful roller coaster ride you're on, and our hearts truly go out to you."
As far as how expectant parents and others in general can be better friends to couples dealing with infertility, the Blakes' advice is simple. They reveal, "It always meant so much to us when someone would reach out and just say, 'I'm sorry you have to go through this.' That's it. Just the simple acknowledgement that what we were going through was hard and so appreciated. We were always so grateful when someone took the time to let us know they cared."
Follow the Blakes on their blog, "On an Adventure," on Facebook, and on Twitter.
Images: Courtesy of Whitney and Spencer Blake