'All The Way' Explores LBJ Vs. MLK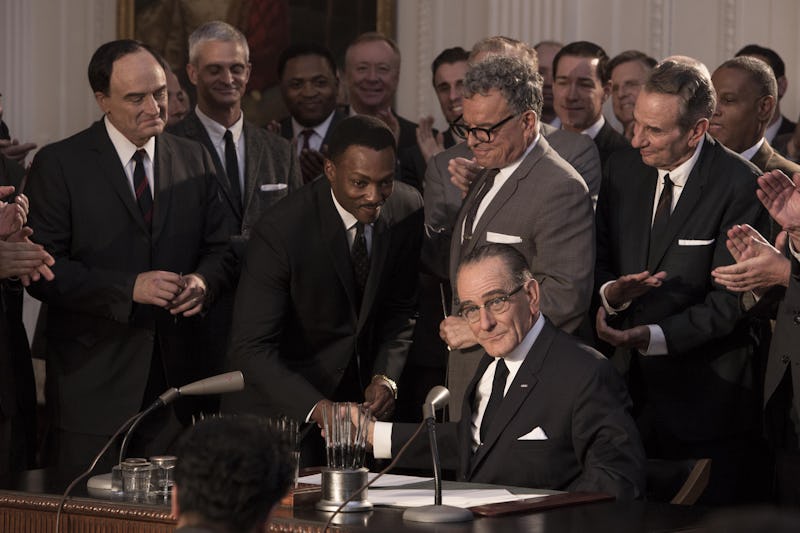 Audiences saw one version of the relationship between Martin Luther King Jr. and President Lyndon B. Johnson depicted in the Oscar-winning Selma, and now All the Way will also explore their dynamic. While Selma was from the perspective of King, the Broadway play turned HBO movie All the Way will focus on what the civil rights movement was like for the president during his first year in office. Bryan Cranston is reprising his Tony-award winning role as Johnson for the film with Anthony Mackie depicting King. With those two actors behind two iconic men in U.S. history, anticipate some powerhouse performances, but what kind of dynamic should you expect between Johnson and King?
Both the play and HBO movie focus on the time period when Johnson took over the presidency in 1963 after the assassination of John F. Kennedy until he is elected as president in November 1964. Selma took place in 1964 and 1965 surrounding the march for voters' rights from Selma to Montgomery, Alabama that led to violence against the activists. The overlap in the two films comes in the form of the Civil Rights Act of 1964 that Johnson had worked on with King, which stated that discrimination of any kind, including racial discrimination, was illegal. King was in attendance when Johnson signed the act into law on July 2, 1964.
When Selma was released in 2014, the discussion of whether or not the film correctly depicted the interactions between Johnson and King was heated. For example, Politico magazine wrote that the depiction of Johnson was inaccurate, while The New Yorker stated that Selma was "more than fair" to LBJ. The controversy stems from the fact that in Selma, Johnson is portrayed as being harshly resistant to adding voting rights to the Civil Rights Act, which All the Way will also give an artistic telling of. Needless to say, the relationship between Johnson and King was complex and so it's best to see what these two important men in the history of America had to say about each other.
On May 15, 1964, Life published the following excerpt from King's yet-to-be-released book Why We Can't Wait :
[Johnson's] approach to the problem of civil rights was not identical with mine—nor had I expected it to be. Yet his careful practicality was, nonetheless, clearly no mask to conceal indifference. His emotional and intellectual involvement was genuine and devoid of adornment. It was conspicuous that he was searching for a solution to a problem he knew to be a major shortcoming in American life …
I have no doubt that we may continue to differ concerning the tempo and the tactical design required to combat the impending crisis. But I do not doubt that the President is approaching the solution with sincerity, realism and, thus far, with wisdom. I hope his course will be straight and true. I will do everything in my power to make it so, by outspoken agreement whenever proper, and determined opposition whenever necessary.
In King's writing, he appears to fairly assess that while he did have major differences with Johnson, the men seemed to be genuinely working toward a common goal — even if it was at different paces.
As for Johnson, I could not find as many meaty quotes about his opinions on King during the time period All the Way will cover. NPR did report that Johnson and King met, along with three of King's allies on Jan. 18, 1964. While setting up the meeting with Roy Wilkins, the executive director of the NAACP at the time, Johnson appeared to encourage the civil rights movement of King and his associates, asking Wilkins, "When are you gonna get down here and start civil rights?"
There were tensions by the time the events in Selma occurred, as can be heard in phone recordings of Johnson, provided by The Atlantic. Although Johnson seemed to be seeking a solution to the complicated issue of the voting rights marches, he also condemned King by saying, "I just think it's outrageous what's on TV. I've been watching it here and it looks like that man is in charge of the country." However, the 1965 marches will not be a part of All the Way.
While it's common sense that every person should receive equal rights, the unfortunate fact was (and is) that the battle for equality is inevitably politically charged and that is evident by the interactions between President Johnson and Dr. King. Yet, in this transcript of a conversation the two men had on Nov. 25, 1963 (three days after President Kennedy was assassinated), they acknowledged the political ramifications of passing social justice laws, but they also seemed to treat one another civilly. After all, it was in each of their best interests to work alongside one another even if they did not always have the same agenda.
Whether Johnson was a civil rights hero or a racist, or both as MSNBC reported, he did work with King to pass legislation to help improve social justice for all in the U.S., even if their interactions were not always pleasant. And you'll be able to see one interpretation of this as Cranston and Mackie take on this intricate relationship when All the Way premieres at 8 p.m. on Saturday, May 21.
Images: Hilary Bronwyn Gayle/HBO (3)