'Jane The Virgin' Can't Make Fans Wait Too Long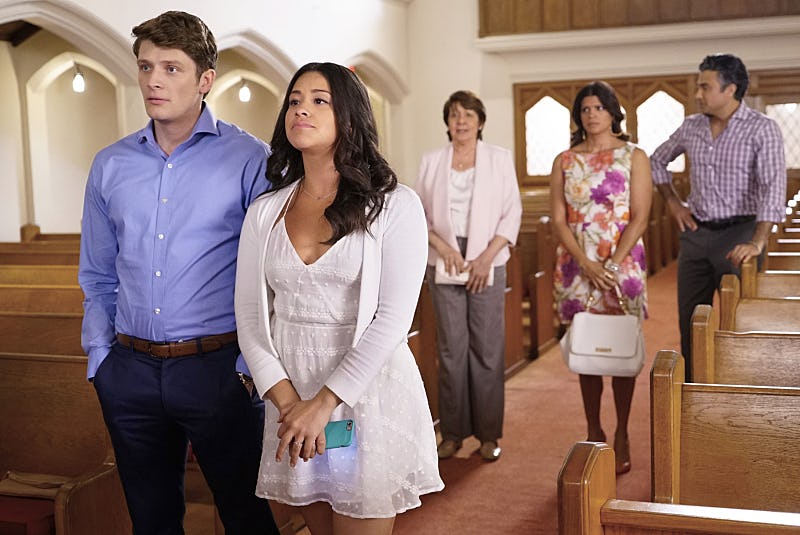 After quite the rollicking second season, there's one question that looms larger than all others: When does Jane the Virgin Season 3 premiere? No matter what, it's going to be a tough wait, because if there's one thing we can absolutely count on from Jane the Virgin (besides all-around quality, of course), it's a major cliffhanger season-ender. We got it in Season 1 with Mateo's kidnapping, and as for Season 2 — well, we've yet to see the final minutes of "Chapter Forty-Four," but Justin Baldoni promised it'll be huge. As he explained to Bustle, "I think the end of Season 2 is better than the end of Season 1, so if there's a way to up the cliffhanger moment, I think they did it."
Suffice it to say, we can expect to be waiting on the edge of our seats for the premiere of Season 3. Unfortunately, we don't know for sure when it will arrive. Luckily, there will definitely be a third season of this particular critically-acclaimed show. The CW renewed Jane the Virgin along with 11 other shows back in March — but it hasn't announced the premiere date yet.
Seasons 1 and 2 both premiered in mid-October, so that would likely be the case again for the show's third season — though it's worth noting that we don't know exactly how many episodes have been ordered yet. The Hollywood Reporter has pointed out that The CW's extra-full roster may mean shorter orders for their lower-rated shows like Crazy Ex-Girlfriend and Jane the Virgin. Hopefully, this doesn't turn out to be the case, but it may become a very scary reality that we should prepare ourselves for.
So, when Jane the Virgin finally returns (hopefully with a full 22-episode order), what can we expect? Well, for starters, depending on how the wedding goes, it may be going by a slightly different title — in a Season 1 post-mortem interview with Deadline, Jennie Snyder Urman revealed her plans for what the show would do for a title, once Jane was, well, no longer a virgin. Her solution is nothing short of genius: A simple strikethrough through the word "virgin" is all it takes to make a world of difference.
Also, wedding or no (and virgin or no), I think we can expect the never-ending battle between Michael and Rafael for Jane's affections to continue. Baldoni told Bustle of a possible reconciliation between Raf and Jane, "I think they've both grown a lot ... But it's hard. She is in love with somebody else. You're not just going to cut off those feelings. I don't know if it's possible right now, but I think everyone has matured on the show." They may be more mature, but I don't think they'll ever fully outgrow Jane the Virgin's addicting love triangle.
It'll also be interesting to see if XoRo gets back together, how Petra's oft-tragic family drama saga unfolds, what new levels of cuteness Mr. Sweetface reaches as he enters toddlerdom, and of course, how the Marbella fares after being caught in the crosshairs of a few crimelords.
In other words? Jane the Virgin Season 3 can't arrive soon enough.
Images: Greg Gayne/The CW; Giphy