'Rocky Horror Picture Show' Is Coming This Fall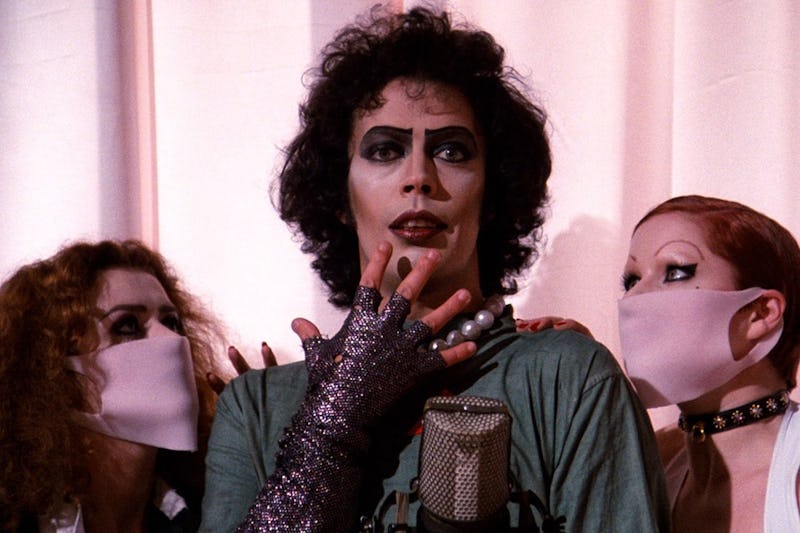 I have excellent news for all you live TV musical fans out there. FOX's Rocky Horror Picture Show premiere date is one step closer to being here. OK, we don't yet know the specific day that it will premiere, but we do have a premiere month. On May 16, the channel announced that the star-studded musical cast, featuring everyone from Victoria Justice to Laverne Cox to Adam Lambert, and even Tim Curry, will premiere sometime in October 2016. And, lest you get discouraged because just vaguely knowing what month the two-hour special will air in doesn't feel like it's enough information, let me tell you that this is actually great news.
Granted, it's still a few months out, but the month of October turns out to be a really great time to air a high-profile show like this one. There isn't a ton of competition. FOX has already dipped their toes into the live-musical pond with Grease Live! , which aired in January 2016, but they seem to know that they need to pull out all the stops if they're going to compete with the magic that was NBC's The Wiz Live. That was no joke. Since a big part of stepping up to the plate is getting as many eyeballs on the main event as possible, October couldn't have been a better choice for the Rocky Horror Picture Show showing.
Here are all the reasons why.
1. It Coincides With Halloween
As a show, Rocky Horror Picture Show is all about camp and costumes and high drama, with a bunch of spooky, supernatural elements laid in, which makes it a perfect match for Halloween. Staying home and watching it is like the adult form of trick-or-treating.
2. The Weather Is Cooling Down
Perfect time to be cozy in your house, snuggled up under a blanket with a glass of wine and the TV on.
3. The Summer Shows Will Be Over
They won't have to worry about competition from shows like So You Think You Can Dance or Big Brother, which draw big audiences during the summer, because they'll be long over by October.
4. Fall TV Premieres Will Have Slowed Down
And, at the same time, we won't be right in the heat of the fall premieres, either. Most new shows will be debuting in September or early October, so, by the time the end of the month rolls around, we'll already be a fair bit into the seasons of the new shows, and you'll be able to DVR them while watching RHPS Live.
5. It's Not Quite Awards Season
Award season doesn't get into full swing until early November, so October is still safe from the nominations ceremonies and award shows that eat into so many weekends through the winter. The only thing that's even on the calendar for October is the Gotham Independent Film Nominations, which are on Oct. 22.
Call me crazy, but I'm pretty sure producers picked the exact right time to drop Rocky Horror Picture Show. The specific date has yet to be chosen, but October in general is such a safe bet that it makes me confident we're in really good hands.
Images: 20th Century Fox; Giphy (5)