5 'JTV' Moments To Rewatch When It Hits Netflix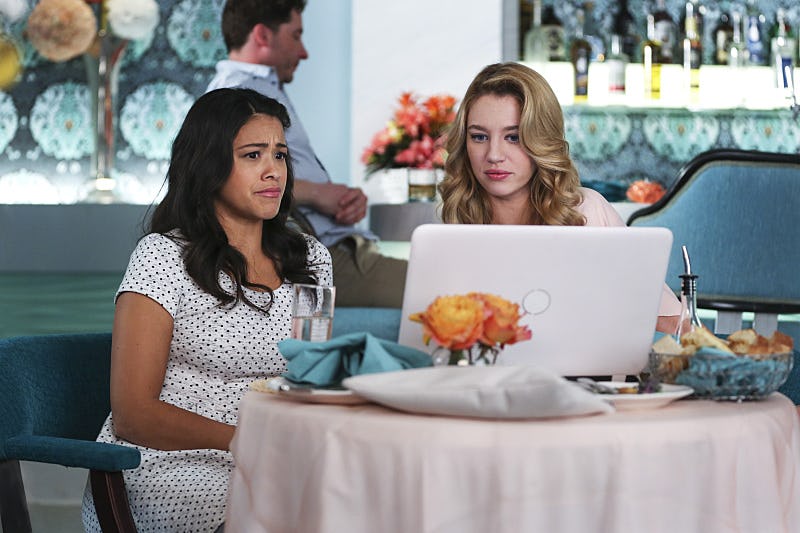 In true telenovela fashion, the second season of Jane the Virgin has been full of all kinds of drama. There's been feuding crime lords, long lost siblings (and one of them is a twin!), stalkers turned into kidnappers, and all kinds of relationship drama from mother daughter fights to love triangles galore — plus Jane getting the hang of being a mother, of course. So, as someone who is eager to rewatch the season, I'm wondering: When will Jane the Virgin Season 2 be on Netflix?
Well, Netflix has yet to announce an official release date for Season 2, but let's look back at when Season 1 premiered on the streaming service to see if that can give us a hint. According to The Hollywood Reporter, Season 1 of Jane the Virgin hit Netflix on Oct. 12, 2015, which happens to be the same day Season 2 premiered on The CW. So, Season 2 might be released on Netflix the same day Season 3 premieres on The CW. Unfortunately, The CW hasn't set a premiere date, but if its on a Monday in mid-October like the previous two seasons, it could be Oct. 10 or Oct. 17 — which makes those days the most likely release dates for Jane the Virgin Season 2 on Netflix.
Now that we have some idea of when we'll be able to rewatch Season 2 again, let's talk about what we're most excited to see again. Here are five moments I need to rewatch ASAP.
Britney Meets Jane
Jane the Virgin has had plenty of fun imaginary sequences, especially in Season 2, but nothing has or can ever top Jane getting to dance with Britney Spears in "Chapter Twenty-Seven." Plus, Rogelio's tiff with the pop princess is fantastic, especially since she got to make a meta reference to her song, "Stronger."
Alba Becomes A Citizen
In the early part of Season 2, Jane the Virgin tackled Immigration Reform through a storyline surrounding Alba becoming a U.S. citizen that culminated in her receiving her official green card during the Christmas episode, "Chapter Thirty." I don't know about everyone else, but this moment made me get all misty-eyed in the best possible way.
Jane & Michael Get Back Together
I'll admit that throughout Jane the Virgin's two seasons I've gone back and forth between hoping Jane ends up with Michael or Raphael, but Season 2 made me a full-blown Jane and Michael 'shipper (which makes the theory that Michael will die even worse). So, the moment at the end of "Chapter Thirty-Four" when they get back together is going to be a must-watch when Season 2 hits Netflix — it may be even the moment I went from casual to full-blown 'shipper!
Jane Helps Petra Give Birth
One of my favorite relationships on Jane the Virgin is the tenuous friendship between Jane and Petra. Their friendship took a couple of leaps forward in "Chapter Thirty-Six" when Jane holds Petra's hand (and doesn't say anything as Petra yells mean things in Czech) throughout the birth of Anna and Elsa. I just want Jane and Petra to be best friends, and this is the closest we got all season.
Michael Saves Rogelio
Although I personally tune in to watch Jane the Virgin for the relationship drama, the action bits are certainly exciting as well. One of the best from Season 2 may be Michael's daring rescue of Rogelio in "Chapter Thirty-Seven" from the stalker-turned-kidnapper who planned to add murder to her rap sheet. It was a tense and exciting moment, and I can't wait to watch it again.
So, those are the five moments from Jane the Virgin Season 2 that I'm most looking forward to rewatching once it hits Netflix. Now it's just a matter of passing the time until I can make that happen!
Images: Scott Everett White, Eddy Chen/The CW; Giphy (4)