16 Apps That Will Help You Travel Cheaply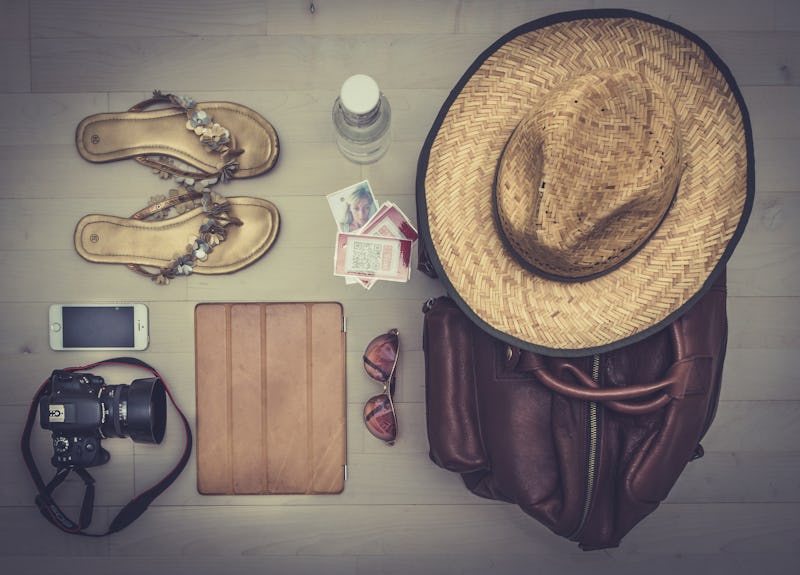 While traveling the world seems like a fantastical dream to most, to many, it's a casual reality. In the past, extensive travel was almost exclusively associated with the rich, the famous and the National Geographic photographers. But thanks to cheap travel apps the internet connecting people across the globe with the ease of a whisper, we have access to all sorts of arrangements that make traveling a lot easier and a lot more affordable. It used to be that you had to pay for standardized lodging like a hotel. Now with different rental and house swapping options, spending a night somewhere doesn't mean dropping $300 on putting a roof over your head.
Typically, I find it frustrating when travel bloggers try to tell their followers about how easy it is to travel and how you don't need to have money — because it's not entirely true. You do have to pay for airfare, lodging, food and have enough money for unforeseen circumstances, so you do have to spend money, but there are ways to pay less. So yes, it's true that if you re-prioritize your life and sack away that $100 you were going to spend at the bar this Friday and put it in a travel fund, you could start to position yourself for a life of travel.
Thanks to the vast intersection between developers and travelers, there are tons of apps that make traveling easier and more affordable. Here are some of the most useful ones:
If you plan on traveling extensively, don't sign a lease with a landlord in one city, sign one with Roam. It's an international network of co-living spaces. Sign a lease with the organization and travel anywhere they have space available.
Avoid hotels and bop around from house to house. Stay with a host or get a place to yourself. Experience travel like a local and avoid unnecessary hotel fees.
It's the Gilt of travel. Get insane deals on hotels you never dreamt of staying at. Check back often and at odd hours, you might end up having a five star vacation on a no star budget.
Keep this app on your phone for last minute hotel bookings. If you end up going on an unexpected adventure and don't have time to comb the internet for good deals, Hotel Tonight will give you a concise list of your options for the night.
Looking up flights can be very confusing and messy. Google Flights consolidates all the search results into the most simple screen. It's not necessarily the best way to find a deal, but if you're looking for straight-to-the-point availability, this is your place.
Flights, hotels and car rentals all in one place. This app searches every deal on the web, all at once, and gives you the best options.
Another great round-up site. Hipmunk will show you lots of options to compare so you can be sure to get the best deal for you. They also do packages and bundle deals to help you save money by booking cars and hotels at the same time.
If you have a dog, this app is a must have. Find out what restaurants, hotels and attractions you can bring your dog to. Don't waste time and money being turned down from businesses for having your dog with you, get in the know ahead of time and plan accordingly.
Don't bother spending $30 on a guide book or translator guide. Download this app and get on-the-go help. The most useful translations are going to be online, anyway. This is the new-age Rosetta Stone. Just remember that the translations are not always perfect, this program is most helpful when you're looking for specific words.
Don't risk missing a flight, download this app and let it take care of your itineraries and travel information. Having it all in one place will make your life a lot easer and you'll be much more prepared for budget travel with everything in order. Surprises usually cost you.
If you can avoid renting a car, do. With this ride-sharing service, you can get cheap cab rides, and make friends with locals.
Don't waste your time or money going somewhere that you haven't already checked out. Sometimes attractions can be improperly advertised and you might waste a ton of money getting somewhere that's nothing like you think it is. Look up the place on Instagram, check out some real-time footage of it and decide if it's worth checking out. Also check out what everyone's wearing to be sure you're dressed appropriately.
People love this app. It's precise, sleek and revered as accurate. You want to be prepared when you travel and having to buy a sweater because you didn't know the temperature was going to drop, is a huge waste of money.
This app helps you literally take a look at what you can eat locally. Search pictures, instead of menus, get your mouth watering and head to the place that looks like it has the best chance of satisfying you. Generally, you want to avoid tourist spots, they're always going to be the most expensive.
Don't pay for WiFi. Find it for free. There's always a place.
Avoid crazy message fees with Whats App. It's super easy to use and totally worth the digital space on your phone. It's totally free so you can stay in touch with your friends and family and co-workers without spending a dime.
Image: Pexels; Courtesy of Apps