'Chicago Med' Season 2 Can't Come Soon Enough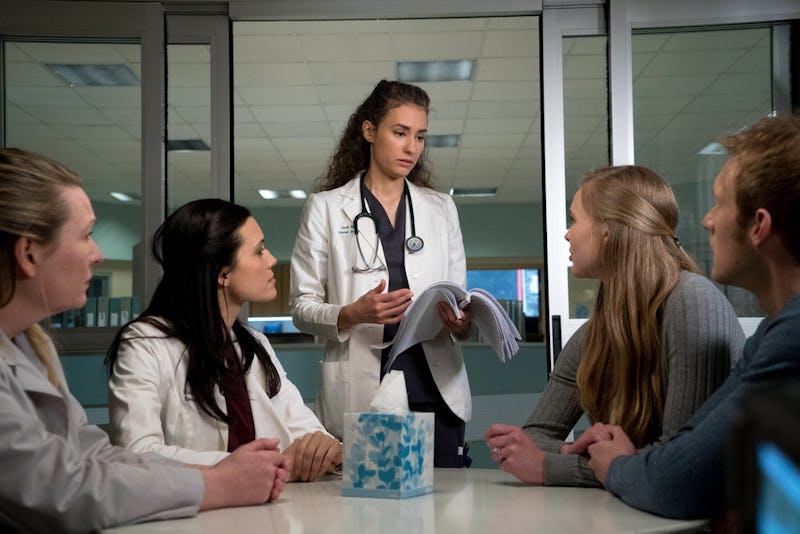 The doctors of Chicago Med's Gaffney Medical Center have had their highs and lows during the NBC drama's first season. Certainly, situations for the staff will reach a fever pitch during Tuesday night's season finale. But when will Chicago Med return for Season 2? The freshman drama series was renewed for a second season back in February as reported by Deadline, but it doesn't seem like a return date has been announced just yet. Since Chicago Med premiered last fall, I'd say it's safe to assume the show will return this coming fall — because if the series doesn't, there will be a Chicago show missing on NBC.
Chicago Med is part of powerhouse exec producer Dick Wolf's juggernaut Chicago TV universe, which also includes Chicago Fire, Chicago P.D., and the upcoming Chicago Justice, which will bring the franchise into the courtroom and premiere in the fall. I had hoped that NBC offers some kind of prize for watching all of the Chicago shows in a week, but alas, the engaging storylines and interesting characters is reward enough. What will I do without the show for the summer? While I won't replace Chicago Med — or any of the Chicago series — in my heart over the hiatus, I know there are plenty of other shows to help get me through the break between seasons.
You too? You're in luck. Check out the following medical dramas that are similar to Chicago Med.
The Night Shift
I had wondered where this other NBC medical drama had gone. It turns out the series was on extended hiatus and will premiere its third season on June 1. This action-packed show grew on me last season, especially after all the craziness last year.
Grey's Anatomy
The OG of Shonda Rhimes-produced TV dramas. If you love medical dramas, you're probably already watching this one, and if you're not, don't fret — Grey-Sloan Memorial's doctors will still be there for you.
Rosewood
Morris Chestnut stars in the FOX drama, which follows a private pathologist who teams up with the police to solve crimes. Medicine and crime in one show? Jackpot.
The Knick
Feel like going back in time? Then check out Cinemax's period medical drama, which stars Clive Owen as a doctor addicted to cocaine and opium. Medicine was different in the 1900s.
A Young Doctor's Notebook
Another period medical drama, but this one is from England and stars Daniel Radcliffe and Jon Hamm as the same doctor during different points in his life. Consider it a fun, weird alternate universe in which Harry Potter grew up to become a doctor and ages into Mad Men's Don Draper. It's currently streaming on Netflix, so go ahead and dive in.
Mercy Street
Let's take it even further back, period-wise. This PBS drama takes place during the Civil War and follows two nurses on opposite sides of the fight, but they work together at the same Virgina hospital. Complications ensue, of course.
These medical shows should be able to hold us all over until Chicago Med returns in the fall.
Images: Elizabeth Sisson/NBC