Ne-Yo Is Mindy's New Beau On 'The Mindy Project'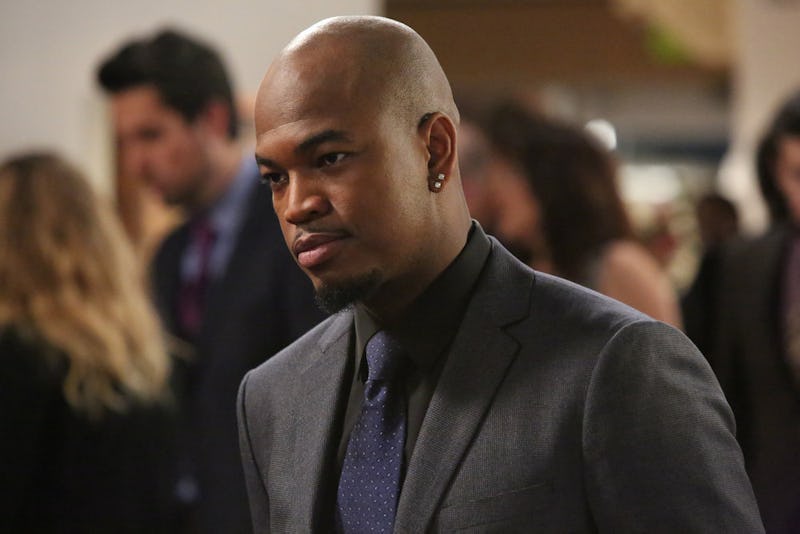 I kind of love how The Mindy Project refuses to settle on a love interest for Mindy in Danny's absence, but I might make an exception for her latest beau. Don't you want to see more of Ne-Yo on The Mindy Project ? His character Marcus is a musical theatre-based love interest at that, which is fitting for the former The Wiz Live star.
We met Marcus as a friend of Pastor Casey, Mindy's ex-fiancé. Marcus is an investor who wrote a check to a fictional James Buchanan-inspired Hamilton ripoff for tax purposes. As someone who lives in New York City and meets quite a few people with similarly vague connections to the Broadway theatre community, I appreciated this realistic, yet different profession for a romantic interest. Like Mindy Kaling herself once said in a piece for The New Yorker, despite what romantic comedies try to tell you, there aren't that many cool architects out there.
This is, by the way, the second time that The Mindy Project has low-key made fun of Hamilton. Is there a beef that I should know about, or something? After failing to "woo" Marcus as a friend in order to get back with Casey, Mindy met up with him at the musical developed a bit of a crush on him and asked him out.
I'm looking forward to seeing more of Marcus. He's got an energy that works well with Mindy. I would much rather her pursue him than Jody, whose crush on Mindy is apparently not going anywhere. His accidental makeover may have done him a lot of favors, but I still don't see Jody with Mindy on The Mindy Project. Hopefully, Ne-Yo and Marcus are here to stay!
Images: Evans Vestal Ward/Universal Television