'Neighbors 2' Shows The Dark Side Of Greek Life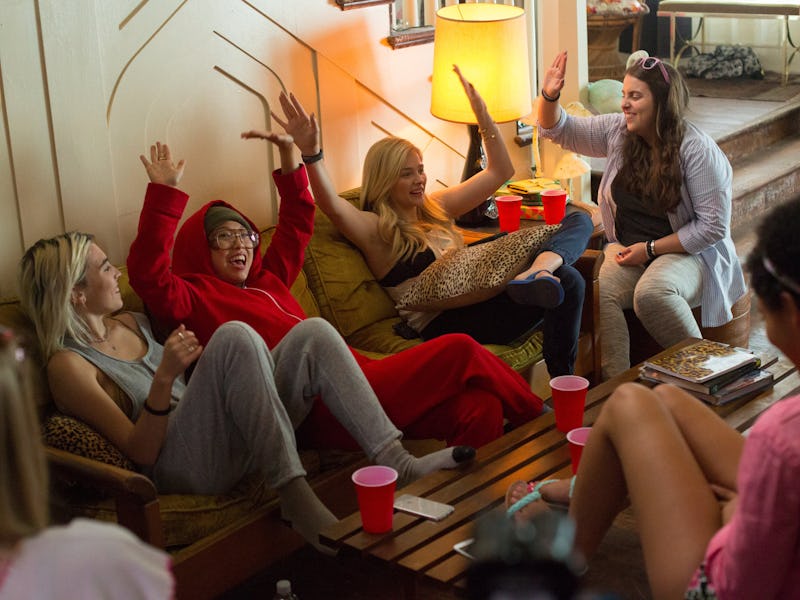 When I was in college, I wouldn't have been caught dead pledging or rushing a sorority, as in my opinion, it just wasn't the thing that progressive, feminist young women did. While plenty of college-based movies would have you believe that Greek life consists of nothing more than wild nights and great memories, the truth is often less idealistic than that, with some frats encouraging racism, sexism, and rape culture. When portraying Greek life, Hollywood has tended to ignore this reality — but finally, one comedy, Neighbors 2, is highlighting the fact that frats can sometimes be pretty dangerous places, while also illuminating the changing role of the sorority in empowering young women.
Like in 2014's original Neighbors, Neighbors 2 follows Mac (Seth Rogen) and Kelly (Rose Byrne), new parents who are traumatized by the wild Greek life living next door and decide to get even. Yet instead of it being a frat that's throwing the rowdy parties next door, the duo's foes this time around are a wild sorority full of young, independent women, started because, as leader Shelby (Chloe Grace Moretz) discovers, American college rules dictate that only frats are allowed throw their own parties. So instead of joining a regular sorority and participating in normal Greek life at their school —Shelby and her friends briefly attend a frat party, only to find it "super rapey" and unsafe — they decide to start their own version, and take over the house next to Mac and Kelly's.
Having experienced what a normal frat party is like at their school, complete with questionably spiked punch, constant pressure to hook up, and a general air of danger, the gals vow to never visit again, and instead form a sorority where they're free to party, drink and experiment with drugs in the safety of their own house. There, not only are the members not in fear of getting drugged, pressured, or raped, but they're able to bond together and be "sisters" for life. Instead of attending unsafe frat events, they throw their own awesome parties devoted to feminist heroes; members dress up like Joan of Arc, Hillary Clinton, Oprah, and more. Instead of being pressured into having sex, they spend their time watching movies like The Fault in Our Stars and reading feminist literature. It's an ideal situation, and a scenario hardly ever seen in campus-based movies.
In most college-set movies where Greek life features prominently, fraternities are not presented as dangerous or unappealing. Unsavory, certainly; messy, absolutely; home to debauchery, definitely — but never scary. Animal House, Van Wilder, and Old School present fraternities as a fun time where a little bit of natural, grown-up depravity might occur, but they don't show the darker side of Greek life, the side that, sometimes, puts women at risk. Though the existence of fraternities doesn't necessarily perpetuate rape culture, the statistics are frightening. According to T he Guardian , "numerous studies have found that men who join fraternities are three times more likely to rape, that women in sororities are 74% more likely to experience rape than other college women, and that one in five women will be sexually assaulted in four years away at school." Yet unlike so many other films, Neighbors 2 doesn't shy away from these scary facts.
And while Shelby and her friends' decision to start their own sorority in light of these truths might be surprising to some viewers, it shouldn't be. Starting a new sorority in order to ensure safety isn't just a thing that happens in the movies; in reality, more and more sororities are defying tradition in order to allow their members the assurance of privacy, safety, and freedom. The New York Times recently highlighted a sorority at Dartmouth that has no ties to a national affiliation, and, because of this, has begun hosting parties. Described the Times, "Events feature female bartenders, female members at the doors and women designated to remain sober and monitor the scene. A social chair at Sigma Delta, Molly Reckford, said that female students routinely have said they preferred parties there rather than at fraternities."
With this becoming a new reality for some college students, Neighbors 2 might feature the most accurate representation of sorority life on film to date. While movies like The House Bunny or Legally Blonde would have you believe that sorority girls need to fit into a certain stereotypical molds and don't experience the dangers of some frat parties, the Rogen-led film stays honest, recognizing frats' issues and highlighting how diverse, progressive, and feminist some sororities have become.
Neighbors 2 recognizes that sororities, when their members are in control of their own lives, can have great benefits. Shelby and her sisters become close friends, supporting one another through thick and thin. In real life, membership in sororities at some schools has risen in recent years; The New York Times noted that at Brown University, for example, the number of women rushing sororities in 2016 was a 42 percent increase from the year before. As the Times wrote, sororities have changed in some schools from being places solely to "get pretty, party, get a guy, get married" to being inclusive, feminist organizations that help their members achieve both close friendships and possibilities for jobs post-graduation.
And that's the kind of sorority captured in Neighbors 2, one that is progressive, diverse, and full of feminist women who take action, calling out double standards and misogyny every time they see it. Perhaps, if the movie is successful, other college-based films will follow suit and leave behind the Greek life cliches so often seen on-screen, but for now, this funny, smart comedy might be the most accurate representation of modern college life there is.
Images: Universal