Xo's Pregnancy On 'JtV' Is Gonna Be A Game-Changer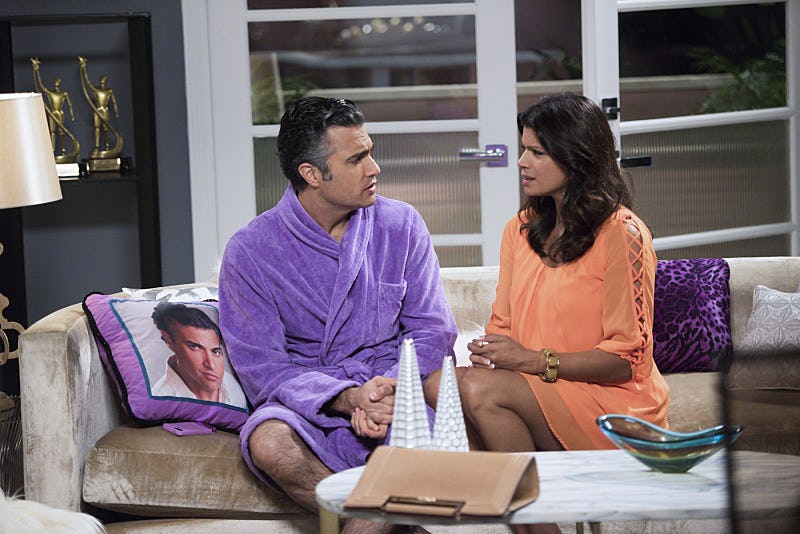 If you were too distracted by (spoiler alert!) Michael getting shot and Petra getting petrified during Jane the Virgin's May 16 season finale to focus on much else, then you might've missed out on one important reveal: that Xiomara is pregnant, and the father is a total mystery. Although it was hinted in the episode that the baby could be Esteban's, it also could be Rogelio's — and even actor Jaime Camil doesn't know the truth.
"I wouldn't bet my money in any assumption, if Esteban is the father, or if I'm the father — I don't know, truly," the actor tells Bustle, jokingly adding that due to an upcoming role in Broadway's Chicago, he's headed to New York "with this uncertainty, and it's going to kill me."
Camil points out, though, that the paternity question isn't the only one raised by Xo's discovery; as the character has been adamant that she doesn't want any more kids, it's unclear if she'll choose to continue the pregnancy.
"That storyline can develop in so many different ways," Camil says. "If Xo is even gonna consider having the kid because she has said many times that she doesn't want kids — there's so many ramifications to this story."
How Xo chooses to handle the pregnancy could potentially have a big effect on her relationship with Rogelio, who's made it clear on JtV that he wants more kids, but also wants to be with Xiomara. It's a situation with no easy answer, but Camil thinks that the duo still have a shot at making it work.
"I think their love story is so strong," the actor says. "Rogelio and Xiomara love each other dearly. They co-created a child, for the love of God, so I think that storyline will never go away, and I think the love won't either, because Rogelio has established in every single episode that the love of his life is Xiomara."
Still, Camil acknowledges that Xiomara has to feel the same way — and judging from the fact that she slept with Rogelio's mortal enemy, Esteban, that's no guarantee.
"Rogelio slept with Dina, but after five episodes of being devastatingly rejected by Xiomara, and after five episodes of telling her I love her and I cannot stand my heart to be broken again and again," Camil recalls. "But Xiomara, on the other hand... she doesn't have any judgment at all."
"I actually was surprised that [the show's writers] wrote Rogelio to not forgive her, but to understand fairly quickly, that Xiomara slept with Esteban," Camil continues.
Regardless of what happens with the pregnancy and Esteban, it's unlikely that Rogelio will be out of Xiomara's life anytime soon. Camil says that as an actor, he loves that Rogelio has a "beautiful, heartfelt" relationship with the "three generations of Villanueva women," and while storylines like Xo's discovery are "shocking," they also work to bring the characters closer together. It's a testament to the quality of the show, Camil says, that even the wildest plot devices and cliffhangers rarely feel over-the-top.
"The big difference that Jane the Virgin has from other comedic shows is that every single character comes from a very sincere and honest place," Camil says. "We are not clowns that throw pies at people's faces, even though the characters might live in a ridiculous universe... and so regardless of the situation we are portraying, even if it's a completely ridiculous situation or scenario, we as actors, we do our best to make those scenarios as sincere and honest as possible."
Judging from the amount of tears that Jane fans found running down their faces during the Season 2 finale, it looks like the show is succeeding in doing just that.
Images: Scott Everett White/The CW