'Legends' Will Be Very Different In Season 2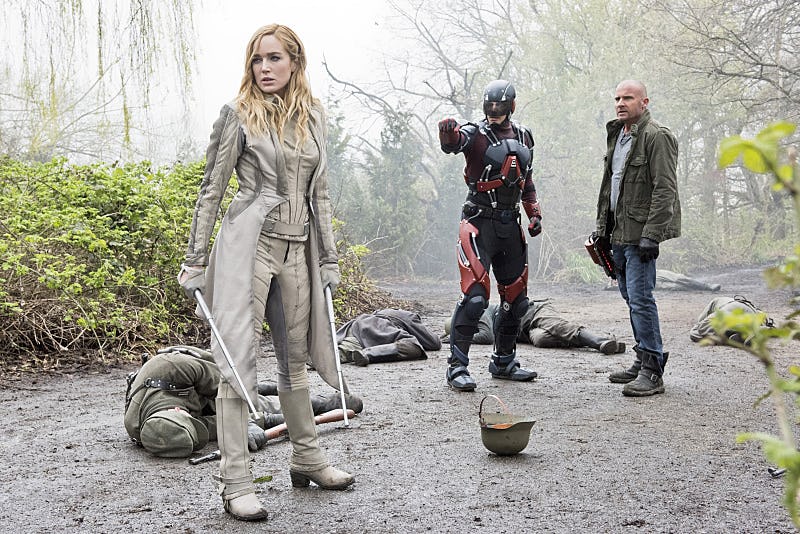 The team on the Waverider has gone on many adventures throughout the first season of Legends of Tomorrow as they've attempted to hunt down and thwart Vandal Savage from taking over the world. Now, as Season 1 begins to wrap up, the team gets closer to completing their mission. But, if the legends on Legends of Tomorrow are successful in defeating Vandal Savage, I'm wondering what that means for next year. So, with Season 1 close to concluding, when is Legends of Tomorrow Season 2 and what can fans expect from the Waverider team when they return? Update: Netflix has announced that Legends of Tomorrow will begin streaming on Oct. 13.
Earlier: Well, although The CW renewed Legends of Tomorrow for a second season, as reported by TV Line, the network has yet to announce a return date for its newest DC Comics-based series. The Legends of Tomorrow season 2 premiere date will likely depend on whether the series will be a midseason debut, as it was with its first season, or premiere alongside Arrow and The Flash (and perhaps Supergirl ) in the fall. If Legends of Tomorrow debuts at the midseason point again, it'll probably premiere season 2 in late January 2017, but if it premieres in the fall, then the Legends sophomore outing will likely kick off in the beginning of October — as has been the case with previous seasons of Arrow and The Flash.
However, whenever Legends of Tomorrow does return, it won't be exactly the same show it was in Season 1. For instance, the roster won't be exactly the same since two new heroes are joining the show in Season 2. According to TV Line, Legends of Tomorrow will add a male and female hero to the team next year. Plus, as Entertainment Weekly reported, Patrick J. Adams will debut in the Legends of Tomorrow Season 1 finale as a mystery character, who will then play a big part in the Season 2 premiere. In addition to Adams' character, executive producer Marc Guggenheim told ComicBook.com that there will be even more DC Comics characters in Season 2, "by a large margin." So, it seems Season 2 of Legends will be delivering plenty new characters.
But, according to showrunner Phil Klemmer in an interview with IGN, these characters won't be the only new aspect in Season 2. In fact, Klemmer said Season 2 will be very different, since the motivation of saving Rip Hunter's family and the antagonists of the Time Masters will be wrapped up at the end of Season 1:
We're coming at it from a completely different angle. We're determined to make every part of Season 2 feel like its own show. Episode 201 will very much be a new pilot with new good guys, new bad guys, new stakes, new dynamics, new goals. The team will basically have to find a new purpose. Once you save the world, what do you do then?
So, the good news is that Legends of Tomorrow actually is going to return for a second season, but the (potentially) bad news is that it may be wildly different — which, depending on how you felt about Season 1, could either be a good or bad thing. Now it's just a matter of waiting until Legends of Tomorrow Season 2 premieres; hopefully The CW will let us know soon when that will be!
Images: Dean Buscher, Jeff Weddell/The CW; Giphy