Every 'Scandal' Fan Should Watch These Shows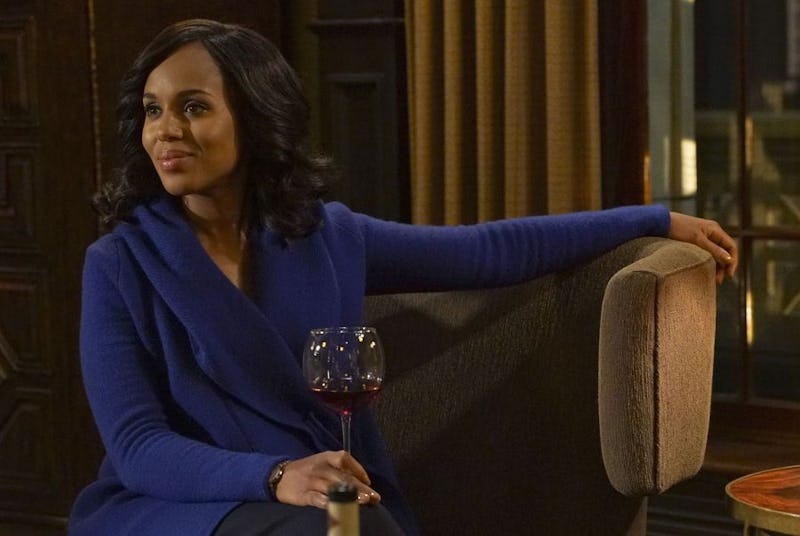 Sorry Scandal fans, but you're going to have to wait a bit longer than usual to see Olivia Pope back in action. According to Variety, ABC has pushed back Scandal 's Season 6 premiere until 2017. Before you get all worried though, know this move was reportedly made because of Kerry Washington's second pregnancy, something she's hasn't officially announced, but more than hinted at with her recent Met Gala dress. So stay calm, everything is as it should be in Shondaland. This is just a simple schedule change. Of course, though, this still means you're going to have to find a way to bide your time while you wait for your favorite T.G.I.T. show to return. And that's where I come in.
To make the wait a little less agonizing, I've come up with a list of 11 shows you can be watching while you wait for Scandal to return. Like Rhimes' show, this list has got a little bit of everything. We've got political thrillers, female-led dramas, Kerry Washington, and lots of good-looking clothes.
Don't think of Scandal's premiere push-back as a curse, but instead, a blessing in disguise that frees up a little of your time for new Olivia Pope-less content. So grab a glass of red wine and get ready for a lot of marathoning.
1. Confirmation
For those who watch Scandal for Kerry Washington alone, this 2016 HBO movie about Anita Hill will make it clear that the actress is much more than Olivia Pope. As you learn from watching real footage of the testimony, Washington basically becomes Hill, and gets you to think about the case in a brand new way.
2. The Good Wife
Alicia Florrick may be gone, but not forgotten. With the series just ending, this is the perfect time to catch up on all the drama. Throughout its seven seasons, the CBS drama showed how this one woman, played by Julianna Margulies, went on with her life after her husband's cheating scandal forced her life to be flipped turned upside down. Alicia was certainly a good wife, but this was a great show.
3. Commander In Chief
This short-lived series, which ran from 2005 to 2006, looks at what a female presidency would be like. Geena Davis plays Mackenzie Allen, who is vice-president until the death of the current president sees her taking over the oval office. With just 19 episodes, it's easy to marathon through, but it isn't always easy to watch. It will, however, give you a sense of the possible things Mellie Grant might deal with if she finds herself in the White House as the first female President of the United States on Scandal.
4. Being Mary Jane
Mary Jane, like Olivia Pope, is in charge of her career and life — but that doesn't mean it isn't drama-filled. The BET series, which is in its fourth season, focuses on Gabrielle Union's TV news anchor character as she navigates life and love as a single black woman. The show is empowering as we watch Mary Jane try and do what's right. She's not perfect, but she's trying and that's what makes her so much fun to watch.
5. The Honourable Woman
This BBC miniseries starring Maggie Gyllenhaal is a lot to handle — in a good way. This engrossing spy thriller, which looks at the Middle East, is filled with twists at every turn. All I can say is it starts with a kidnapping, and in the end, you'll realize that no one is who they really claim to be. The Honourable Woman seems to have learned something from the The X-Files: Trust no one.
6. BrainDead
This new CBS series, which debuts June 13, could be the perfect antidote for your summer blues. The political thriller with a sense of humor looks at young Capitol Hill staffer (Mary Elizabeth Winstead) who is trying to navigate the dysfunction of Washington D.C. — not to mention, deal with the aliens that seem to be eating the brains of Congressman. It seems like they could use a good fixer, which is why after watching this show, you may end up asking yourself: What would Olivia Pope do in this situation?
7. Political Animals
The six-episode limited series, which aired on the USA Network in 2012, stars Sigourney Weaver as Secretary Of State Elaine Barrish who has been appointed to the role after losing the presidency. The show looks at Weaver and her politically-driven family and what they've given up to be on top.
8. Drop Dead Diva
After a model named Deb dies, she ends up coming back to earth in the body of a recently deceased brilliant lawyer named Jane. Soon we're seeing Jane live a new stylish life that has her trying to romance Deb's fiancé while still winning cases. With six seasons, this is the perfect guilty pleasure show for the summer. Seriously, I bet you can't watch just one episode.
9. Suits
This show gives Olivia Pope's wardrobe a run for its money, but it's also an engrossing legal drama that hinges on a very big secret. So, basically, just watch don't try to read up on this show or you're going to spoil everything.
10. UnReal
Who knew how addictive a show about what happens behind-the-scenes on a Bachelor type show would be? Before the Lifetime series kicks off its second season on June 6, catch up on the first, which deals with mental illness, feminism, sexism, and racism in a way you've never seen before.
11. Doctor Who
Shonda Rhimes is a Doctor Who devotee, so while you wait for Scandal, do as Shonda does and start watching this British sci-fi show. With 35 seasons under its belt, this franchise will keep you more than busy until Scandal returns. (But, for those new to the series, may I suggest starting off with David Tennant's first season as the Doctor?)
Hopefully, these 11 shows will make the Scandal wait seem, well, way less scandalous.
Image: ABC/Byron Cohen