This New Pic Of Jenna Hints At Her 'PLL' Fate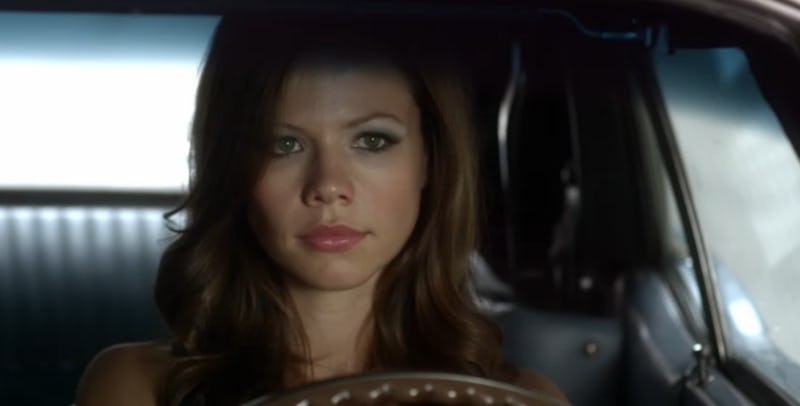 Though nothing has been officially confirmed yet, rumor has it that Season 7 of Pretty Little Liars could very well be its last. Obviously, PLL couldn't sing its swan song without bringing back some of Rosewood's shadiest and most notorious characters, which is why fans were stoked to hear that none other than Jenna Marshall would be making her grand return to Pretty Little Liars in Season 7. Given Jenna's history with the Liars (a history that involves the Liars accidentally blinding Jenna, whoops) it only makes sense that she'll rear her head in the season where, as showrunner I. Marlene King stated in her spoiler video, the Liars will make their biggest mistake ever. Though we don't know much about Jenna's return, Pretty Little Liars writer Bryan Holdman is stirring up some serious questions by posting Jenna's first on-set photo of Season 7.
Though the new season is set five years after the Big A reveal, it seems that not much has changed for Jenna — aesthetically, anyway. Jenna is still rocking her favorite pair of dark shades, and wearing an outfit that could easily double for funeral attire. You gotta hand it to Jenna: even when she's plotting to take down the Liars, she always looks unbelievably chic doing it.
As Holdman says in his tweet, Jenna is returning not only to Rosewood, but to the Radley Hotel — aka the place Hanna's mom runs. Jenna could very well be back in town to see the Liars, but why has she chosen to make the return to Rosewood to see them now, if that is the case? The most obvious answer is, of course, revenge. Jenna has always had a complicated relationship with the Liars, and though she has seemingly "forgiven" them for their role in "the Jenna thing," there could be a piece of her that is still stewing over the Liars' mistake. After all, it's not just the Jenna thing that caused Jenna so much pain at the Liars hands — Aria accidentally killed her best friend/potential girlfriend Shana while in New York, which, until now, we don't think that Jenna knows about. Could Jenna be returning to Rosewood in order to finally confront the Liars for the horrible choice that Aria had to make?
Only time will tell why Jenna is back in Rosewood and lurking around the Radley, and though she's not the Liars' favorite person, she's definitely one fans have missed.
For more Pretty Little Liars, check out Bustle's very own PLL podcast, Taking This One To The Grave:
Image: Freeform