A Look Back On 'SNL' Season 41's Best Skits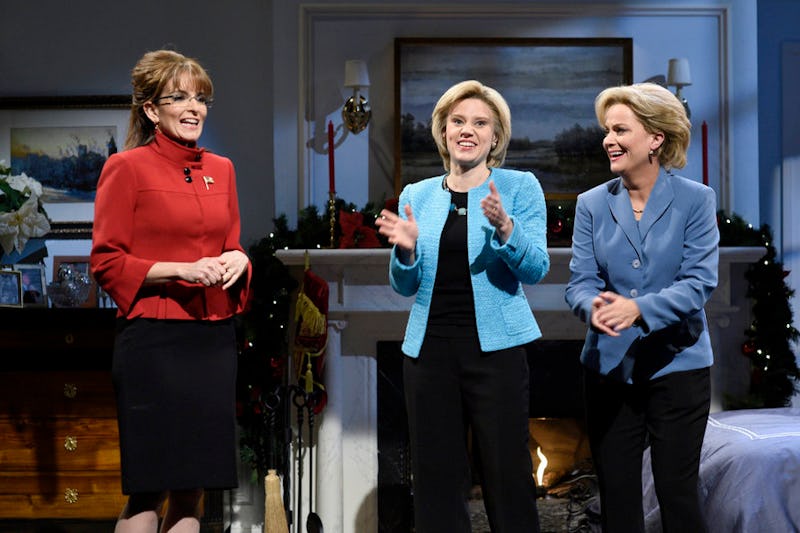 "Live from New York, It's Saturday night!" Those are the words we've heard a countless number of times and yet it always manages to still bring a smile to my face. For some, watching Saturday Night Live has become a longstanding family tradition and represents one of our favorite times of the week: the weekend. So now that the time has come for the Season 41 to take its final bow, it's only natural to wonder how long we'll have to wait until the iconic improv show returns to the airwaves. When will SNL Season 42 premiere? Unfortunately, our wait has only just begun.
Though no official airdate has been released, if the past 41 seasons are any indicator, then SNL will most likely return sometime in late September or early October. Granted, there have been a few times when its schedule moved around a bit more (like when Season 6 debuted on Nov. 15 and Season 11 came out on Nov. 9), but other than that the premiere dates have remained fairly consistent. Even so, that still leaves us with a long summer hiatus between then and now, which means we'll need to find some way to pass the time. And what better way to kick things off than by looking back at some of Season 41's best skits. After all, without our weekly dose of comedic hilarity, we're going to need all the laughs we can get...
1. Close Encounter
Featuring Kate McKinnon, Cecily Strong, and (Hey Girl) Ryan Gosling, this skit centers around a hilarious exchange between three alien abductees who recount their traumatic (and sometimes not-so-traumatic) experiences with the extra terrestrials.
2. A Hillary Christmas
What's better than one Hillary Clinton impression? TWO Hillary Clinton impressions, especially when they're done in the form of Kate McKinnon and Amy Poehler. And to top it all off, Tina Fey also reprised her role as Sarah Palin. Talk about a win-win-win situation!
3. George W. Bush Cold Open
Who could forget Will Ferrell's grand return as the former POTUS, who announces his plans to enter the presidential race... again! Watching him assess the GOP candidates (while revealing hilarious details about his own personal life) is enough to send you into a fit of laughter over and over again.
4. Jon Snow's (Very Slow) Resurrection
Never to miss out on a huge pop culture opportunity, SNL took Jon Snow's highly anticipated Game of Thrones resurrection and ran with it in the best way possible. Brie Larson and Cecily Strong do a great job of capturing our collective impatience at having to wait so long for Snow's inevitable return. The struggle was real, my friends, but this skit alone made it all seem worth it.
5. Drake's More Than A Meme
What do you do when you're constantly being made into memes? If you're Drake, you lament your sorrows through the power of song: "I just wanna scream, that I'm more than a meme." If you weren't already in love with Drake, you will be by the end of this cold open.
6. A Thanksgiving Miracle
Thanksgiving dinner can be a very stressful time of year, but if there's one person who can turn those awkward family conversations around, it's Adele, as this skit more than proves.
7. Meet Your Second Wife
Just as the title suggests, this game show centers around introducing happily married men to the underage girls who will eventually replace their current wives. I know the concept sounds super creepy, but Amy Poehler and Tina Fey manage to turn it into a truly laugh out loud experience. In short, it's feminist comedy at its finest.
With these hilarious skits to keep you company, summer will be over before you know it.
Image: Dana Edelson/NBC