What Does This 'PLL' Episode Title Mean?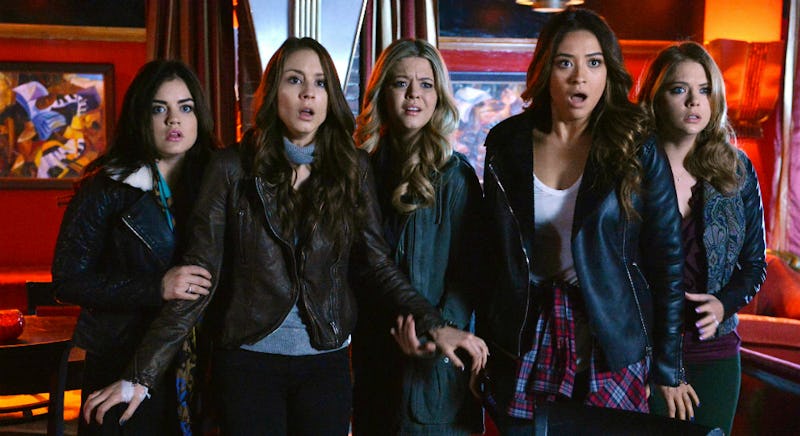 The Liars have been dealt a seriously unfair hand — it seems that everywhere they go, trouble follows. Of course, it's not so much bad luck that is getting to the Liars as it is the omnipresent stalker that is A. Emily, Hanna, Spencer and Aria may have thwarted A when the person under the hoodie was Mona and later Charlotte, but they just can't get away from Uber A, aka A.D., who has somehow made their lives a living nightmare yet again. Of course, it's not just A that's getting to the Liars: according to showrunner I. Marlene King's spoiler video, the Liars will make their biggest mistake yet in Season 7, and A will hold it over their heads. Now, a recently released episode title could potentially hint just what this mistake is: were the Liars involved in a hit and run? The episode title "Hit And Run, Run, Run" certainly could suggest it.
Pretty Little Liars writer Maya Goldsmith took to Twitter to confirm Season 7, Episode 4's cryptic title and it could mean big things for the show going forward. After all, "hit and runs" don't usually have positive connotations, and they sure as heck don't on this show.
The episode title is sparking new questions after the completely insane Season 7 trailer dropped. In that trailer, Emily, Aria, and Spencer are seen burying something — and given Spencer's comment about "murder," it definitely seems like the thing that they are burying is actually a who. Now, the episode title could potentially illuminate what went down on the night that the Liars are seemingly burying a body — perhaps it all had to do with a car accident gone terribly awry.
We know that the Liars would likely never kill someone out of malice, but they could definitely hurt someone by pure accident or because they felt threatened. (Remember Nate and Shana?) Perhaps the Liars were attempting to get away from A, and accidentally hit someone with their car — or, perhaps the Liars thought that the person they were hitting was A, and they ended up being wrong.
Right now we have no idea if the Liars really did kill someone, let alone whether it was in a hit and run, but no matter what went down, one thing is for sure: the Liars are in serious trouble in Season 7.
For more Pretty Little Liars, check out Bustle's very own PLL podcast, Taking This One To The Grave:
Images: Freeform; Giphy