'Preacher' Doesn't Take Domestic Violence Lightly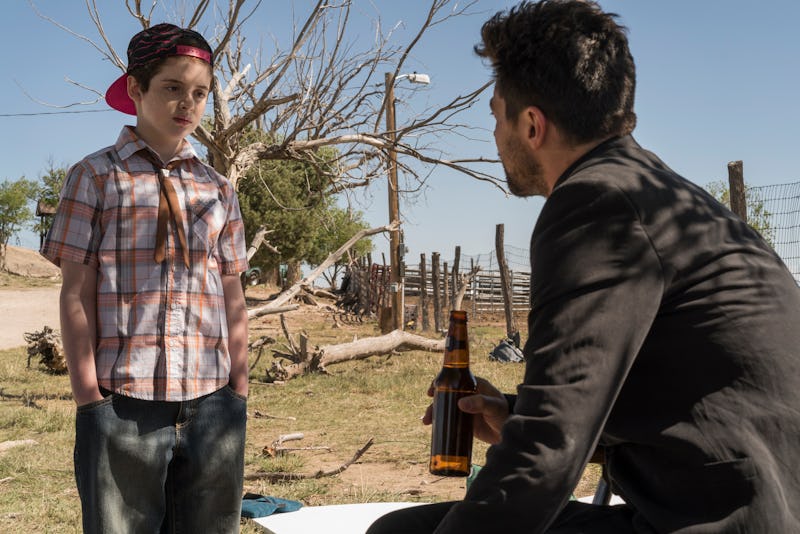 AMC's latest series has vampires, mind control, and an exploding Tom Cruise, but that doesn't mean that they can't tell serious stories. In fact, the domestic violence subplot on Preacher takes a complex look at an all too common scenario. The main character, a preacher, gets in over his head by trying to do the right thing and it's a valuable lesson.
In the early scenes of the episode, a young boy named Chris (played by Thomas Barbusca from Wet Hot American Summer: First Day Of Camp and those "Peter Pan" Geico commercials) approaches Jesse Custer and asks him to hurt his dad, Donnie, who he says is scaring him and hitting his mom. That's already an odd request for a preacher, but it helps to shade some light on Jesse's mysterious past and violent reputation.
That said, Jesse doesn't want to use his fists to solve the problem. Instead, he casually tips off the local law enforcement — who sternly tells him that he will not intervene unless a formal complaint is made. Harsh? Jesse posits that Betsy, the wife, may be too scared to come forward. However, the officer is not having it.
Later, Jesse talks directly to Betsy. She tells him that yes, Donnie does hurt her, but that she doesn't mind — she's into it. It's a difficult situation to read. Without more information, we don't know whether this is a cover story or if Betsy and Donnie are in a consensual BDSM relationship. It's possible that Betsy didn't want Jesse to intervene. It's also possible that the son misinterpreted the situation. This is a complicated issue and I like that Preacher didn't shy away from revealing the layers or frame Jesse as a kind of savior.
Donnie certainly doesn't seem like a good guy (he referred to shooting a squirrel as "Abe Lincoln-ing" him, for example). Later in the episode, Donnie confronts Jesse in a bar for spreading the story around, and they get in a fight — which Jesse wins with a disturbing ease. Turns out Chris got what he wanted after all. I look forward to seeing how this all unfolds on Preacher, and what other doses of reality enter this fantastical world.
Image: Lewis Jacobs/Sony Pictures Telev