'Blindspot' Season 2 Will Bring New Mysteries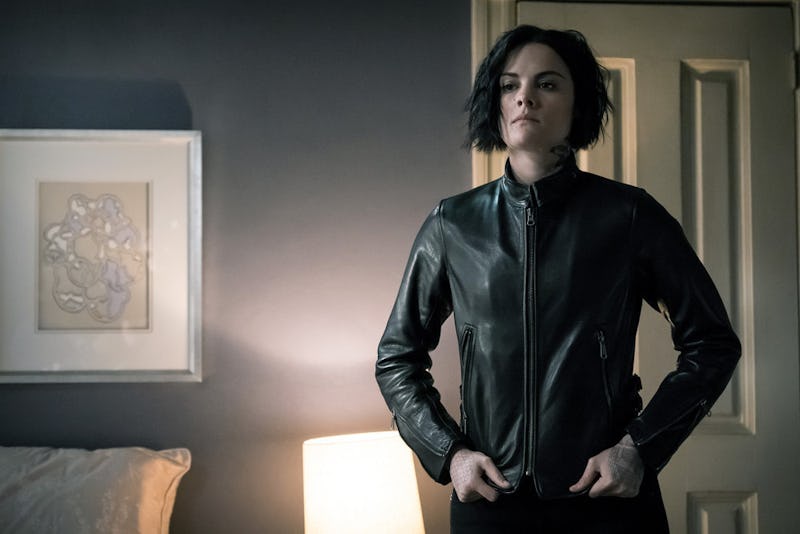 Blindspot has been leading towards something huge, another big reveal about Jane Doe's plans and her real identity, and whatever it is, it will happen in the Season 1 finale on May 23. But even though whatever happens in the finale will deeply impact the show's future, both the stars and producers promise that when Blindspot returns for Season 2, it will go in a totally different direction. NBC renewed the series back in November 2015, after just a few episodes, and it will return to the network in fall 2016. Though an exact premiere date has not been announced, as shown in E!'s fall schedule, Blindspot Season 2 will air on Wednesday nights instead of Mondays, so look for it on a Wednesday in September. And in that time, the cast and crew of Blindspot promise they are working on a lot more twists.
In an interview with TVLine, producer Martin Gero said that the series will wrap up almost all of the hanging questions from Season 1 in the finale. "Like we did in Episode 21, we're going to tie up a lot of loose ends and answer a lot of questions. And new questions will be asked. It's a big episode," he said. He also revealed, "We're working on Season 2 right now, and Season 2 started with a long discussion about Season 3, because you have to tee up the next season." That should leave Blindspot free to explore one of these mysteries in Season 2, crafting a whole new mystery.
Why Taylor Shaw Is So Important
Throughout Season 1, everyone believed Jane was really Taylor Shaw, but now that's been totally dismantled, so there must be some reason why Taylor was so important. Clearly she was important to Kurt because the two were childhood friends, but I think it may turn out that either she isn't really dead, or that if she is dead, it's because she knew or did something that will propel the second season forward.
What Oscar Wants From Jane Now
With the events of Season 1 Episode 22, everything Jane was doing for Oscar has been revealed as part of a plot to kill Agent Mayfair. Now that (spoiler!) Mayfair has been killed, what will Oscar move on to next? He could potentially become the show's next major villain.
Why Was Mayfair The Target?
And to follow up the previous idea, perhaps Mayfair could continue to be a part of the show from beyond the grave if she has some previously unknown secrets in her past. She's already had a flashback, so maybe additional glimpses could keep her around to reveal more.
Seeing Jane Without Amnesia
The audience has gotten used to Jaimie Alexander's performance as Jane Doe, who has no idea who she is, but so much of Jane's pre-memory loss personality has been described to her from other characters who might have ulterior motives. While the premise of Blindspot hinges on her having no memories, maybe Season 2 could introduce some longer periods where Jane remembers or acts like her old self.
Is Weller Being Set Up By Pre-Memory Wipe Jane?
One of the biggest reasons that Kurt was willing to trust Jane so quickly was his belief that she was his lost friend Taylor. But if Jane really isn't Taylor, who was supposedly killed by his father, Kurt Weller may have been chosen specifically by Jane because she knew that his emotional vulnerability might make him fall in love with her. Of course, this version of Jane reciprocates his feelings, which complicates things.
How Jane Knew The Information In Her Tattoos
Jane's organization has already pulled off two pretty impressive things: getting Jane deep into the FBI, and framing/murdering Mayfair. Less clear is how and why the tattoos leading the FBI to track down criminals are so important, and exactly how Jane's organization had so much dirt on them.
No matter what direction Blindspot Season 2 goes in, finding out more information about Jane will be the main thing on fans' minds as they prepare for the long wait between seasons.
Images: Jeff Neumann, Peter Kramer, Barbara Nitke/NBC (6); Giphy