Meet the 'Guardians of the Galaxy', I Guess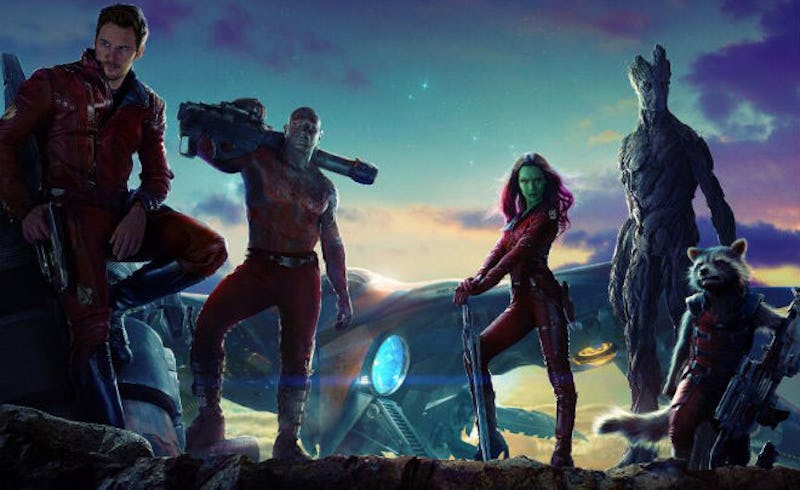 When the first Guardians of the Galaxy trailer broke earlier this week, I was elated. They showed the cosmic weirdness that goes along with the Guardians, and they added some cutesy humor. Now, Marvel has released an additional teaser, as well as short vignettes on each of the characters, and my excitement is waning. Because the Guardians are not as well-known as Captain America or Iron Man, the success of a Guardians movie series will depend on building deep and interesting characters. And I'm not so sure that's what we'll get this time.
In the comics, the Guardians have cosmic origin stories, series emotional baggage, and dark, brooding attitudes, so if the movie is going a more comedic direction, some serious reworking will have to be done, and it will be different for every character. So, in the spirit of individualized attention, here are my predictions for each Guardian of the Galaxy:
Rocket Raccoon
Rocket Raccoon may be the one character who's primary limitation will be the rating. The Rocket of the comics often spouts some very R-rated dialogue while starting gruesome bar brawls, so I'm worried that a PG-13 rating and toned-down Bradley Cooper voice may be the death of his fierce little attitude. At least his trailer shows some machine gun action, which looks like good ol' Rocket.
Groot
Although Groot is perfectly interesting as a character, I am most excited for Vin Diesel's return to voice acting. His work on Iron Giant was beautiful, and I'm fully confident that he can walk the line between mythic and cold for Groot. Hopefully we'll here a lot of "I am Groot!" along the way.
Drax
If there's one character that seems relatively true to the original Marvel hero, it's Drax. Although his introduction is meant to be light, his brooding is apparent, and his muscles are just as crazy as they were in multicolor. Also, his origin story is preserved, which is a nice nod to one of the saddest and strangest origins in the Marvel universe.
Gamora
I'm not going to lie, I'm least excited for Gamora. When I originally heard Zoe Saldana was playing the alien assassin, I thought that she could go one of two ways: sinister or seductive. And despite the sinister sides of the original character, the Guardians writers have clearly chosen the latter. The words "heart" of gold, paired with the weird topless shots, do not inspire confidence in a ruthless version of Gamora. I guess I'll have to hold out for a kickass version of Moondragon.
Starlord
Peter Quill will be the standout character in this film. Instead of the noble, haughty Star-lord, they have reinvented the character as a simple outlaw, which I'm excited to see. Also, Chris Pratt's bumbling brand of adorable will surely bring the much-needed good humor to the film, much like Iron Man and the Hulk's bromance made us all squee during Avengers.
Image: Marvel