JoJo Has Two First 'Bachelorette' Kisses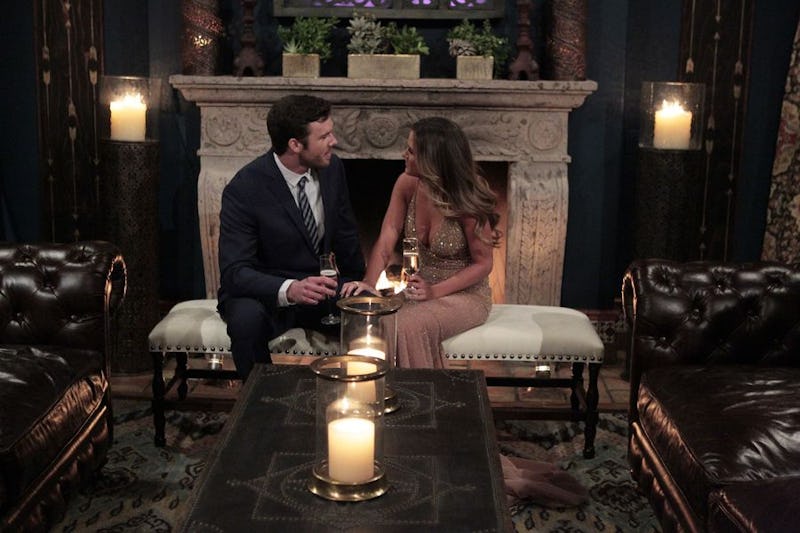 Every season of The Bachelorette, it seems to be an unspoken (OK, sometimes spoken) competition between the men to snag that first real kiss, and often, the race is on as early as the limo arrivals. But is a first kiss for the sake of being a first kiss the same as one that happens because both people are feeling it? I don't think so, and from what happened on Monday night's Bachelorette premiere, it looks like JoJo agrees with me. Because Will was JoJo's first official Bachelorette kiss, but let's be real: Her kiss with Jordan was the one that mattered most.
Why? Because Will's kiss was totally stolen through trickery and everyone's favorite middle school game, that's why. When he and JoJo finally got the chance to talk during the cocktail party, he pulled out an old school fortune teller. When he revealed JoJo's fortune, unsurprisingly enough, it said that she and Will were going to kiss that night. And to JoJo's credit, she was a total sweetheart and played along... but the peck that followed was more than a little awkward to watch, something JoJo admitted herself when it was over. That's not a real kiss. That's cheating!
And even if you disagree with me there, JoJo's post-kiss reaction is all you need for proof that the chemistry is definitely there with Jordan — just like you could tell as soon as they met. During their first chat, Jordan walked away saying he'd wished he'd kissed her and regretted it, so seeing him come back to get it just a few minutes later made me want to root for this guy so hard. And when they kissed, it happened totally naturally, the way kisses should happen, and it was super sweet to see.
And to further drive this point home, let's compare JoJo's immediate reactions, post-kisses. After kissing Will for the first time, she said, "Maybe that will get better." To his face. After Jordan's kiss, she said, "Now that was a kiss." She was practically on cloud nine! That says all you need to know right there.
Sorry, Will, but Jordan wins this round. The bright side? The season is young, and there's plenty of time for him to make a comeback. And hey, maybe next time he won't even have to use a game to get that smooch!
Image: Rick Rowell/ABC