Revisit Johnny Depp's Weirdest, Craziest Movies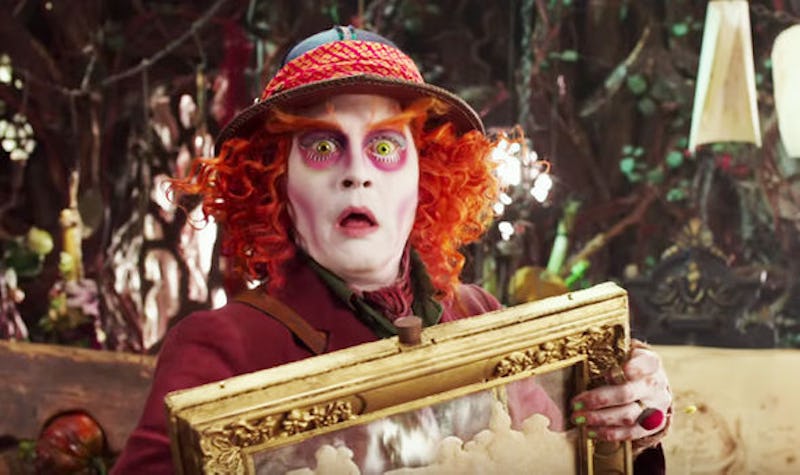 There are few things more annoying than taking to Netflix in search of a favorite movie, only to find that it's unavailable to stream. "This title is available on Netflix DVD," it says encouragingly, a consolation that hits you straight in the heart and reaches for your wallet. We all know what it's really saying: "If you were actually a fan of this movie, you'd already own the DVD." Well, fans of the upcoming Alice Through The Looking Glass hoping to revisit the first movie before diving into the sequel might really that sting this week. As of right now, Alice In Wonderland is not on Netflix, and there's no news if that'll change anytime soon.
So, what are a bunch of Hatter fans supposed to do as they await the sequel? Instead of going bonkers, why not check out the rest of Johnny Depp's Netflix oeuvre? The actor otherwise known as Lord Cheekbones has a small treasure trove of films available to stream on the site, ranging from the steamy to the strange. Consider it a mini-festival of sorts. While I've taken the liberty to rank them myself, feel free to do your own investigation. It'll make up for the fact that Alice In Wonderland isn't on Netflix just yet, while helping you prep for the next chapter of J.D.'s weird career or, if you're like me, remind you of the time he made movies you could actually sit through.
9. Charlie And The Chocolate Factory
The haters are gonna hate, and I am their queen when it comes to this movie. While I am normally on board for androgyny and chocolate, Depp essentially portrays Willy Wonka as a boring cult leader and takes Road Dahl's name in vain. That ain't too sweet at all. Gene Wilder forever!
8. Corpse Bride
While I am not trying to single out Depp's work with Tim Burton as the root of all evil, his lesser movies with the filmmaker do happen to be on Netflix. This film's cast is spectacular, the animation beautiful, but Corpse Bride pales when held up against Edward Scissorhands and even Frankenweenie. It feels more like a heavy-handed Hot Topic ploy than an actual story.
7. Happily Ever After
Depp has a cameo in this one, so it almost doesn't count as one of his movies, but I give him big thumbs up for speaking an entire monologue in fluent French.
6. Lost In La Mancha
Watch Terry Gilliam's Don Quixote before embarking on this documentary.
5. Finding Neverland
I laughed, I cried, I sobbed like a baby at the end of this whimsical, slow drama about the true story behind Peter Pan.
4. What's Eating Gilbert Grape?
All of my feelings about this movie are complicated, but it's worth watching once.
3. The Pirates Of The Caribbean: The Curse Of The Black Pearl
While the next 17 movies in the franchise are pretty meh, I remember being viscerally shocked by how good the inaugural film was. I'm pretty sure most people under 30 remember where they were when they saw Jack Sparrow for the first time. Best. Popcorn. Movie. Ever.
2. Chocolat
Now, this is chocolate and gender critique that I am on board with. This movie continues to stay with me as I get older, and while most of that has to do with Dame Judi Dench's role, I do like Depp's o.g. pirate character, Roux.
1. Dead Man
I watch this movie now and mourn the quiet weirdo Depp once was.
How Depp is your love? Try and make it through all nine of these before Alice Through The Looking Glass hits theaters.
Image: Walt Disney Studios