Catch 'The Bachelorette' Contestants On Twitter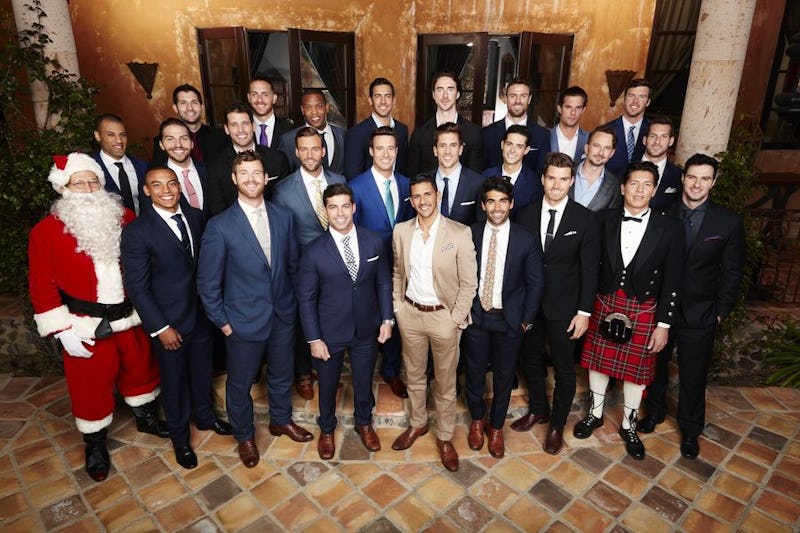 For those who are dedicated members of Bachelor Nation, the last few weeks between the season finale of The Bachelor and the premiere of The Bachelorette have been decidedly rough. Thankfully, ABC recently announced the cast of Season 12 of The Bachelorette , which will follow Bachelor Season 20 runner-up JoJo as she goes on her journey to find love. Now, as many fans will tell you, the best way to get the full experience is to follow along on social media. Here's how to follow The Bachelorette contestants on Twitter, so that you don't miss out on any fun live-tweeting or extra info from the cast of Season 12.
Of course, not all of the contestants are on social media — actually, the number of guys without Twitter is almost atrocious. It's 2016, people! If you don't have any social media presence, how can you expect to engage with your friends and fans? In some cases it may be because the contestant prefers Instagram (which I understand even if I might not necessarily agree). But, for the most part, many of the men on JoJo's season of The Bachelorette are on Twitter, even if that means they only recently joined the social media network.
Alex
The 25-year-old U.S. Marine is one of the shorter men in the cast, but he's new to Twitter and he's ready to win the heart of America.
Twitter: @real_alexyq
Ali
Ali may have a sense of humor and be sweet and caring, but he doesn't have the best Twitter presence — he hasn't even tweeted yet!
Twitter: @AliWantsRdonuts
Brandon
This contestant, who's occupation is "hipster" apparently, does have a Twitter account, but unfortunately his tweets are protected. Maybe Brandon will open his heart and his Twitter to the world once the season premieres.
Twitter: @brandonxhowell
Chad
Like a true villain, The Bachelorette's Chad isn't on Twitter. I was rooting for you, we were all rooting for you (sort of)!
Chase
Although his Twitter account is still new (which probably means he made it specifically for The Bachelorette), Chase seems to be excited to share his experiences with his followers.
Twitter: @cbmcnary
Christian
Christian already seems to be ahead of the game, and has been interacting with fans on his Twitter. That's the kind of online socializing I like to see!
Twitter: @mrcbishop
Coley
OK, here comes a string of contestants not on Twitter, first up is Coley, the 27-year-old real estate consultant. Though, if the guy would prefer his date not to take her phone out of her purse as he said in his ABC bio, I suppose that may be connected to him not being on Twitter. (Coley, are you tech-adverse?)
Derek
Another contestant without a Twitter is commercial banker Derek. Also, according to his bio, he has a fear of fluffy kittens so I don't think we can ever be friends.
Daniel
The 31-year-old male model doesn't have a Twitter and likens his body to a "lambo" in his bio, so that's two points against him in my book.
Evan
Get ready, Bachelorette fans: Evan, whose occupation is listed as "Erectile Dysfunction Expert" in his bio has been using his Twitter to talk up the show and use his platform to discuss men's health. So, props to Evan!
Twitter: @ebassclinics
Grant
Up until a few weeks ago, it seems Grant wasn't a big Twitter user. But, he has since been tweeting about The Bachelorette, so perhaps he'll give us some fun factoids about the show.
Twitter: @GrantMKemp
Jake
Unfortunately, Jake is another Bachelorette contestant without a Twitter. According to his bio, though, he seems confident that he and JoJo will have a connection.
James F.
It doesn't seem as though James is a very active Twitter user, and he hasn't tweeted since the announcement of The Bachelorette, so I'm not sure we can expect any live-tweeting from him...
Twitter: @jamesjfuertes
James S.
Although James calls himself a Bachelor Superfan, I'm not sure I trust it if he isn't on Twitter and live-tweeting along with the rest of us — but maybe I shouldn't judge a fan by their social media.
James Taylor
OK, out of all the Twitter newbies here, James Taylor's account may be the newest, since it was only created on the day of the premiere. However, his only a tweet is about The Bachelorette , so hopefully we can expect more as the season goes along.
Twitter: @james_mccoy_t
Jonathan
Jonathan may not have a Twitter but he does have a range of tastes when it comes to reading since his favorite authors are J.D. Salinger and R.L. Stine according to his bio.
Jordan
Since Jordan was already pretty well-known for his football career before The Bachelorette, he has a solid Twitter following — and his presence shows it! He's been talking up the show's premiere so I expect to see some live-tweeting, QB!
Twitter: @JRodgers11
Luke
Another contestant using Twitter ahead of The Bachelorette premiere is Luke, who's using the social media platform to poke a little fun at the show. I, for one, am entertained.
Twitter: @luke__pell
Nick B.
Want to follow Santa himself? Well, you're in luck because Nick B. is on Twitter and I'm hoping to see plenty of Santa emojis!
Twitter: @nickbenvenutti
Nick S.
I'm glad to say Nick S. is the final gentleman on this list without a Twitter. According to his bio, though, one of his best attributes is that he's adaptable, so maybe we can convince him to adapt to the social media platform!
Peter
As was the case with Brandon, Peter does have a Twitter but his tweets are protected. Still, we can hope he'll make his public at some point during this season of The Bachelorette.
Twitter: @PeteMedin1
Robby
Looking at his Twitter, Robby seems to be more into Instagram/photography than tweeting. Hopefully that means he'll be posting some behind-the-scenes pictures!
Twitter: @RobbyHHayes
Sal
It doesn't look like Sal is very active on Twitter, but he has used the social media platform recently to reach out to Jordan, so maybe there's hope he'll be live-tweeting The Bachelorette yet.
Twitter: @theREALdejulio
Vinny
Like many of the other contestants, Vinny may have had a Twitter but he didn't use it very often until the announcement of this season of The Bachelorette. Now, in recent weeks, he's been pretty active on Twitter and tweeting plenty about this show and his fellow contestants.
Twitter: @vinnyvinsane
Wells
Since he's a radio host in Nashville, Wells already has plenty of followers on Twitter, and a pretty good presence as well. He's found a way to interact with his listeners and Bachelorette fans, so social media points to Wells!
Twitter: @wellsadams
Will
The second newest newbie to Twitter is Will, whose first tweet simply read "um." His second was a bit better, teasing the premiere of The Bachelorette. But, since he doesn't seem to be very talkative on Twitter, I'm not sure how much live-tweeting/interaction we can expect.
Twitter: @WillHaduch
So, there you have it Bachelorette fans, your complete guide on how to follow this season's contestants on Twitter. Join me and Bachelor Nation on Twitter and live-tweet Season 12!
Images: Craig Sjodin (27)