D.J.'s New Love Interest Shouldn't Bother Steve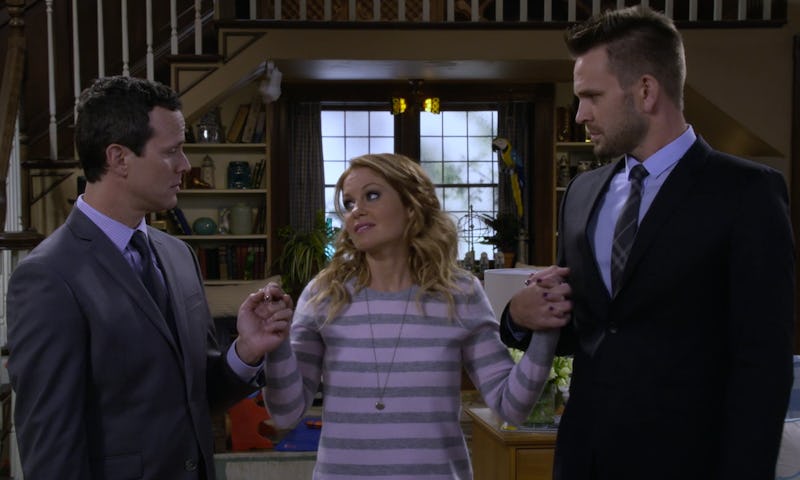 Is it just me, or could Fuller House be renamed There's Something About D.J.? After all, the Netflix series — a sequel to everyone's favorite family sitcom Full House, nearly 30 years after its initial premiere — seems to be focused quite a bit on a now grown-up D.J. Tanner's love life. The widowed mom of three may have decided to choose herself instead of picking between her high school boyfriend Steve and her hot new co-worker Matt, but according to new spoilers from TVLine, D.J. hasn't pulled herself from the dating game yet. According to TVLine, D.J. might be getting a new love interest on Fuller House — but there's one big reason why Matt or Steve might not be out of the running for her heart just yet. D.J.'s new "love interest" is gay, and it's more important for Fuller House than you might expect.
If you are a hardcore Steve/D.J. shipper like I am, then your heart may have skipped a beat when you learned that D.J. might be dating someone new. Fortunately, TVLine's "Ask Ausiello" column is here to reassure you. According to spoiler guru Michael Ausiello, D.J.'s new "suitor" isn't exactly interested in dating the eldest Tanner — because he's really into guys! Though it's not clear when D.J. will find out about her new friend's romantic preferences, I think it's safe to say that not everyone in San Francisco wants to become Mr. Tanner — which, given D.J.'s difficult choice last season, might be for the best.
Of course, the new Fuller House character isn't just important because D.J.'s confusion gives the sitcom an inevitable comedic mixup. The new Fuller House addition is finally adding a non-straight character to the mix, which, despite being located in historically LGBT-friendly San Francisco, the series is currently lacking. (And no, I don't think the fact that Kimmy and Stephanie kissed counts.) While it's unclear just how long D.J.'s new pal will spend on the series, at least it's a start, right?
Including a gay character on the series might bring up some questions about star Candace Cameron-Bure, who plays D.J. on the show. Cameron-Bure has spoken out about protecting religious freedom, and stated on The View that the Christian bakers being sued for not making a cake for a gay couple should have the right to not serve people who challenge their beliefs. However, while Cameron-Bure may believe in defending rights of people who choose to discriminate against gay couples, she stated on the 2016 TCA press tour that she's open to having a gay storyline on Fuller House:
I will always defend religious freedom and that's what I was talking about on The View, I didn't describe my personal feelings about [gay marriage]... But I'm an actress on a television show and I support all things that we go through as human beings and would love all of our characters to explore whatever issues that are current in our culture and in our society today. I'm 100 percent on board with that.
It sounds like Cameron-Bure is totally comfortable with a gay character on Fuller House — even if D.J. just lost a potential suitor.
Images: Netflix (2)