'The Real O'Neals' Won't Keep Us Waiting Too Long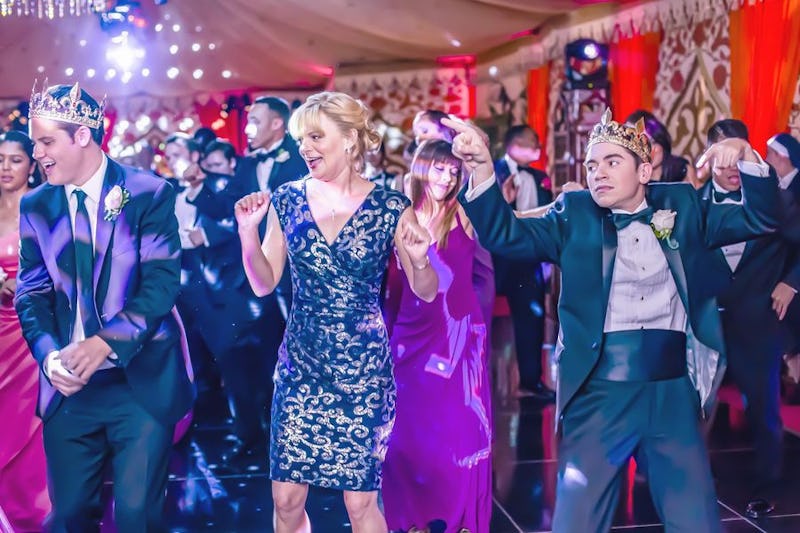 The end of the season was a tumultuous time for ABC, as long-running shows with dedicated fan bases were axed (RIP, Castle and Nashville), new shows with mediocre ratings were given second chances (wb, The Catch!), some promising new programs were picked up for the 2016-'17 season (Conviction, Designated Survivor), and some high-profile pilots were shockingly passed over (The Jury, Marvel's Most Wanted). Given all this upheaval, you'd be forgiven for being in a panic over the fate of your favorite show — especially a modestly-rated freshman sitcom. Was The Real O'Neals canceled or renewed? If it got renewed, is it coming back in the fall or midseason? So many questions!
Luckily, I've got all the answers for you right here. The Real O'Neals was renewed for Season 2 earlier this month in advance of the Alphabet Network's upfront, in which they present their lineup for the upcoming TV season. This was something of a relief; the first season has been averaging a rating of 1.18, which is lower than fellow ABC family sitcoms like Fresh Off The Boat (1.38), black-ish (1.82), and The Middle (1.91)… and significantly behind the network's highest-rated scripted program, Modern Family (2.62).
So while The Real O'Neal's renewal shouldn't come as a total surprise — it was ranked as "Likely To Be Renewed" by prognostication site TVByTheNumbers — it still comes as a something of a relief. (Castle and Nashville were both also "Likely To Be Renewed" and look what happened to them.) The only question that remains, then, is when exactly we can expect to check in with Kenny and his family next.
The Real O'Neals started its life as a midseason show, premiering on March 2 of this year. Does that mean we'll have to wait another 10 months for the show to come back next March? Fortunately, no. At the aforementioned upfront presentation, ABC announced that the returning sitcom would be a key part of its Fall 2016 schedule; next season, The Real O'Neals will be the final entry in a two-hour comedy block on Tuesdays, airing at 9:30 p.m. ET following The Middle, freshman series American Housewife, and Fresh Off The Boat, and preceding the fourth season of Marvel's Agents Of S.H.I.E.L.D.
ABC has yet to announce specific premiere dates for any of its fall shows, but at least we know we won't have to wait until 2017 to see the continued adventures of the O'Neal family. In all likelihood, Season 2 will debut sometime in September, meaning we only have to wait four months or so for more after this Tuesday's Season 1 finale, "The Real Prom."
…OK, so four months still feels like a long time to go without our favorite new show, but hey — it could always be worse: it could have joined The Muppets in the one-and-done TV graveyard. Instead, The Real O'Neals will live to bicker, laugh, and be fabulous another day.
Images: Ron Batzdorff, Eric McCandless, Tony Rivetti/ABC