There's A New 'RHONJ' Trailer, You Guys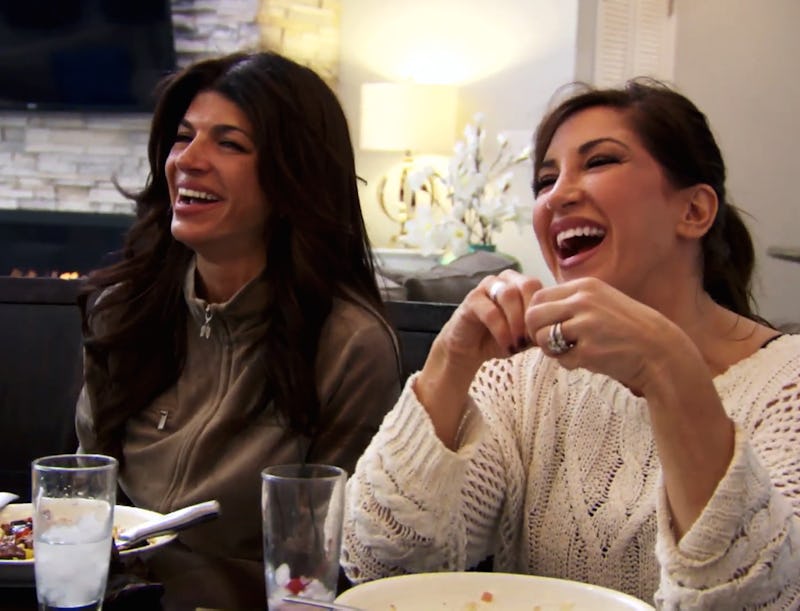 After what feels like the longest wait, the new Real Housewives Of New Jersey trailer is here, and Season 7 looks amazing. As well as documenting the incredible moment Teresa Giudice is reunited with her family following 11 months in prison, there are plenty of laughs and amazing one-liners from all of our favorite people. If the trailer is anything to go by, Season 7 of RHONJ is going to be an emotional rollercoaster, so start preparing yourself now. (You know, if it were really possible to prepare yourself for this.)
Alongside the more serious moments involving Giudice and her family, the trailer features games of beer pong and inflatable sumo wrestling suits, proving that the new season of RHONJ really does have everything. With Teresa Giudice, Jacquline Laurita, and Melissa Gorga all returning, and two new housewives arriving (Dolores Catania and Siggy Flicker), there is sure to be a lot of drama (a lot more drama) in New Jersey.
iudice has been through some major life changes, having spent the better part of a year in prison, so Season 7 is going to document her return to her family and her life. As Giudice says, "I'm going to make sure that nothing like this ever happens again," and her reinvention is likely to feature heavily in the new episodes. As the reality star is so ingrained in the public eye, she's had to deal with a lot of very public criticism and discussion, but the fact that Giudice has remained strong in spite this is really inspiring and will be interesting to watch.
From new housewife Dolores Catania's love life, to the question of Siggy Flicker's ancestry, Season 7 of RHONJ looks electric, and I can't wait for the show to start on Bravo on July 10. Watch the trailer above.