Tyrion Lannister Could Kick The Bucket On 'GoT'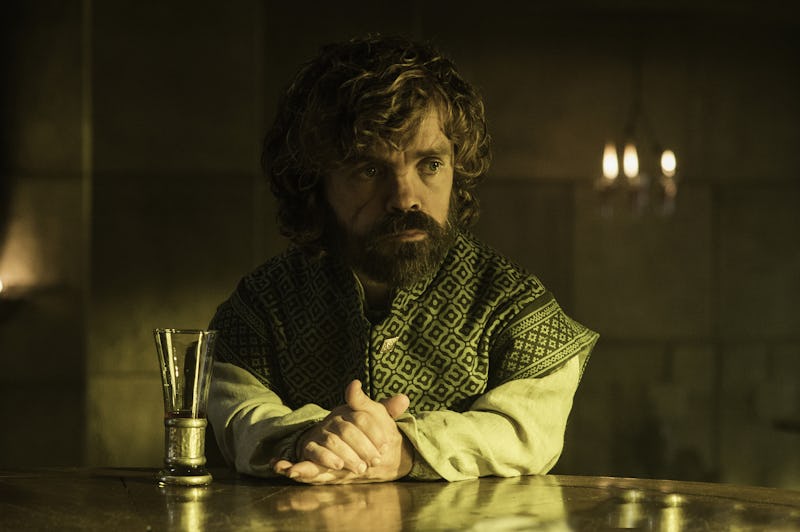 Back when it wasn't certain if Jon Snow would stay dead, HBO released a teaser for Game of Thrones that prominently featured Jon and another fan-favorite character — Tyrion Lannister — in the Hall of Faces. This teaser caused a stir that Tyrion might die in Game of Thrones Season 6, and understandably so, due to the imagery and Jon's voiceover. While it's fair to assume that any character on Game of Thrones could be killed at anytime, I've often felt a false sense of security when it comes to Peter Dinklage's character. And, as Tyrion begins to interact with many new characters and gain power in Meereen in Season 6, he could become a political target — and that's never a good thing to become on Game of Thrones.
Now that Season 6 is halfway over, the Hall of Faces teaser turned out to be just that — a tease. Jon Snow himself was resurrected and while it was disconcerting to see Tyrion dead since he was (and is) still very much alive in the series, Sansa, Daenerys, Cersei, Arya, and Jaime were also shown as deceased. Although Game of Thrones is obviously an ensemble show, Dinklage's Tyrion has been one of the major stars since Season 1 so having him be the first alive character to appear dead in the teaser was a master stroke of advertising that predictably riled up the Game of Thrones fandom. Seeing Tyrion in the Hall of Faces was not comforting, but I don't think it's any evidence or indication of his fate in Season 6.
As in the TV series, Tyrion is also still alive in George R. R. Martin's books, so it would seem that he is home free in Season 6. Yet, a major death could be brewing for Season 6 considering how much rare happiness Game of Thrones has been providing fans this season. (Let's just ignore the devastating Hodor storyline from the May 22 episode "The Door" for my mental sanity.) What better way to completely crush fans than by killing Tyrion?
HollywoodLife.com spoke to Martin about his plans for Tyrion in the forthcoming book of the Game of Thrones source material, Winds of Winter. Martin said how Tyrion is his favorite character (so, he's officially everyone's favorite) and kept it vague about whether or not he will kill Tyrion in his books. "They say that you write what you want to read and you create in television what you want to watch. I love shows that are unpredictable." Martin said. "I want to be on the edge of my seat. So, the deaths are important and at all times necessary."
Game of Thrones viewers more than know that deaths are important to Martin and killing Tyrion at this point would definitely be on the unpredictable side. With fan theories about Tyrion possibly being a Targaryen and hopes that he'd ride a dragon, killing off Tyrion would be a blow akin to Jon Snow's death (another rumored Targaryen). Even if he's not a Targaryen, Tyrion feels essential to the story that showrunners David Benioff and D. B. Weiss are telling and with his caustic wit and leadership skills, losing Tyrion would be devastating. I mean, this guy can tame dragons, so what kind of message would his death be sending??
Yet, Tyrion might be getting himself into hot water with the political plays he has been making while Daenerys is away. Missandei and Grey Worm were not pleased with Tyrion's strategies of making a deal with the slave masters to end slavery in seven years — and Daenerys might not take kindly to that move either. If Daenerys returns to Meereen and is displeased with Tyrion's choices when she was gone, she could order him to be sent back to Westeros, where he'd most definitely be killed for murdering his father Tywin.
He also has joined forces with a red priestess (this time in the form of the new character Kinvara), which is always a dicey move as was shown time and time again by the relationship between Stannis and Melisandre. However, if Tyrion were to die, it's never a bad thing to have a red priestess on your side for resurrection purposes.
Despite Tyrion's somewhat risky behavior, I am inclined to say he's going to survive Season 6. Although Game of Thrones thrives on crushing the hopes and joys of fans, I'm not sure that Tyrion's death would make sense at this point in the story. While I'm on the fence about whether or not I want Tyrion to be a Targaryen or not, theorizing about it has made the plot even more fascinating than usual. Plus, with another book-inspired theory that Tyrion could kill his sister Cersei, does anyone besides Cersei want Tyrion to die? I think not.
Images: Helen Sloan/courtesy of HBO; Giphy (3)