Every 'GG' Fan Needs To Get Their Hands On This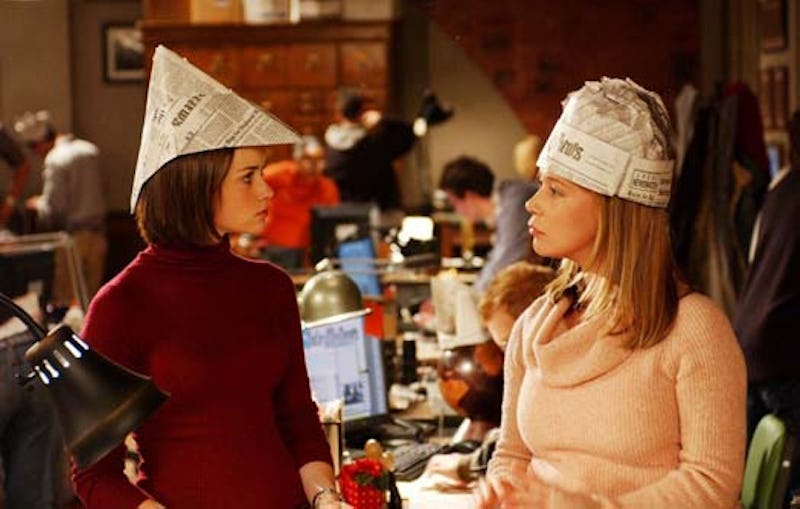 As if returning to Stars Hollow at the end of the year with the upcoming Gilmore Girls Netflix revival, Gilmore Girls: A Year In The Life, wasn't already enough, now it seems like a select few lucky fans could be taking home a cast-and-crew-signed copy of the Star Hollow Gazette. And no, this is not a drill. Following the news that Finn is returning for the Gilmore Girls revival, Tanc Sade — the actor behind Logan's friend from Yale — took to Instagram to share a photo of him on-set and holding a one-of-a-kind copy of the show's fictional town paper. But it's not just any old prop piece. In fact, the signed Star Hollow Gazette is said to be up for grabs. So, how can fans get their hands on one of these?
Sade captioned his photo with words of hope for all fans of the show.
Reading a copy of #starshollowgazette signed by #GilmoreGirls cast and creators. Get ready for your chance to get your hands on one and donate to a good cause at the same time! #Finn#lifeanddeathbrigade #gilmoregirlsrevival#RoryGilmore #MattCzuchry
Um, yes, I want one! And supporting charity is something that Lorelai, Rory, and even Emily Gilmore would certainly approve of. Unfortunately, Sade's little teaser seems to be all of the information that's been released so far. There's no word on which charity they're supporting, how you can donate, or even how many signed Gazettes are up for grabs just yet. But, from the looks of the paper alone, it's safe to say that consistently checking social media to find out how to get one is definitely something all die-hard fans must now do.
But this gets even better. If you look closely at the photograph, you'll notice that Rory has bylines in the newspaper, which means that some of the articles are by her. And, with Paris Geller, and even Jess Mariano, being other characters that write, I'm seriously wondering if the other contents of the paper will include any pieces from the them, too. I certainly hope the pages of the paper are filled with stories about Luke's Diner, the upcoming Stars Hollow musical, and any other happenings going on around the small Connecticut town. (Or, perhaps, considering the hashtag #lifeanddeathbrigade, the Yale secret society is in on the writing of the paper along with Rory. It's only a matter of time until we find out.)
The four-part mini-series revival, Gilmore Girls: A Year In The Life, is said to air on Netflix at the end of year. Until then, start saving up money to donate, so you can get an exclusive Stars Hollow treasure.
Images: Warner Bros. Television