'Law & Order: SVU' Season 18 Is Headed Our Way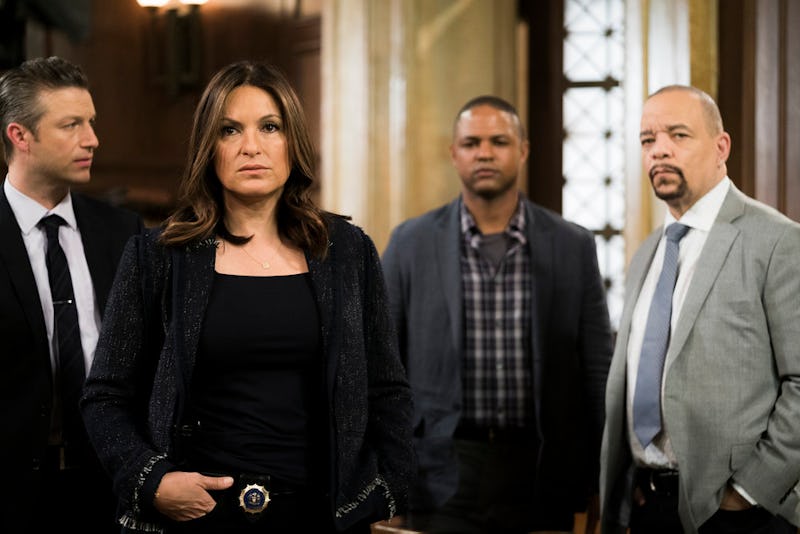 Dick Wolf's addictive procedural will wrap up its 17th season on May 25, but the quality of Law & Order: SVU hasn't wavered. In the years since the series premiered in September 1999, the national dialogue surrounding sexual assault has slowly but surely begun to evolve — and SVU is arguably more relevant than ever. Season 17 tackled a number of topical issues and featured "cases of the week" that paralleled news stories and raised important questions about what constitutes consent — particularly when sexually inexperienced teenagers are involved. The Season 17 finale looks intense, but when does Law & Order: SVU Season 18 start?
UPDATE: It was announced via the show's official Twitter account that Law & Order: SVU will return Sept. 27.
EARLIER: E! reported in early February that SVU had been renewed, so we can rest assured that more episodes are headed our way. Although a premiere date hasn't officially been announced, it's highly likely that Season 18 will begin in September 2016. The show's schedule has been consistent for the past 17 seasons, with each season beginning in September and concluding in May. So, the wait isn't terrible, but what shall we do until Season 18 hits our small screens in approximately four months?
Luckily, there are plenty of amazing crime shows that we can marathon on Netflix during the wait. Here are five series for SVU fans to check out.
1. The Fall
Led by the amazing Gillian Anderson, this BBC series is gripping, thought-provoking, and unique. Stella Gibson (Anderson) arrives in Ireland to spearhead the investigation of an active serial killer who preys on young women. Rather than following the typical crime drama format, viewers know the killer's identity the entire time and we wait with baited breath for the police force to catch up with us. The first two seasons are streaming on Netflix and, although a premiere date hasn't been set for Season 3, filming concluded in March.
2. Rectify
Sundance's critically acclaimed drama focuses on Daniel Holden, who was sentenced to death as a teenager for the rape and murder of his girlfriend. After 19 years on death row, he is exonerated by DNA evidence and struggles to acclimate to life in the outside world. Meanwhile, a killer remains on the loose and some town residents maintain that Daniel is a guilty man. The first three seasons are streaming on Netflix and Season 4 will premiere in the fall.
3. The Killing
On what's supposed to be her last day on the job, Seattle homicide detective Sarah Linden discovers the body of a brutally murdered 17-year-old girl. Unable to walk away from the case, she forges an unlikely bond with her new partner and they stop at nothing as they pursue a variety of leads, ranging from ex-boyfriends to high-ranking city officials. The Killing concluded in 2014 and all four seasons are available on Netflix.
4. Top Of The Lake
Detective Robin Griffin (Elisabeth Moss) returns to her remote New Zealand hometown for what's meant to be a short visit. But when the pregnant 12-year-old daughter of a local drug lord goes missing, she stays in town to investigate. Top of the Lake was originally marketed as a miniseries, but a fortunate change of plans resulted in the fantastic news that there will be a second season, which Deadline reports began filming earlier this spring.
5. Bloodline
In this Netflix original series, all is well in the Rayburn family until its "black sheep" returns to town and threatens to reveal their shady past. We learn in the first episode that he was murdered, but the story behind his death unfolds throughout the season. If you love Season 1, you're in luck — the second season begins streaming on May 27.
With all these amazing crime dramas to marathon, the Law & Order: SVU hiatus will be over before we know it.
Images: Michael Parmelee/NBC; Giphy (5)