These New Summer Oreo Flavors Are Mind-Blowing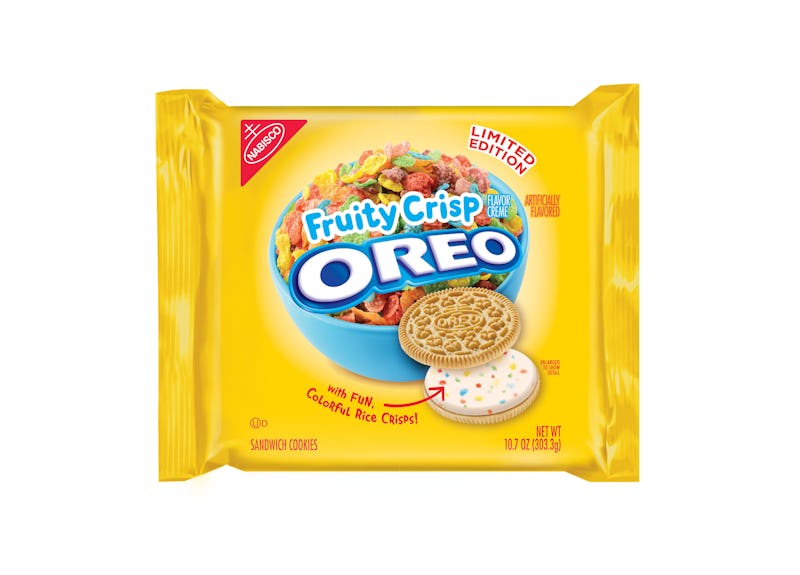 Oreo lovers, rejoice! The big news is finally out: Oreo is releasing two new summer flavors. Blueberry Pie Oreos and Fruity Crisp Oreos will both be making their debuts during the warmer months, man, they both look delicious. Oreo has gotten really creative with their flavors over the years, especially their seasonal and limited release gems; I'm pretty loyal to the S'mores Oreos, which you can use to make actual s'mores, along with the holiday-oriented Red Velvet cookies... Though who can forget the delightful Filled Cupcake Oreos, that actually have extra filling in them? Yeah, definitely a favorite of mine. And I've no doubt these two new releases will soon make their way onto my lit of favorites, too. Clearly I love me some Oreos.
So what's the deal with the new flavors? First things first: The when and the where. Blueberry Pie Oreos will be exclusive to Target, hitting shelves on June 6 — just in time to load up your picnic baskets or pack for your summer camping trip. The other new Oreo flavor, Fruity Crisp, will be available right at the beginning of the month on June 1; as a Nabisco rep confirms for Bustle, you'll be able to snap them up through a variety of retailers, including Ahold, Wegmans, HEB, AWG, HyVee, Winn Dixie/Bi-Lo, Giant Eagle, Price Chopper, and Meijer.
While Oreo has released a huge variety of seasonal and limited edition cookies over the years (including, for example, Root Beer Float and Peppermint Oreos), they show their creativity the most when it comes to revamping our favorite desserts into cookie form. Is it possible that a lot of what we taste when we try these new offerings has to do with what we're expecting them to taste like? Of course; research has shown that our expectations do affect our food likes and dislikes. Personally, though, I'm not one to turn down a handful of Oreos, so whatever new flavors get released, I'm definitely going to grab. I'll admit that I'm particularly looking forward to the Blueberry Pie option, but who am I kidding? When it comes to dessert, I don't discriminate.
Images: Nabisco (2)