These 'Chuck' Episodes Are Vacation Goals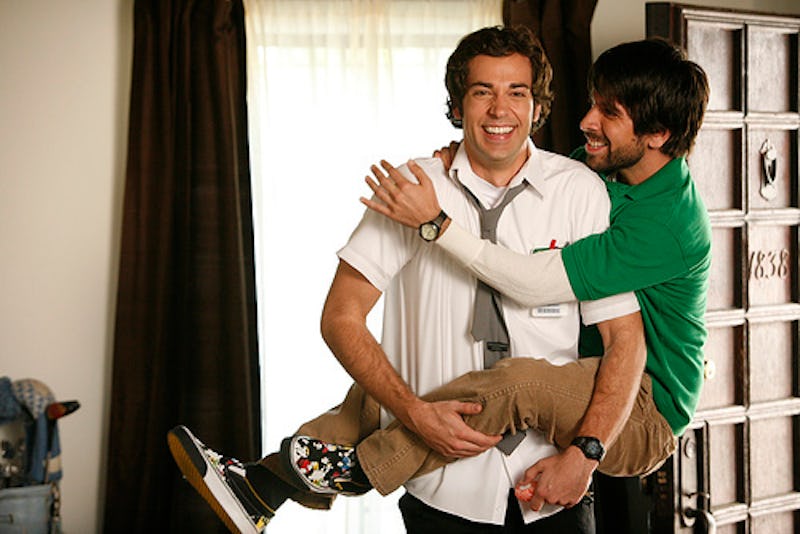 Being a spy is a full time job, so Chuck may seem like an odd choice of shows to get vacation inspiration from, but one of the perks of spy life is travel. Chuck 's vacation episodes weren't really vacations, they were missions, but they took the characters away from the familiar Buy More setting. Anytime the team headed off to another country — or even another county — it felt special. Whether it was Chuck and Sarah jetting off to Paris, or Chuck's return to Stanford, the show's out of town episodes were total summer vacation goals.
Chuck is a show where every episode featured sunny skies, but it was still exciting to see them venturing to new locales. If you are craving some vacation goodness, then you need to revisit the Chuck episodes that took the team out of their natural habitat. Even the perpetually grumpy Casey loved getting away from his day to day routine. A mission outside of the Buy More meant more adventure, new scenery, and a chance for Chuck to practice his spy skills.
These 11 episodes of Chuck will have you daydreaming about your summer vacation plans in no time. From honeymoon goodness to a down and dirty trip deep into the jungle, these Chuck "vacation" episodes can totally inspire you to go somewhere new (or have the best staycation ever).
1. "Chuck Versus The Alma Mater"
For most people, visiting your old college is an exercise in nostalgia. It's like returning home after years spent in another country. Chuck's experience was a little different since returning to Stanford was his way of finding closure after being expelled. There are other episodes with more of a vacation feel, but the emotional wallop of "Chuck Versus the Alma Mater" earns this episode its place on the list.
2. "Chuck Versus First Class"
Plane rides are a part of many vacations, but no one wants their plane ride to be as eventful as Chuck's. On his first solo mission, Chuck jets off to Paris and ends up having to deal with serious spy drama up in the sky. If you thought talking the flight attendants into giving you extra peanuts was hard, imagine trying to stay undercover while flirting with your seatmate and trying to keep a Fulcrum agent from escaping custody.
3. "Chuck Versus The Other Guy"
OK, so most of this episode is way too stressful to qualify as a vacation. Chuck's race against time to save Sarah from Shaw is crazy intense, but the end which features Sarah and Chuck finally getting together, in Paris, no less, will give you serious vacation envy.
4. "Chuck Versus The Honeymooners"
Chuck and Sarah being sexy spies together on a train to Zurich? Yes, thank you, more of that please. Train travel has never looked more appealing.
5. "Chuck Versus The Anniversary"
Casey and Sarah's subplot takes them to Hong Kong, while Morgan and Chuck travel all around the world looking for clues about Chuck's mom's whereabouts. If you have a serious case of wanderlust, this episode will either satiate it or send it into overdrive.
6. "Chuck Versus The Suitcase"
This is the episode where Chuck and Sarah make fashion lovers everywhere feel the bitter burn of envy as they head to Milan for fashion week. There also happens to be tons of romantic, couple moments if you aren't obsessed with gorgeous dresses.
7. "Chuck Versus The Coup D'Etat"
If you have ever dreamed of jetting off to a beautiful island, then join Chuck, Sarah, Devon, and Ellie as they live out your dream onscreen. Their getaway in Costa Gravas is anything but uneventful, but spy drama is a small price to pay for a weekend in paradise.
8. "Chuck Versus Phase Three"
Not all vacations are about relaxing. For the adventurers who are looking for an adrenaline rush, "Chuck Versus Phase Three" is the episode you need to see. Sarah kicks butt throughout the jungles of Southeast Asia while Casey and Morgan try to catch up with her and save Chuck. It's a down and dirty episode that is also a whole lot of fun.
9. "Chuck Versus The Balcony"
Chuck and Sarah return to France for another mission, but the highlight of this episode is the couple's engagement. This is definitely in the top 10 most romantic Chuck episodes ever list.
10. "Chuck Versus The Business Trip"
Business trips can often be basically paid vacations, and the one Chuck and Sarah go on has the added bonus of being a big goodbye to the Buy More. For longtime fans, it will be hard to make it through this outing without a few tears.
11. "Chuck Versus The Bullet Train"
One more train trip for the road. This time the gang end up on a bullet train in Japan for one last big mission before the series finale. There's action, romance, and a whole lot of heartache — it's basically all of your summer vacation feelings wrapped up in a tidy hour.
If you can't jet off for parts unknown, at least you can have a blast spending your summer vacation with Chuck.
Images: Warner Bros. Television; chuckvsthegifs/Tumblr (11)