You'll Need A 'Carmichael' Fix Before Season 3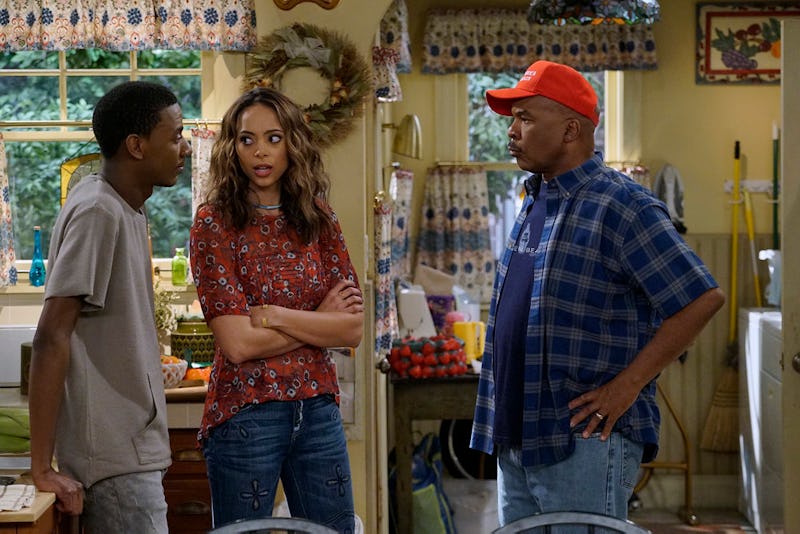 For fans of Jerrod Carmichael, there's good news and bad news. The good news is that his sitcom is returning to NBC. The bad news is that while an official date for The Carmichael Show Season 3 premiere has not been announced, it likely will not return in the fall. Even though the network is making a go of a scaled down version of Must See TV Thursdays, with two comedies, Superstore and The Good Place, airing back-to-back and The Carmichael Show seems like it'd be a good fit there, it's not currently on NBC's fall schedule.
Instead, it's more likely that The Carmichael Show will be another mid-season series, returning in the winter or spring 2017, unless a new series is cancelled in the fall and needs a replacement. One thing we do know for sure is that Season 3 will have 13 episodes, which doesn't seem like a lot, but is reportedly more than NBC wanted. "NBC wanted to order ten episodes, Fox insisted on 13," Vulture reported. "A few hours later, the network capitulated — but not before [NBC chairman Robert] Greenblatt had publicly complained that the 'contractual obligations' for higher episode counts for returning series are 'an antiquated way of doing business.'" Between the hesitation to order additional episodes and absence from the fall schedule, NBC doesn't seem to have a ton of confidence in The Carmichael Show, so enjoy it while you can next year. And while we wait for an official premiere date as well as Season 3, here are other places where you can catch Jerrod Carmichael.
Neighbors 2: Sorority Rising
Yes, run to the movie theater right now, and you can get a quick shot of Carmichael that'll hopefully last you through the summer. There, the comedian is reprising his role of Garf.
The Meddler
This one isn't available as widely as Neighbors 2: Sorority Rising, but it's a sweet story about a woman, played by Neighbors star Rose Byrne, and her, well, hands-on mom, played by Susan Sarandon. Carmichael plays a worker at the Apple Genius bar who Sarandon befriends.
On HBO Go
Carmichael did a stand-up special, Jerrod Carmichael: Love at the Store , that was actually shot by Spike Lee.
On One Episode of Comedy Bang! Bang!
According to his credits, Carmichael was on a Season 2 episode of Comedy Bang! Bang! titled "Zoe Saldana Wears a Tan Blouse and Glasses." It's not up on the IFC website, but, if you're a true Carmichael completist, you can buy the episode on iTunes.
On The Lucas Brothers Moving Co.
This is an animated show where characters named Kenny and Keith Lucas, voiced by comedians named Kenny and Keith Lucas, own a moving company in Brooklyn. Carmichael plays their friend. Guess what his name is? That's right, Jerrod. He's there only in animated form, but, if you need to see him play someone named Jerrod on TV, this'll do until The Carmichael Show comes back.
Image: Chris Haston/NBC