Be 'Careful What You Wish For' From Nick Jonas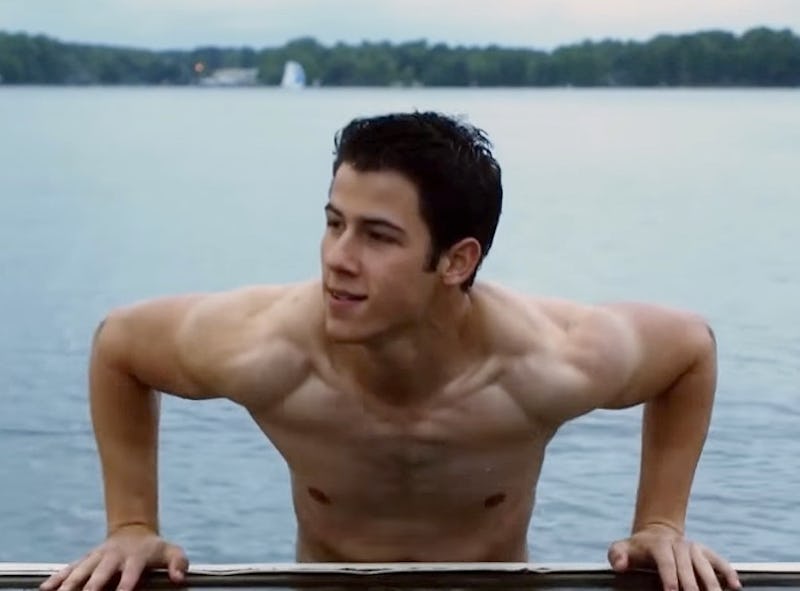 Nick Jonas is no longer the pretty boy Jonas Brother we all once grew up loving. OK, yes, he is still a pretty boy Jonas, but the 23-year-old "Close" singer is clearly shedding the innocent image of his youth and channeling a darker, more seductive edge with the trailer for his summer thriller Careful What You Wish For.
Centering around a college-bound kid named Doug (played by Jonas), the film focuses on him as he takes on a job working in a wealthy neighborhood for the summer. It's there where he meets Lena Harper (played by Isabel Lucas), the gorgeous wife of an abusive investment banker Elliot (played by Dermot Mulroney). The film follows both Jonas and Lucas, then, as they enter into an electrifying affair that ultimately spins them both into deceit and scandal when a suspicious murder and life insurance policy erupts into light — think Sleeping With The Enemy meets The Boy Next Door and this film is a sure perfect mix.
Clearly, this persistent bravura to defy his pop heartthrob personality is admirable, and it's good it is — Jonas is extremely good at it. Following the noise his harrowing breakthrough film Goat made at Sundance when it took a dark look at fraternity culture and his recent stunt on the horror comedy series Scream Queens, Jonas' continued mission to look outside the cookie-cutter roles in film is refreshing. Though his newest album Last Year Was Complicated due out June 10 is the most honest we have heard from the singer to date, seeing the newcomer take on more serious roles outside of the music industry is a bold and magnifying evolution that I have loved watching. It seems as though permanently brooding and covert are adjectives Jonas would really like to add to his résumé — and I, for one, am here for it.
I'm pretty sure dark and sexy is where we would all like our Jonas to be. And hey, isn't it only best that we grow with our favorite heartthrobs, professionally, mentally, and of course, physically? See Jonas in the trailer above and judge for yourself:
Images: Troika Pictures