This Is How Much 'Bachelorette's Jordan Is Worth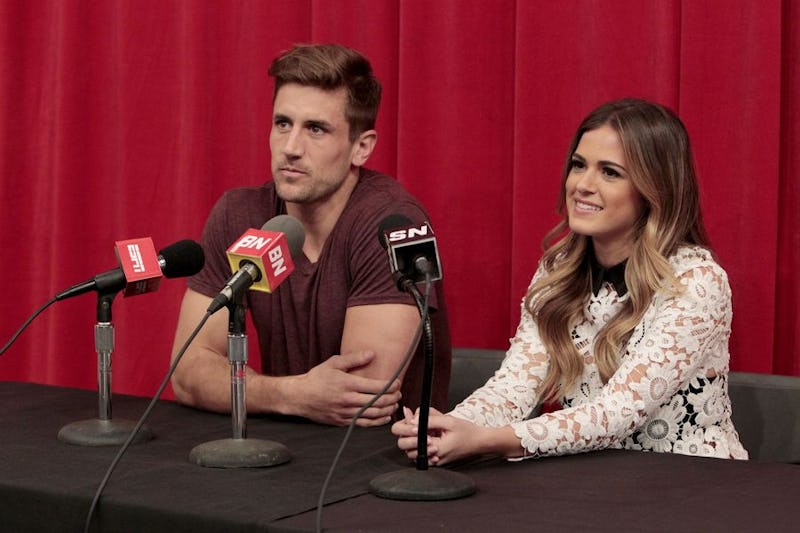 Now that The Bachelorette has officially kicked off for the season, ABC has finally given us the chance to meet JoJo Fletcher's pool of suitors. It's way too early in the season to know for sure just yet, but in trying to decide which of these guys is the best match for JoJo, I'd be lying if I said their bank accounts hadn't crossed my mind. OK, I know money definitely isn't everything when it comes to a lasting relationship, it's still important to know where these guys stand in their careers, and since Jordan is one of her obvious frontrunners already, I'm a little bit curious about what his financial situation is. How much is Jordan Rodgers' net worth? Let's just say that if our girl ends up with him, she's lucky in more ways than one.
According to The Net Worth, Jordan is worth is a reported $1.5 million these days, which isn't surprising considering the fact that not too long ago, he was a pro athlete and they tend to bring home pretty solid paychecks — and the site adds that he likely made $500,000 each year while he was under contract. But as he explained on The Bachelorette premiere, his football career didn't work out too well for him, and even though he spent time playing for teams like the Jacksonville Jaguars and the Tampa Bay Buccaneers, he decided to take a separate path.
In May 2015, the Vancouver Sun reported that Jordan dropped out of the B.C. Lions' practice roster, and announced that he had no plans to play football that year, and it seems that's remained his game plan ever since. So what is he doing now? The jury is still out on that one. Google and social media both come up empty when it comes to answers about Jordan's career, and his ABC bio lists him as a "former pro quarterback." Hmm. Interesting. But on his Twitter, he often talks about how he appears on radio shows to weigh in on what he thinks about sports. Maybe hosting his own show would be a good next move for him?
But, even if he hasn't exactly figured out what's next for him, his bank account makes it seem like he's got plenty of time to figure all of that out. Plus, after The Bachelorette, I have a feeling that opportunities will be knocking down his door. Anyone who keeps up with this show knows that when you've survived as a contestant, you're in Bachelor Nation for life. And if all else fails? He could totally have a career as an Instagram celebrity. Who wouldn't want to stare at that awesome hair all day?
For everything Bachelor Nation, check out Bustle's Bachelorette podcast.
Image: Rick Rowell/ABC