Michael Harney's Take On His Female 'OITNB' Cast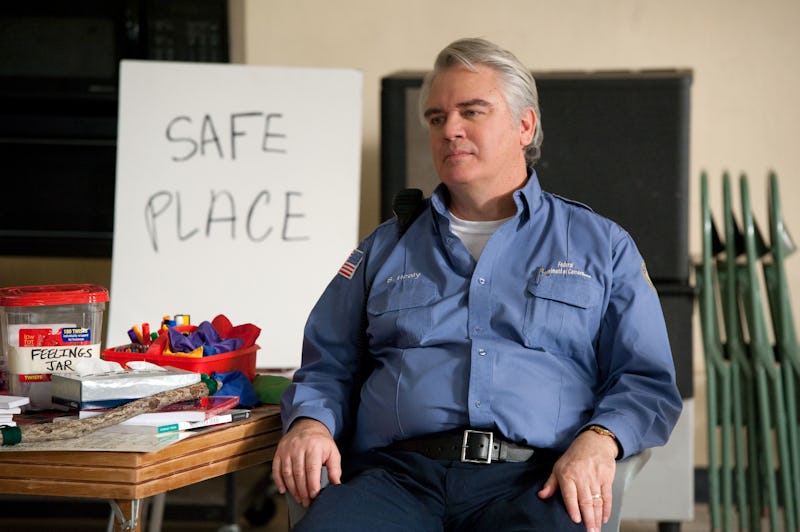 Officer Sam Healy of Orange Is The New Black thinks "lesbians can be very dangerous." He's had flares showing his homophobic and sometimes racist side. In between moments of acting like a total hardass and sometimes completely irrational or unreasonable with the Litchfield inmates, his sensitive side peeks out, but just for a fleeting moment. What's interesting is that the man who portrays him, Michael Harney, could not be more opposite in real life. The actor is among the few men who work on Orange Is the New Black , a show about, created by, written by, and mostly portrayed by a group of strong, diverse women. He wouldn't have it any other way.
At The Paley Center for Media's Orange Is the New Black event in LA on Thursday evening, the soft-spoken star put his two cents in about working with so many females and the unfortunate misconceptions that comes with. Last year, for example, women of the cast gave a journalist a piece of their mind when he insinuated that there would be a harsh environment on set because so many females in such a concentrated space just lends itself to a catty atmosphere. SMH. Luckily, Natasha Lyonne was one star who had the lady balls to call him out for being misogynistic.
When Bustle asked Harney to reflect on such incidents, he had no problem speaking to the BS. "That's crazy, man. It's not catty, it's a bunch of great professionals getting together to work," he says. The 60-year-old explains how gender isn't even a factor in his professional life, or life in general. Instead, he merely sees these women as colleagues, as talented as they are bright. "I don't genderize. It's true. I go and work with artists. And I love women. I love men too. To me, it's souls."
At the end of the day, no matter how many females outweigh the males on set, Harney reinforces that they're all joined together for the same purpose regardless of gender: their craft. "We're hard at work and we're creating," he says. "And that's what we're there for. We're there to paint."
What's even more incredible is to see that Harney's feelings on his cast mates are reciprocated. When asked about Red's possible romance spark with Healy, co-star Kate Mulgrew couldn't help but gush about Harney during the panel. "I'm happy about him," she says. "This is a great actor. He's a consummate actor, so it was just bliss doing those scenes with [him] in [his] office, all alone. Really, really great." It shows, because their unique on-screen chemistry is everything.
Now if only Healy was as brilliantly accepting as Harney, there'd be peace in Litchfield in no time. A girl can dream, right?
Images: Netflix (3)