Great News, 'Powerpuff Girls' & 'Teen Titans' Fans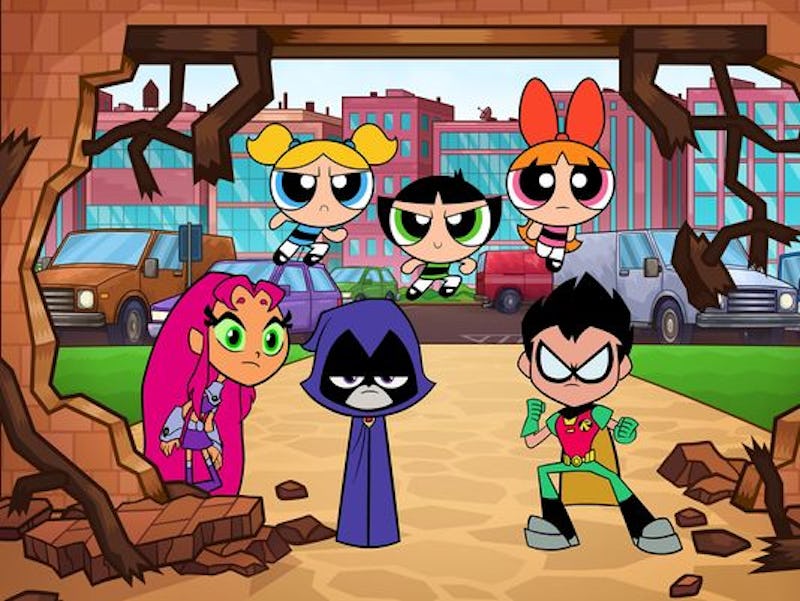 Cancel your summer holiday. Seriously, you definitely need to cancel your summer holiday to the Bahamas because there's going to be a Powerpuff Girls and Teen Titans crossover that will hit the small screen in June, and you're going to want to have a grand total of zero plans so you can watch it on repeat a few 100 times on loop. According to Powerpuff Girls executive producer Nick Jennings: "Jump City will never be the same when our little superheroes Blossom, Bubbles and Buttercup meet up with the Teen Titans for the very first time. When these two worlds of superheroes collide, it will surely be something to remember."
Teen Titans Go! producer Aaron Horvath was complimentary about the way the two teams had worked together, stating, "It's a really fun crossover that came about in a very organic way, and it was really great getting to put these two iconic superhero teams together."
USA Today even revealed some upcoming plot points for the two superhero teams: "Titans members Cyborg and Beast Boy find Mojo Jojo to be pretty cool for a talking monkey, the Girls compete with Raven, Starfire and Robin to see which superhero team is better, and there's a catchy song called Monkey Army that's bound to get stuck in fans' heads." So far, so magical-sounding.
Both shows became cult classics in their original edition (with the original Craig McCracken-created The Powerpuff Girls airing from 1998-2005 and the Glenn Murakami created/produced Teen Titans Go! airing 2003-2006).
TV Guide chose The Powerpuff Girls as No. 17 in a list of the 50 Greatest cartoon characters of all time while Entertainment Weekly praised the show for its "spot-on pop-culture acumen" and "unparalleled sense of fun." In 2009, IGN named Teen Titans the 83rd best animated series, and in 2014, WatchMojo.com named Teen Titans as the sixth best cartoon to have been cancelled. This has been in stark contrast with how the reboots have been received.
The collaboration means that fans of each of the shows featured will be tuning in and could lead to new fans for both shows involved. After all, the shows share a lot of similarities: their lack of focus on an overall narrative arc (preferring to air short, separate stories), and both shows' humor centering on the disconnect between being a superhero and simultaneously being a child/teenager (whether being woken up from nap time to go save Townsville again or crashing the Batmobile while on a teen joyride). Heck, even the animation styles with the bold outline mean that the aesthetics go well together.
So here's hoping the collaboration means more interest in the two shows, whether from critics and audiences alike.
Images: Cartoon Network, Giphy (2)