10 Hilarious Times John Oliver Slammed Trump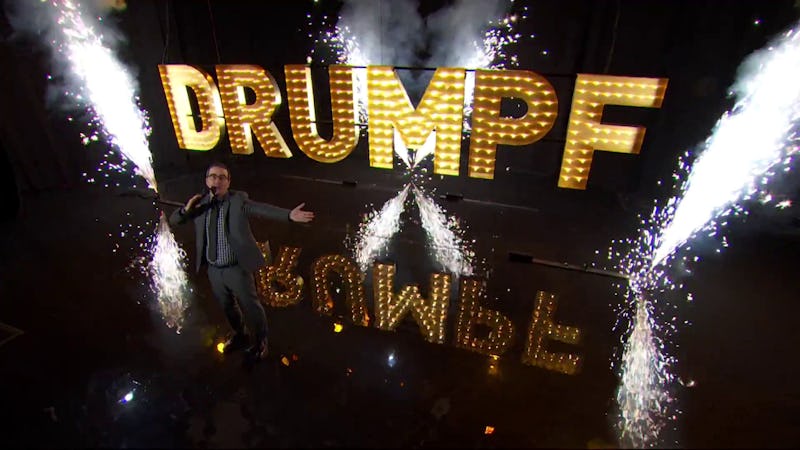 It was a topic HBO's Last Week Tonight With John Oliver tried their best to avoid for a long time. Yet even the best-laid plans can go awry and eventually the British late-night host was forced to step into the ring to take on Donald Trump's presidential campaign. And thank God for that, really, because I just can't imagine a world without Drumpf. However, the infamous "Donald Drumpf" segment wasn't the last, or even the first, time the comedic talk show host has poked fun at the real estate mogul. John Oliver has hilariously criticized Trump on more than a few occasions.
Although Trump may be a popular man with some American voters, he's largely disliked over at Last Week Tonight. Granted, the real estate mogul has made it pretty clear the feeling is mutual; even before Oliver gave us the Drumpf movement Trump was calling Last Week Tonight "boring and low rated," claiming it would be a "waste of time and energy" for him to appear on the program. In total, Oliver has slammed the presumptive Republican presidential nominee on at least nine different episodes of his late-night talk and news show, and once while guest-hosting Comedy Central's The Daily Show.
So, sit back and enjoy 10 times Oliver hilariously destroyed Trump.
"I Will Personally Write You A Campaign Check"
One of the earliest instances of Oliver taking a comedic swing at Trump occurred while the British comedian was hosting The Daily Show for Jon Stewart in August 2013. In a segment Oliver coyly titled "Can't you at least wait until Jon Stewart comes back?" he digs into the then-already lengthy list of potential 2016 presidential contenders, including Trump. At the time, the prospect of a Trump presidential campaign excited Oliver due to the endless comedic opportunities it was sure to present. (Is Oliver psychic or was it that obvious?)
"Do it," he urged the businessman. "Look at me. Do it. I will personally write you a campaign check now on behalf of this country, which does not want you to be president, but which badly wants you to run."
Donald Trump — "A Clown Made Of Mummified Foreskins"
When Oliver took on Miss America in September 2014 to debunk claims that the beauty pageant was still relevant, he also took a few stabs at Trump, the former owner of the Miss Universe Organization, Miss America's competition, which also produces the Miss USA pageant. "Miss USA, for instance, is owned by Donald Trump, a clown made of mummified foreskins and cotton candy," Oliver said. "It is a little ironic that the Miss USA beauty pageant is overseen by one of the ugliest souls on the planet."
"An Old Piece Of Luggage Covered In Cheese Whiz"
When the 2016 presidential primary got underway in August 2015 — you know, when the stage was overcrowded by Republican candidates at the first Republican presidential debate — Oliver blasted Trump for overshadowing discussion of real issues with talk of where Megyn Kelly may or may not be bleeding from. "The entire debate was basically a two-hour circus side show with an old piece of luggage covered in cheese whiz as its sensor," Oliver said in reference to Trump. "You can only imagine how talented a lover Donald Trump must be," the comedian quipped after playing Trump's comments about Kelly.
Make Donald Drumpf Again
Oliver's most famous criticisms of Trump, however, are found in the infamous "Donald Drumpf" segment that birthed the #MakeDonaldDrumpfAgain movement and merchandise in late February. The segment quickly went viral to become the show's most popular segment. In it, Oliver likens Trump to "America's back mole," saying, "now that it has gotten frighteningly bigger it is no longer wise to ignore it."
"Trump Does Resemble A Kidney Dropped On The Floor Of A Super Cuts"
In an episode of Last Week Tonight that aired in early March, Oliver gave a quick recap of what he called "the clowntown f*ck the world sh*tshow of 2016," known commonly as the Republican 2016 primary. The segment was full of Trump attacks, with a focus on GOP party leaders' attempts to chip away at his popularity with voters. "The Republican establishment is rejecting him like a transplanted organ, which is fitting as Trump does resemble a kidney dropped on the floor of a Super Cuts," Oliver said.
Trump's Tragic Predictability
Later in March, Oliver brought up the topic of Trump again in a segment aimed at debunking the real estate mogul's claim he doesn't incite violence at his rallies. "Let's be honest, a Trump rally being cancelled due to violence is the most predictable thing to happen in this campaign since Donald Trump mentioning the size of his d*ck. Of course, those things happened. Of course, they did," Oliver said before criticizing Trump for denying he has encouraged his supporters to use violence against protesters. "Donald Trump is one guitar player away from turning this campaign into Fury f*cking Road."
"It's A Big, Dumb Thing That Only Gets More Expensive Over Time"
March was a Trump-heavy month over at Last Week Tonight. The British comedian zeroed in on Trump's proposed border wall between the United States and Mexico, heavily criticizing the unrealistic details of the proposal. "Yes, Donald Trump wants to build a wall on the U.S.-Mexican border," Oliver said, "and based on his tone, he wants to f*ck that wall."
Nuclear Weapons & Trump Shouldn't Go Together
In an April episode of Last Week Tonight, Oliver slammed Trump's ideas on nuclear policies. Trump had earlier claimed America would be "better off" if Japan had nuclear weapons to protect itself against North Korea and had also said he would be happy if Saudi Arabia had nuclear weapons.
"Even His Imaginary Alter Ego Reflexively Brags About Himself"
In a roundup of the week's biggest news stories during a May episode, Oliver criticized Trump for a whole host of things, including his wooing of the Republican establishment and the reasoning behind his refusal to make his tax returns public. Oliver also dug into claims Trump had created an alter ego named John Miller and posed as his own publicist in the early '90s. "Much like his candidacy, that claim is sad but not important," Oliver said.
"Tiny Raccoon Paw-Sized Hands"
When Trump was officially named the Republican Party's presumptive nominee, Oliver perfectly summed up the conclusion of the GOP primary. "This sentient circus peanut," Oliver said in reference to Trump, "now holds the future of a major political party in his tiny raccoon paw-sized hands, which is frankly a little surprising because the internet repeatedly tells me I had destroyed and eviscerated him. Why would they say that if it wasn't true?" The British comedian attempted to give his "depressed" viewers a little perspective by comparing the craziness of Trump to that of Rodrigo Duterte, the Davao City mayor running for president of the Philippines.
If ever you need an anti-Trump pick-me-up, these 10 examples of Oliver hilariously criticizing Trump will surely do the trick.