The 21 Most Scandalous 'Bachelor' Moments Ever
The Bachelor is all about finding true love, but a lot of times there's also a whole lot of drama to go with it. Most contestants are there for the right reasons, but for some, things go very wrong. These contestants have lived in infamy, and they've contributed to some of The Bachelor 's most scandalous moments throughout the past 20 seasons. It's just what happens when you put so many personalities together in one place to compete after one heart — tempers flare, alcohol flows, tears shed, and feelings get hurt. It's classic Bachelor.
Over the course of the show, there have been so many memorable proposals, first impressions, and break-ups that even years later, fans can't stop talking about. So many of The Bachelor's scandalous moments — on and off screen — have lived on and on. After all, the show deals with real lives, real people, and real feelings that are impossible to forget. And then there are those tell-all books that former stars like Sean Lowe, Emily Maynard, and Andi Dorfman have published, giving fans even more insight on the romantic reality series and what goes on behind the scenes. The Bachelor universe is vast and contains so many multitudes, as the 21 scandalous moments from The Bachelor below can attest.
21. Brad Womack Reportedly Breaks Up With Emily Maynard Via E-mail CC
Emily and Brad had a rocky engagement that eventually ended. In Emily's book I Said Yes, she writes about how one time, Brad allegedly broke up with her via an e-mail he sent to producers — and she was cc'd.
20. The Diversity Lawsuit
In 2012, Nathaniel Claybrooks and Christopher Johnson sued the show in a class action lawsuit, claiming that The Bachelor violated racial discrimination laws. CNN reported that the lawsuit was dismissed in court, because casting decisions are protected by the First Amendment, but the issue is still being discussed today.
19. Juan Pablo Just "Likes" Nikki Ferrell
This controversial Bachelor picked his lady love, but couldn't bring himself to say the big L word to her. So he said he liked her. Ugh.
18. Shayne Lamas Outs Matt Grant
After these two called off their engagement, Shayne put Matt on blast in a now-deleted (but still accessible) blog post in which she claims that Matt is gay.
17. Brooks Forester Dumps Desiree Hartsock
It's never a good time to hear that the man you love isn't madly in love with you. It's OK in this case, though, because she went on to to find love on The Bachelorette.
16. Lindsay Yenter Wears A Wedding Dress
Lindsay knew what she wanted, and she showed up to meet Sean for the first time in a wedding dress.
15. Byron Velvick & Mary Delgado's Domestic Issues
Happily ever after wasn't in the cards for this engaged couple. Mary was arrested for allegedly punching Byron in the face. The couple split afterwards.
14. Trish Doesn't Go Away
Oh, Trish. She couldn't take no for an answer and showed up at the hotel where Jesse was staying with his final three women, saying he made a mistake. He said, "Bye."
13. Stacey Elza's Panties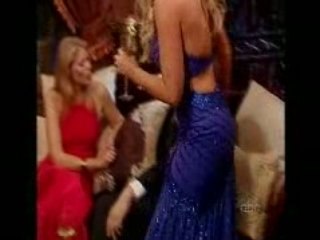 You have to make a bold first impression, but I don't know about this. Stacey's first and only impression on Bachelor Matt Grant was getting drunk, rubbing his inner thigh as he talked to another woman, stuffing her panties into his pants, and passing out in the middle of the cocktail party. She did not receive a rose.
12. Ashley Salter's Many Layers
Ashley S. brought quirkiness to Chris Soules' season of The Bachelor (and later Bachelor in Paradise), starting with this moment where she tries to give a "rose" to another girl, so she can get a moment with Chris.
11. Ben Flajnik & Courtney Robertson Go Skinny Dipping
These two got up close and very personal when Courtney pitched going skinny dipping on their date, and Ben went along with it. Ben and Courtney did wind up getting engaged, but they didn't make it down the aisle.
10. Jesse Palmer Calls Out The Wrong Name
Look, there are a lot of names to remember when you're the Bachelor, but giving a rose to the wrong gal is pretty embarrassing. And that's what happened to Jesse, above.
9. Juan Pablo Says There Shouldn't Be A Gay Bachelor
Juan Pablo caused an uproar when he told a reporter from The TV Page that there shouldn't be an LGBT Bachelor on the show.
8. Clare Crawley Gets Pissed At Juan Pablo
Juan Pablo didn't make many friends during his stint on The Bachelor. Clare, for one, took offense to some sexual comments he whispered to her, and she let him have it in this on-screen confrontation.
7. Chantal O'Brien Slaps Brad Womack
Chantal delivered a message from, as she said it, "every woman in America" — a slap to Brad's face, regarding his not choosing anyone during his first Bachelor season. What a way to make an entrance.
6. Tierra LiCausi's "Sparkle"
During Sean Lowe's season, Tierra's antics — including her "sparkle" and uncontrollable eyebrows — were the talk of the house and Bachelor fans alike.
5. Rozlyn Papa Is Accused Of An "Inappropriate Relationship" With A Show Producer
During Jake Pavelka's season, Rozlyn was accused of allegedly having an affair with a show producer. She denied it to Chris Harrison, but then he brought out what he claimed were witnesses.
4. Andi Dorfman Tells Off Juan Pablo
Andi won hearts by giving this controversial Bachelor a piece of her mind in this intense moment.
3. Jake Pavelka & Vienna Girardi Argue On-Camera
The wings got clipped when Jake and Vienna decided to call it quits on their engagement, and they aired all that went wrong in this Bachelor special.
2. Brad Womack Doesn't Use The Final Rose
The saying goes, "The cheese stands alone," and this Bachelor was that cheese, by choice, in his first go-around on the show. Instead of choosing either of the finalists, DeAnna Pappas and Jenni Croft, he didn't give the last rose to either woman and sat alone.
1. Jason Mesnick Dumps Melissa Rycroft & Then Asks Out Molly Malaney
Talk about a crazy After The Final Rose. Jason and Melissa got engaged on The Bachelor finale, but Jason broke up with her on the air during the after show. Minutes later, in Part 2 of the special, he declares his love for Molly. And it was the real deal: Jason and Molly are now married.
Just like in real life, the road to true love isn't always smooth on The Bachelor — sometimes there's a lot of drama and craziness to get through before the happily ever after.