This New Film Is A 'Game Of Thrones' Reunion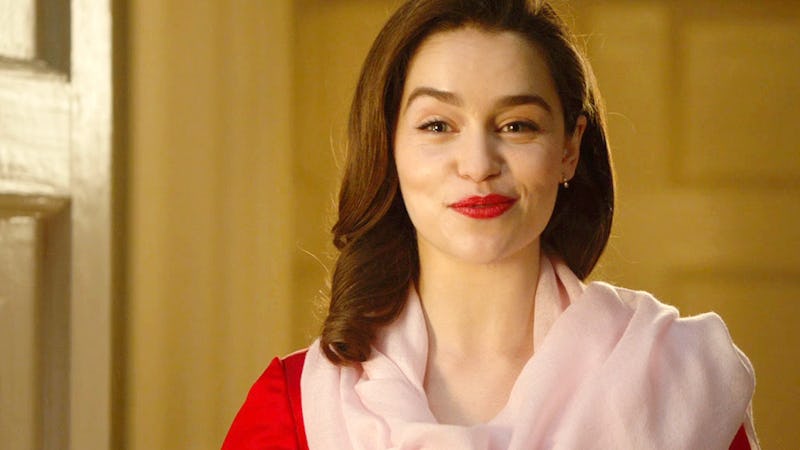 Game of Thrones is the biggest show on TV, no doubt about it. Now I know that The Walking Dead technically has more viewers, but come on, what would you rather watch: A show about zombies, or a show about zombies and dragons? Obviously, the dragons win. And since Game of Thrones is the biggest show on TV, its stars have become the biggest stars on TV and are now crossing over into movie stardom, like in the new film that's basically a Game of Thrones reunion, Me Before You .
If you're aware of the film at all, you likely know that it stars Emilia Clarke in the lead role. Clarke has risen from an unknown to a household name over the past several years thanks to her part as the Mother of Dragons, Daenerys Targaryen, on Game of Thrones. She has since used her increased profile to nab some pretty high profile movie roles, like Sarah Connor in last year's Terminator: Genisys . But since I'm calling Me Before You a Game of Thrones reunion, she's obviously not the only actor from the show to pop up in the film. So which of her co-stars are along for the ride?
First up is one of Game of Thrones' newest stars: Samantha Spiro. Spiro has only appeared in one episode of the show to date; episode six of Season 6, where she debuted as Samwell Tarly's mother, Melessa Tarly. Also appearing in the film is Charles Dance. Dance already had a long and illustrious career on both stage and screen, but he really broke through to the mainstream with his role as the cunning Tywin Lannister in seasons one through four of Thrones. Ironically, neither Clarke, Spiro, nor Dance have ever shared a scene together on Game of Thrones, but they are still members of an exclusive club that makes it extra special to see them united on the big screen.
And this isn't the first time members of the Game of Thrones club have joined forces in the same movie. Dance appeared with his on-screen daughter, Lena Headey, in Pride and Prejudice and Zombies earlier this year. Tyrion Lannister and Ned Stark, AKA Peter Dinklage and Sean Bean, acted alongside each other in last summer's Pixels. Also last year, The Hunger Games: Mockingjay - Part Two featured the actors behind two of the series' most powerful female characters: Natalie Dormer (Margaery Tyrell) and Gwendoline Christie (Brienne of Tarth). And keep your eyes peeled later this year for Brimstone, which is set to unite Jon Snow (Kit Harington) and Melisandre (Carice van Houten), and you know good things are bound to happen when those two get together.
The trend of movies being filled with Game of Thrones stars is likely to increase as the show just keeps on getting better, and I have to say, this is one trend that I can fully get behind.
Images: Warner Bros. Pictures; Giphy