The Best Unisex Fragrance Lines Out There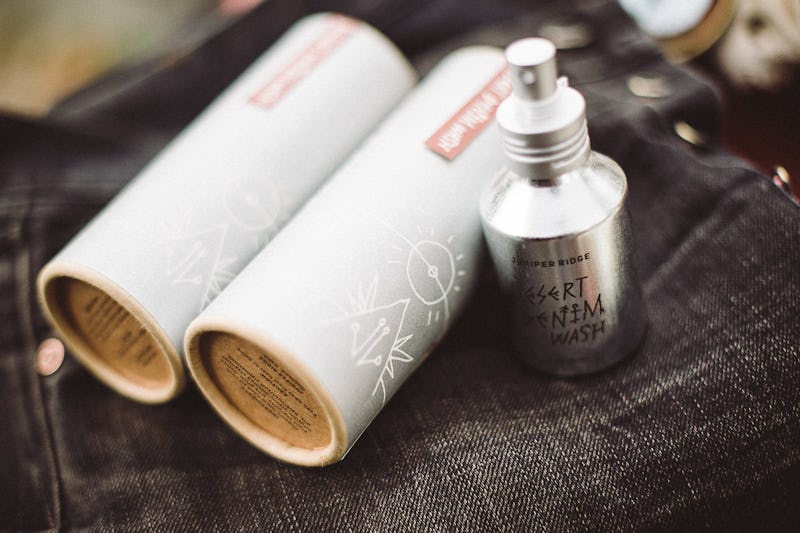 If you've ever experimented with gender-fluid style or unisex fragrance, you probably already know how freeing it can be to dispense with tired, gendered fashion rules. After all, fashion and beauty are tools for personal expression that shouldn't be limited to archaic, binary models. As I experiment more and more with breaking down gendered boundaries in my own life, I am becoming increasingly aware of all the odd places that gender-coded assumptions still lurk.
One place I see a lot of heavily gendered language and imagery is in perfume advertising. I love perfume, and have studied and experimented with it for years, but for some reason, mainstream and even indie perfume companies seem to lean hard on "feminine" and "masculine" stereotypes when they market their products. Even particular fragrance components are often assigned arbitrarily to either "men's" or "women's" perfumes, so that something as neutral as cedar wood or tuberose essence suddenly becomes laden with cultural expectations.
With this in mind, I love to come across lines that focus on unisex or gender-free marketing for their fragrances. I appreciate companies that assume I can make my own stylistic and sensory decisions without heavy-handed narratives about "what women (or men) want," and I love to experiment outside the boundaries of what I'm expected to enjoy. If you're curious to learn more about perfume, but also find yourself turned off by conventionally gendered advertising, check out these seven unisex fragrance lines that will have you smelling amazing, without limiting male/female binaries.
1. Juniper Ridge
Juniper Ridge is a small, independent company that handcrafts adventurous scents from the wild botanicals of the American West. The emphasis of these fragrances is on capturing the essence of a particular place and time, and this approach is supported by the brand's unisex marketing and formulations.
No distinctions are made between "men's" and "women's" scents, and product presentation is focused on the stories of exploration and craftsmanship that go into the unique fragrances. Plus, if you're interested in gorgeous scents beyond the world of personal fragrance, Juniper Ridge also creates complementary products like incense and teas that will bring new dimensions to your experience.
2. Aesop
Aesop Tacit Eau de Parfum, $115, Nordstrom | Aesop Marrakech Intense, $95, Nordstrom
Although best known for its skincare, Aesop has also created two lovely unisex fragrances: Tacit and Marrakech Intense. The first is a light, citrus, and herbal cologne-type perfume inspired by the Mediterranean coast. The second is a rich, spicy/woody floral scent for those who love their perfume with a bit of a kick. Aesop's simple, elegant packaging and focus on ingredients make these excellent options for your beauty routine, no matter where you might fall on the gender spectrum.
3. Aftelier Perfumes
Aftelier Perfume, $185, Aftalier
Created by Mandy Aftel, one of the foremost experts of natural perfumery, Aftelier Perfumes is notable not only for its dedication to quality ingredients, but for a focus on memory and storytelling that avoids the hackneyed nature of much of contemporary beauty marketing. All of the Aftelier scents are layered, complex creations that are presented without gendered qualifications, focusing instead on the intensely personal experience of scent. From woody fig to sensual jasmine, these stunning fragrances will take your breath away.
4. Strange Invisible Perfumes
Created by Alexandra Balahoutis in 2000, botanical fragrance line Strange Invisible Perfumes creates inspiring personal and home fragrances with novel concepts and 100 percent natural ingredients. Whether you choose a scent from the brand's Signature Collection, the mystically-inflected Zodiac series, or the rare Reserve offerings, you'll hopefully enjoy the way these evocative scents support your individual sense of style, without any unwanted stereotypes. These scents may be invisible, but they'll certainly make an impact.
5. Kiehl's
Musk Eau de Toilette, $42, Kiehl's
Although Kiehl's doesn't really have an extended fragrance line, its best-selling classic, Original Musk, is too iconic to miss. Formulated during the 1920s, Original Musk is a soothing, layered blend of citrus, traditional florals like rose and lily, creamy woods, and, of course, musk. A rich, comforting "skin scent" that lies close to the body, this classic cologne is great for any gender. It's also quite reasonably priced, because smelling good on a budget needn't be a difficult or unoriginal endeavor.
6. Sonoma Scent Studio
California-based niche perfume house Sonoma Scent Studio is another great line to check out if you want sophisticated scents without falling into feminine/masculine binaries. Focusing primarily on materials and perfumer Laurie Erickson's sensory memories and impressions, Sonoma Scent Studio offers both all-natural perfumes and mixed-media scents that combine high quality natural and synthetic components. You can find detailed notes about the inspiration, ingredients, and ideal usage for each fragrance on the Studio's website, if you want to dive deeper into the inviting narratives of Erickson's creations.
7. Thorn & Bloom
Bird of Paraise Eau de Parfum, $12, Thorn & Bloom | Savage Garden Eau de Parfum, $12, Thorn & Bloom
Although it's a relative newcomer to the indie perfume scene, all natural fragrance line Thorn & Bloom is already garnering awards and praise for its thoughtful and original collection of scents. From the candied, tropical sweetness of Bird of Paradise to the unruly freshness of Savage Garden, these distinctive fragrances are as well-crafted as they are inclusive. Owner and perfumer Jennifer Botto's reverence for sensory experience and the natural world shine through in layered creations that create unique and enticing narrative worlds.
If you love the unique and sensual qualities of personal fragrance, but find yourself turned off by heavy-handed, gendered marketing and formulations, these unisex perfume lines will allow you to enjoy all the pleasures of scent without arbitrary stereotypes. Because beauty should be a truly individual performance.
Images: Courtesy Brands