What Do We Want From 'The Voice' Season 6?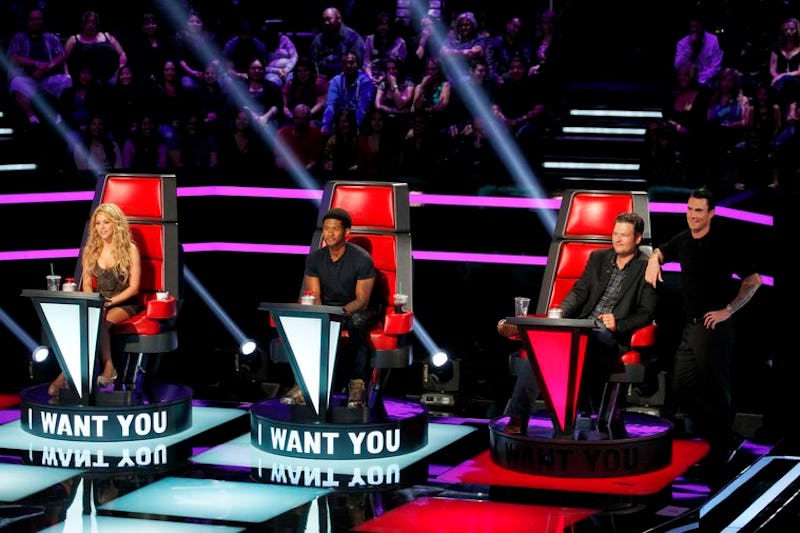 Get your swivel chair ready: The Voice Season 6 starts Monday night. "Didn't the last seas of that show end, like, yesterday?" you ask. Nah, it's been a whopping two months since Tessanne Chin was dubbed the Season 5 champ. TIME FLIES. I'm rested. I'm ready to rumble. I'm ready to lose myself in The Voice once again.
If you are a return viewer, you more or less know the drill by now: Adam Levine, Blake Shelton, Usher, and Shakira will assemble teams of singers. The singers will sing. We will vote. I will cry. There will be format shakeups as the season trucks along. Thankfully, host Carson Daly will explain everything (Blind Auditions! Battle Rounds! Knockout Rounds! Live Rounds! INSTANT SAVE!), otherwise, I'd be lost at sea. Such a wonderful guide.
After watching approximately 15,000 eps of The Voice in my lifetime, what do I want from season 6? Here are my Voice hopes/dreams/wishes:
Shakira and Miranda Lambert Imitate Blake and Adam
The banter between Blake and Adam is one of the constants in the ever-changing Voice world. Blake and Adam are aware of this, and they continue to trade both jabs and compliments to the audience's delight. Such hams!
Shakira and Miranda Lambert (country star, Blake's wife) will be working together this season. I love this pairing. I would continue to love this pairing if they mocked Adam and Blake. Because I am a sucker for impressions, especially when a friend/coworker and a significant other are the ones doing the impressions.
In the past, contestants and coaches have imitated one another during confessional segments. It's always adorable. But it would be some next-level shit if Shak and Lamb performed a Blake and Adam routine. In my mind, they really commit to it, and the crowd goes wild. Carson laughs so hard he cries. Usher gives a standing ovation. Blake and Adam rush the stage and hug Shak and Lamb.
Who would play who? I'm undecided. Either option is a win.
Carson Daly uses an air horn to cut off coaches during the Live Rounds
After performances, the coaches have a lot to say. This makes Carson nervous. Sometimes, has to butt in. Live television is stressful stuff, and Carson does what he can to keep the show running according to schedule.
Rather than try to talk over the coaches, why not shut them down completely with an air horn? Much easier. (Also? An air horn would be so hilarious.) Just lookin' out for you, Carson!
Blake Shelton and Adam Levine turn their existing Voice trophies into two bo staffs
Blake is all about flaunting his three Voice victories, and now that Adam has two under his belt, I assume the friendly competition between the two bros will only escalate. I'd be really happy if the two guys turned their Voice trophies into bo staffs and battled on the stage. They'd be wearing armor of course (I'm not a barbarian), so no one would get hurt. The match would end the moment one of the staffs fell apart.
Someone Sings "My Heart Will Go On" Note-for-Note
If you're going to sing a Celine Dion song (or a Whitney Houston song, or a Christina Aguilera song, etc), I'm of the opinion that you should sing it exactly like the original. Don't mess with the arrangement. Otherwise, my jerk brain will think, Oh so you can't actually hack it huh? You have to cheat huh? SIT DOWN. Such a jerk brain.
All I want is to hear a contestant sing "My Heart Will Go On" perfectly. Perhaps 6 will be the season.
Usher shows off a new signature sitting position
During season 4, Usher put one foot on The Voice chair and rested his arm over his knee. He did this episode after episode. It became his move.
That being said, I hope season 6 Usher revamps his chair pose game. Yeah, the seas 4 position was cool/casual/awesome/A+, but it's important to keep things fresh. Don't get stuck in a rut.
Do I have any ideas for Usher? No. He's the chair pose mastermind. If I sit cross-legged in an armchair, I think that's edgy. I'm obviously out of my league. I'm counting on Usher.
Another INSTANT SAVE-like twist
I watch this show season after season for a number of reasons, but one of the elements that keeps me coming back for more is the format changes. SO EXCITING. I'll be very disappointed if Carson doesn't announce something along the lines of a "Singing In Pig Latin" challenge or a "The Stage Is Made Out Of Jell-O" round. Maybe those are a little intense. Maybe the twist could be something as simple as bring back an eliminated contestant? OR MAYBE IT COULD BE JELL-O STAGE.
Will any of my dreams come true? Can't wait to find out!
Image: Trae Patton/NBC